Vision
Environmental Vision 2050
Epson aspires to achieve sustainability and enrich communities. Achieving this aspirational goal will require addressing societal issues and driving transformative change in the way things are done.
Environmental Vision 2050 was conceived not from a perspective of what we can or cannot achieve but from a mindset of what we must achieve as a product creator and manufacturer.
1 Non-renewable resources such as oil and metals
2 Target for reducing greenhouse gas emissions aligned with the criteria under the Science Based Targets initiative (SBTi)


In 2008, Epson established Environmental Vision 2050, a statement of our environmental goals out to the year 2050. The world has since changed. Global efforts to achieve social sustainability are accelerating, with the United Nations adopting Sustainable Development Goals (SDGs) 3 and the Paris Agreement 4 charting a course toward decarbonization. In light of these changes, Epson revised the environmental vision in 2018 and specified three actions that the company should take.
In March 2021, Epson further revised the vision, setting specific goals that reflect Epson's strong commitment to addressing major societal issues such as decarbonization and resource recycling.
3 International goals for social sustainability adopted at the U.N. Sustainable Development Summit in September 2015, aimed at addressing global issues such as climate change, poverty, and human rights. There are 17 sustainable development goals with 169 targets.
4 A legally binding international treaty on climate change. The aim of the agreement is to keep a rise in global average temperature to well below 2 degrees Celsius above pre-industrial levels.

TOPICS
Carbon Budget
The IPCC5 Fifth Assessment Report reaffirms that there is a near-linear relationship between cumulative anthropogenic greenhouse gas (GHG) emissions and the global warming they cause. This relationship indicates that there is an upper limit to the cumulative GHGs emissions (the sum of past and future emissions) that can be released into the atmosphere if we are to keep the rise in temperature to a certain level. This upper limit is the carbon budget.
According to the latest IPCC Assessment Report (AR6, released in August 2021), the remaining carbon budget for keeping global warming to within 1.5℃ is 300-400 bn tonnes. At the current pace of global emissions, the carbon budget will run out in 10 years. The UN's Decade of Action is of the utmost importance for containing global warming and meeting the SDGs.
5 Intergovernmental Panel on Climate Change
Related Information
Natural Capital
Business Activities Based on Natural Capital
The resources we use are called "natural capital" and include underground resources, abiotic flows, and ecosystem capital.
The mining of underground resources causes destruction of the biosphere. In addition, when mined resources are used as industrial products, they consume a great deal of energy and emit CO2. In other words, dependence on underground resources is unsustainable.
Epson will dramatically change the way natural capital is used. We will reduce the consumption of new underground resources by utilizing previous mined minerals as above-ground resources and will use abiotic flows as energy sources. Ecosystem capital is renewable and non-depletable if used wisely.
In the natural world, solar energy is the only energy source used, and all matter circulates without producing waste. We look to learn from nature, avoid producing waste, and repeatedly reuse resources in our business activities.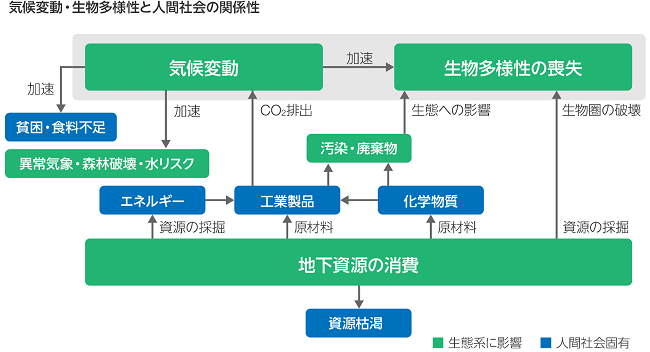 Related Information
Our Approach
Decarbonization Initiatives
The entry into force of the Paris Agreement in 2016 changed the situation in industrial, economic, and other markets, as the focus turned from a low-carbon to a decarbonization strategy. Unlike the earlier Kyoto Protocol, the Paris Agreement, adopted under the UN Framework Convention on Climate Change, set a goal of keeping the average global temperature rise to well below 2℃ above pre-industrial levels. To achieve this, emissions must reach net-zero in the second half of the 21st century. Later, in 2018, the IPCC presented the Special Report on Global Warming of 1.5℃, which shows that there are clear benefits to keeping warming to 1.5℃ rather than 2℃ in terms of the impacts of extreme events such as heat waves and floods. The report brought the world's attention to the need to reach the 1.5℃ goal to overcome the climate crisis, prompting widespread global action.
The world needs to cooperate in transitioning societal systems toward net zero emissions by eliminating the consumption of fossil fuels and removing CO2 from the atmosphere.
Climate risks: 1.5℃ vs 2℃ global warming
1.5℃
2℃
World population exposed to severe heatwaves
(at least once every 5 years)
About 14%
About 37%
(about 1.7 billion people increase)
World population at risk of flooding
(relative to 1976-2005)
2 times
2.7 times
Global mean sea level rise
(relative to 1986-2005)
26 - 77 cm
10 cm higher compared to 1.5℃
Up to 10 million more people would be impacted
Species
6% of insects, 8% of plants and 4% of vertebrates will be affected
18% of insects, 16% of plants and 8% of vertebrates will be affected
Coral reefs
70 - 90% decline
99% decline
Ice-free summers in Arctic
At least once every 100 years
At least every ten years
Annual catch of marine fisheries
1.5 million tonnes decrease
3 million tonnes decrease
Source: WWF Japan documents based on IPCC SR1.5 SPM & Chapter 3
Decarbonization goal: carbon negative
Epson aims to become carbon negative, which is defined as limiting emissions of all greenhouse gases (GHG scopes 1, 2, 3) from our business activities, removing from the atmosphere an amount of CO2 corresponding to the remaining GHGs to reach essentially zero GHG emissions, and then removing even more carbon.
First, we will minimize energy-use associated with production and products and switch to renewable energy sources. Closing the resource loop is also effective in reducing GHG emissions, so, along with our goal of becoming underground resource-free, we will move toward GHG-free manufacturing.
Epson is reducing its customers' GHG emissions by providing products that have a smaller environmental footprint during use. We represent the amount of reduction as a measure of our environmental contribution and are creating and manufacturing products that will increase the contribution.
Closed Resource Loop Initiatives
The idea of a circular economy is being advocated as a sustainable economic system to replace the current one-way linear economy of mass production, mass consumption, and mass disposal. In Europe, the European Commission has adopted the Circular Economy Package and has begun taking concrete steps toward transitioning to a circular economy that uses resources more sustainably.
According to an OECD 1 report 2, global resource consumption is predicted to increase to 167 gigatons in 2060, which is more than double the 79 gigatons consumed in 2011, due to population growth and GDP growth.
1 Organisation for Economic Co-operation and Development. A European-led international organization to which 35 developed countries, including Japan and the United States, are members.
2 Global Material Resources Outlook to 2060

The closed resource loop goal: Becoming underground resource free
Epson will utilize previously mined underground resources as existing above-ground resources to reduce consumption of new underground resources and become underground resource free by 2050.
We will endeavor to reduce total resource inputs, eliminate waste/disposal, and use 100% recycled resources.

Related Information
Issuance of Green Bonds
Global action is needed to achieve sustainability. The contribution that any one company can make by reducing the environmental impacts of its business activities is limited. Environmental Vision 2050 articulates actions for creating synergies with business partners based on our technologies, products, and services and for allowing us to play a part in creating a better world.
To achieve Environmental Vision 2050, we have been setting mid-term milestone targets, while steadily working to bridge the gap needed to reach them. We will use our efficient, compact and precision technologies in tandem with various initiatives to improve the environmental performance of our products and business activities and to reduce environmental impacts across the value chain. By offering products and services that enable new business processes, we aim to provide outstanding economic and environmental value to our customers.
In line with these policies, Seiko Epson issued green bonds1 through a public offering in Japan to raise funds for projects that will contribute to the solution of environmental problems. A second-party opinion was obtained from an external ESG rating company. They found that Epson's green bonds satisfy the requirements of Green Bond Principles 2018 published by the International Capital Market Association (ICMA) and Green Bond Guidelines, 2017, issued by the Ministry of the Environment.
1 Green bonds: Bonds issued to raise funds needed for projects that will contribute to the solution of environmental problems such as global warming.
Environmental Vision 2050 and Mid-Term Targets
Global action is needed to achieve social sustainability, as the contribution that any one company can make by reducing the environmental impacts of its business activities is limited. Environmental Vision 2050 articulates actions for creating synergies with business partners based on our technologies, products, and services and for allowing us to play a part in creating a better world.
To achieve Environmental Vision 2050, Epson sets mid-term milestone targets and has steadily been working to bridge the gap needed to reach them. The company's current mid-term milestone targets are for 2025 and were set by backcasting 1 from its 2050 goals. In March 2021, Epson announced a revised corporate vision, Epson 25 Renewed. Epson 25 Renewed describes the company's aspirations for addressing societal issues and achieving sustainable and enriched communities by working with customers and partners.
The efficient, compact, and precision technologies that Epson has developed since its founding have yielded inkjet technology that reduces environmental impacts and increases productivity along with a host of other technologies that Epson believes can play a major role in solving societal issues and in achieving the Sustainable Development Goals. We will play to these strengths and work with partners as we seek to co-create high customer value that offers both environmental and economic benefits.
1 A planning technique in which a desired outcome is first envisioned and then the scenario for achieving the outcome is devised.
Striving to Sustainability
Epson is declaring its intent to contribute to the achievement of the SDGs through its environmental and other CSR initiatives. The SDGs are the world's agenda for sustainable development. There are 17 goals, such as ending poverty and hunger, ensuring peace, justice, and gender equality, and environmental and resource sustainability for future generations. All UN member states have committed to achieving these goals by 2030.

Epson's Environmental Vision 2050 is aligned with the SDGs. We will continue to honestly address customer and societal challenges and will create unique environmental value through our business activities to help achieve the SDGs and a sustainable future.
Solving Social Issues Through Inkjet Technology
"We want to change the world with inkjet technology."
Propelled by this aspiration, we are advancing Inkjet innovation to help achieve a better and more sustainable future.
2025 Goals
Epson 25 Renewed Corporate Vision: Environment
1. Decarbonization
· Renewable energy use
· Energy-saving facilities
· Greenhouse gas removal
· Supplier engagement
· Carbon-free logistics
2. Closed resource loop
· Effective use of resources: Reduce size and weight, use recycled materials
· Minimize production losses
· Extend product service lives: Refurbish and reuse
3. Customer environmental impact mitigation
· Lower power consumption
· Longer product life
· Fewer consumables and limited lifetime parts
· Digitalization of printing
· Miniaturization of production machines
4. Environmental technology development
· Dry fiber technology applications
· Naturally derived (plastic-free) materials
· Material recycling (metal, paper)
· CO

2

absorption technology
Environmental Investment and Spending
Spend 100 billion yen over the 10 years to 2030 (items 1, 2, 4)

Reduce GHG emissions 1 in the supply chain by more than 2 million tonnes
Use renewable energy to meet 100% of the electricity needs of the entire Epson Group by 2023 2

Concentrate management resources on the development of products and services that reduce environmental impacts (item 3)
1 GHG Scope 1, 2, 3 emissions
2 Excludes leased properties for sales offices, etc. where the amount of electricity consumed cannot be determined
Related link