Minimizing Customer Environmental Impacts
We sell products and services that transform the way our customers work. In so doing, we are minimizing their environmental impacts while also raising their operational efficiency and productivity.
Our innovative products and services make our customers' jobs and lives easier and more enjoyable while also shrinking their environmental footprints.
Our products and services enable new business processes and offer outstanding economic and environmental value.
Office
Shrinking the Environmental Footprint of Offices with a Combination of Performance and Efficiency
Epson's business inkjet printers employ our original Heat-Free Technology to eject ink without heat. This technology achieves outstanding low power consumption performance. Our business inkjet printers with built-in PrecisionCore lineheads (WorkForce Enterprise WF-C series and AM-C series) are products with both a high-level printing performance of 40 to 100 pages per minute (ppm) and low power consumption. The WF-C21000 achieves a printing speed of 100 ppm1. This printing speed approximately doubles productivity in contrast to the printing speed of 50 ppm for general laser printers used in offices.

1 For single-sided A4 sheets. WF-C20750 series: 75 ppm / AM-C series: 40, 50 and 60 ppm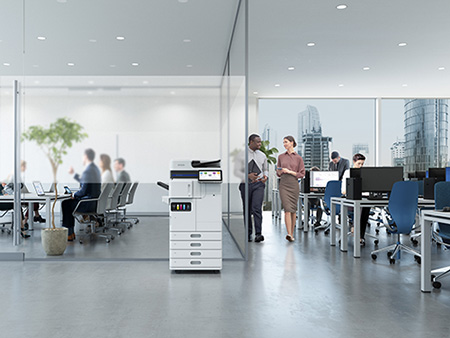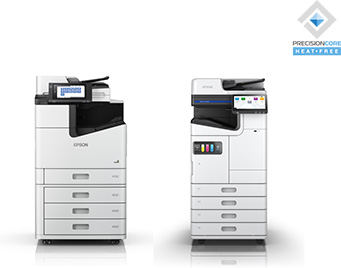 Ideas for the Office
Businesses are more sensitive than ever to environmental issues. Many try to save energy by adjusting their thermostat settings or adopting LED lighting. What they may overlook is that printers and MFPs account for about 10% of total power consumed in a typical office.

We see an opportunity to help them further cut their energy use and costs. Epson inkjet printers draw very little power when printing because ink droplets are ejected by the action of piezoelectric elements that contract under only a tiny applied voltage. In contrast, laser printers require heat–and a lot of electricity–to fuse toner to paper.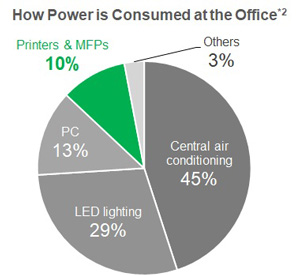 Power Consumed per Page
The graph below shows the estimated energy consumed per page. The figures, which are based on typical electricity consumption (TEC) values provided by the ENERGY STAR®, may be used as a guide to compare products running at different speeds. The graph indicates the superior energy efficiency of Epson WorkForce Enterprise series compared to typical A3 color laser office MFPs.
* Comparative simulation of power consumption per page. All A3 color MFPs with outputs of 40-100 ppm (excluding Digital Front End) which is posted on energystar.gov as of September 11, 2023. Our per page calculations are based on TEC measurement.
Reduces Annual Electricity Consumption
WorkForce Enterprise printers are equipped with PrecisionCore Heat-Free Technology and use no heat in the printing process. That means they consume far less power than laser printers, which in turn reduces their running costs. According to the results of an independent study, AM-C5000 may consume, on average, 80% less electricity per year than comparable competing color laser multifunction printers.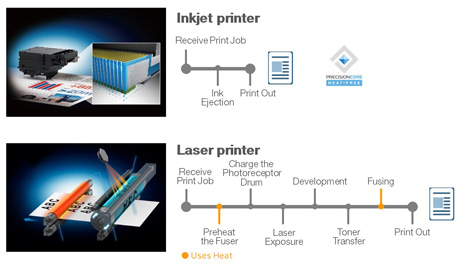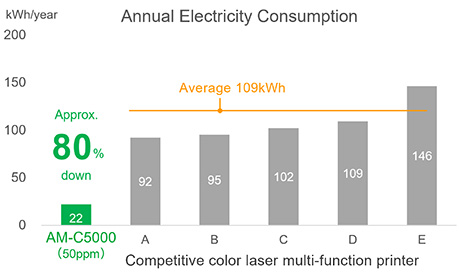 * Keypoint Intelligence-Buyers Lab was commissioned by Epson to evaluate the WorkForce Enterprise AM-C5000 (50ppm) for Europe. Test data is from May 2023. Epson selected four competitor's models from worldwide top five best-selling vendor 3 in the 41-50 ppm color laser multi-function printer class. Devices were tested in default mode as per Keypoint Intelligence's proprietary standard energy consumption test methods. Calculations were based on a weekday workload of 2 x 4 hours printing + 16 hours in sleep/standby mode, and weekend energy use of 48 hours in sleep/standby mode. A total of 69 pages of workload test pattern using DOC, XLS, PPT, HTML, PDF files and Outlook email messages were printed six times in each four-hour printing period.
3 Source: IDC's Worldwide Quarterly Hardcopy Peripherals Tracker 2023Q1, Units Share by Company


Eco Features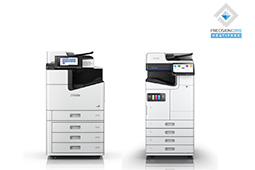 Inkjet multi-function printers with linehead enabled by Epson PrecisionCore and Heat-Free Technology take the combination of print performance and energy efficiency to the next level.
Epson WorkForce Enterprise series demonstrates superior energy efficiency than a typical A3 color laser office MFPs.
The maximum power consumption is below 320W4, making it suitable for use with the common 100V, 15A outlets found in typical office settings.
4 WF-C21000 series: 320W、WF-C20750 series: 300W、AM-C series: 190W
Changing Office Printing with Inkjet Technology
Printers with the innovative high-capacity replaceable ink pack system require minimal replacement of consumables and minimal energy, saving work while reducing environmental impacts.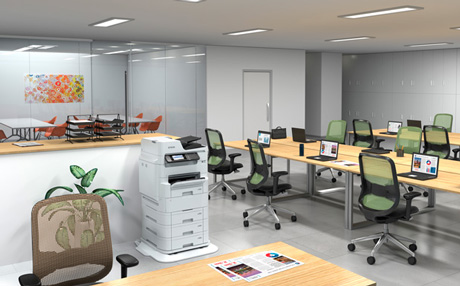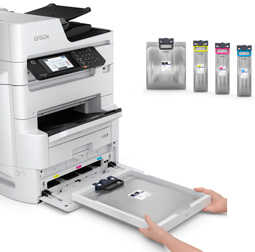 Reducing Environmental Impacts with the High-Capacity Replaceable Ink Pack System
High-capacity ink packs not only reduce costs but contribute to reducing environmental impact by reducing resource consumption and minimizing waste. They also ease the burden of managing consumables replacement and help reduce downtime.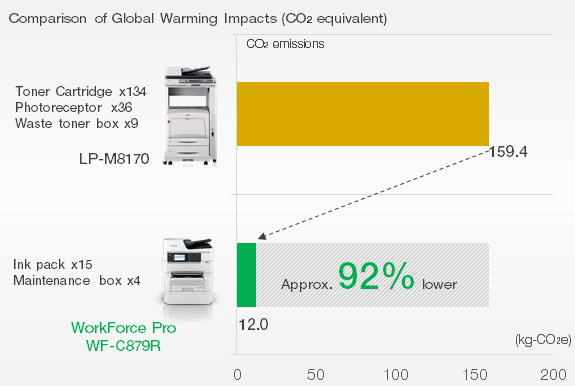 * Comparison of global warming impacts of consumables and their packaging. The 200,000 page 1 and 2 of the WF-C879R was used as the basis for comparing consumables 3 for the Epson LP-M8170, a color laser MFP (only available in Japan). Epson calculates the total global warming impacts of consumables (material, material processing) as CO2 emissions based on Epson's test conditions. Figures don't include ink and toner, but include the effects 4 of the material recycling. CO2 emissions will vary depending on customer printer use.
1 Average life printing of this product.
2 Ink pack yields are based on ISO/IEC 24711 and ISO/IEC 24712, Epson testes in default mode printing continuously, color yields are determined by taking an average yield.
3 Numbers are calculated proportionally based on the number of pages printed.
4 Reduction of CO2 emissions due to recycling.
Supporting Energy-Efficient Offices with Inkjet Printing
Because inkjet printers use no heat in the printing process, they consume far less power than laser printers, which in turn reduces the running cost.

Epson inkjet printers use Heat-Free Technology to deliver advanced customer benefits.
Epson Heat-Free Technology does not require heat in the ink ejection process.
Instead pressure is applied to the Piezo element, which flexes backwards and forwards firing the ink from the printhead.
In contrast, other technologies work with heat. Laser printers need to heat the fuser to enable printing, for example.
The fact that they do not use heat means that they use less power and produce less CO2 emissions.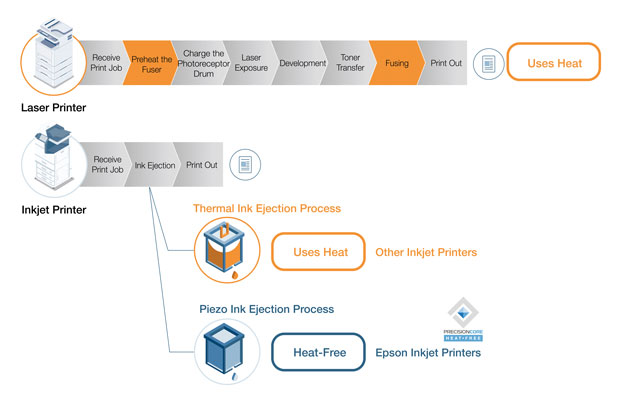 Offering Low User Intervention, Thanks to High-Capacity Ink Packs with a Compact Body.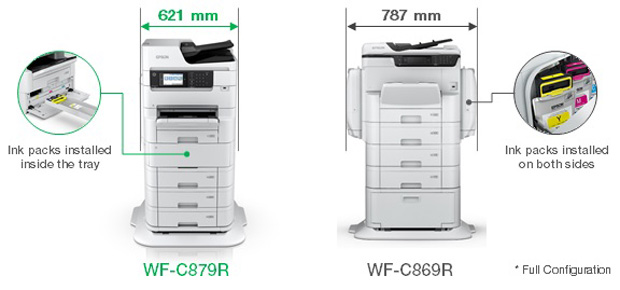 Eco Features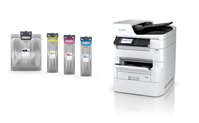 High-capacity ink packs allow you to print up to 86,000 pages in mono and 50,000 pages in color*2without replacing ink and reduce CO2 emissions by up to 94% compared to their equivalent laser printers, which consume a large number of toner cartridges and photoconductor units.
Epson Heat-Free Technology requires no heat to print consume far less energy than laser printers.
Adding New Value to Paper Contributes to a Circulating Society
The PaperLab A-8000, a dry-process office papermaking system, makes new paper from old right on-site using Dry Fiber Technology, which is characterized by waterless 1 defibration.
The PaperLab A-8000 was awarded the Minister's Prize, The Ministry of Economy, Trade and Industry, at the first EcoPro Awards ceremony (formerly called the Eco-Products Awards) sponsored by the Japan Environmental Management Association for Industry (JEMAI). In addition to outstanding and innovative paper recycling technology, the PaperLab was recognized for its use in producing environmental education materials, for its use as a symbol of environmental measures, and for helping to raise awareness about resource circulation.

1 Moderate humidity is required.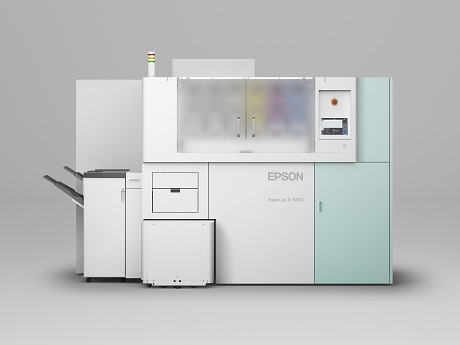 Preservation of Water Resources
The PaperLab A-8000 uses only about 1/100th 2 of the water it takes to make an equivalent mass of ordinary paper, thus helping to conserve the Earth's precious water resources.

2 Water consumption of ordinary paper includes water used in the growth of the trees that supply the virgin pulp. Ordinary paper means paper distributed in Japan.

Effective Use of Forest Resources
Paper is produced from wood taken from the forests, but the A-8000 spares our forests by producing new copy paper from used documents right in the office. Therefore, any paper produced by the A-8000 may be marked with the eco-label established by the 3R Promotion Forum Japan.



Reduction of Life Cycle CO
2

Emissions

The A-8000 enables small paper recycling cycle by turning used paper into new paper right on site. Paper can be locally recycled for local consumption, producing fewer CO2 emissions across the life cycle compared to a traditional paper recycling process, when producing an equivalent mass of paper.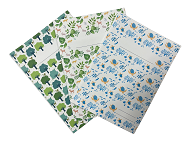 Awareness-Raising
The A-8000 reproduces paper on the spot–a fresh surprise that can raise the environmental awareness of your staff and spawn further environmental action. Children who have had the opportunity to see paper recycled come away with insights and greater concern for the environment, as well as a desire to solve environmental issues with science.
Internal Case Study
Epson uses the A-8000 extensively to recycle and reproduce paper used on its own sites. Since 2018, this recycled paper has been used to produce orientation training materials and business documents. It is being used for calendars and employee business cards. This paper is also used for notebooks and memo pads, and we plan to further expand uses in the near future. The production of paper and paper-based goods has expanded the range of job opportunities for the staff of Epson Mizube Corp., a special subsidiary that supports the employment of persons with disabilities and is involved in these activities.

Epson also uses a machine that employs dry fiber technology to upcycle recovered paper into waste-ink pads for inkjet printers and sound absorbing materials for the A-8000.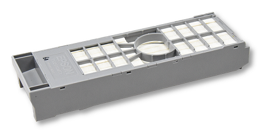 User Comment
Beyond direct benefits: raise children's awareness of the environment
The city government of Shiojiri decided to install a PaperLab after examining the potential environmental, security, and job creation benefits. We saw that we could promote environmental conservation through local recycling of used paper without stressing water resources. We saw that we could strengthen security by destroying sensitive information on-site. And we saw that we could develop employment opportunities for persons with disabilities. I personally feel that the biggest benefit is that the PaperLab can inspire children. For a resource-poor country like Japan, the development of high-productivity industries is important for the national identity. So, I think it is critical to instill in children a sense of awe and excitement about technology and learning.

A tangible benefit of installing PaperLab is its productivity: We are producing, on average, 18,000 new sheets of paper per month from locally recovered paper and use them to make application forms etc. This has enabled us to reduce the amount of waste paper transported off-site for disposal by 20% (FY2017 results).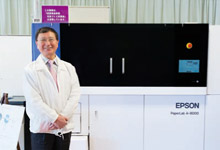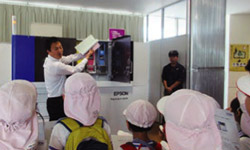 Eco Features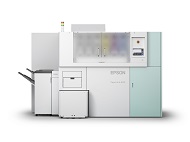 PaperLab A-8000 is an office papermaking system that recycles paper right on site using a dry process.
Contributing to the conservation of water resources with Epson's unique paper recycling technology that does not use water 3.
"Paper to paper" recycling, where fresh sheets of copy paper are produced from used paper generated on-site, is an effective way to conserve forests.
The ability to recycle at the office reduces the volume of paper that must be transported to off-site recyclers.
3 A small amount of water is used to maintain a certain level of humidity inside the system.
An Eco-Conscious Office Created by Combining Inkjet Printers with an Office Papermaking System
Epson is proposing eco-conscious office solutions that benefit the environment.
Epson wrings the maximum benefit for customer from solutions that combine inkjet printers, which employ Epson's proprietary Heat-Free Technology to reduce office power consumption, waste, and printing costs, with dry process office papermaking systems, which efficiently recycle paper to conserve water and forest resources. In addition to allowing a more environmentally friendly way to take advantage of the convenience of paper, an in-office paper recycling ecosystem delivers customer value by reducing costs and strengthening information security.




Epson installed 19 PaperLabs at its eight main sites in Japan. Through the local recycling of paper for local consumption, Epson is looking to reduce the amount of new paper purchased by the Epson Group. Furthermore, the Eco-Conscious Office Center in EPSON SQUARE MARUNOUCHI serves as a model for a metro office. It demonstrates to visitors that a greener office can be achieved anywhere.
Epson is giving potential customers a concrete idea about how they can improve their environmental performance by publicly disclosing our paper recycling operations and recycling data.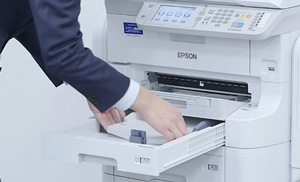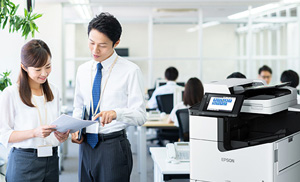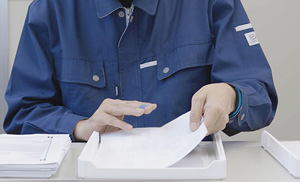 Raising Meeting Productivity with Interactive Communication
Epson's interactive projectors increase the productivity of interactive meetings, deliver more effective presentations, and even contribute to a smaller environmental footprint.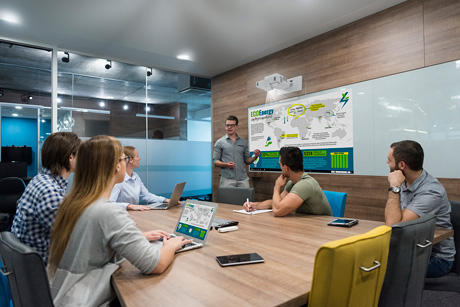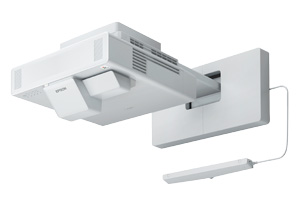 Reduce Your Environmental Footprint with Videoconferencing
Connect your existing videoconferencing system to the projector, and use the projector's multi-location interactive and split-screen functions to display your videoconference on one side of the screen and your presentation on the other, to achieve virtual face-to-face collaboration. This interactive projector can reduce the need for travel and reduce your environmental footprint.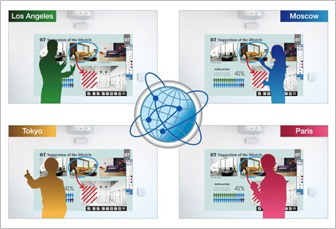 Multi-location Interactive Function
Share your PC screen with up to four locations.
Participants in all locations can annotate a presentation and save the content to their PCs.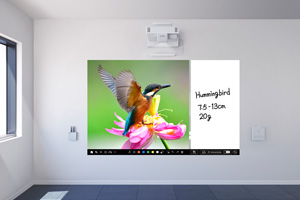 Split Screen Function
Achieve virtual face-to-face collaboration while sharing whiteboard and PC screen images.
Clearly display different content on a split screen that measures up to 100 inches.
Use as a Copyboard
The all-in-one interactive projector with copyboard, electronic blackboard, and other common whiteboard functions saves both resources and installation space. Directly annotate up to 20 sheets' worth of projected data and images, no PC required. Increase meeting productivity and minimize printouts by saving data or by emailing it directly from the projector.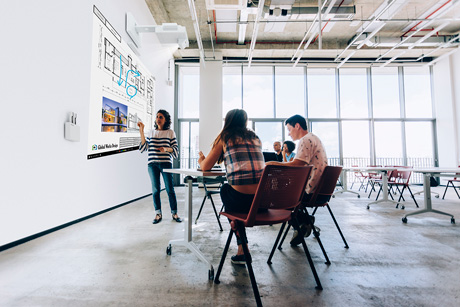 Maintenance-free Light Source
The laser light source is extremely reliable, eliminating the worry of lamp failure during important presentations.

Energy and Resource-saving
Within the projector's lifecycle, CO2 emissions will be the greatest during the stage in which it is used by the customer. Through product improvements, we will offer reductions in the consumption of electricity and natural resources during use.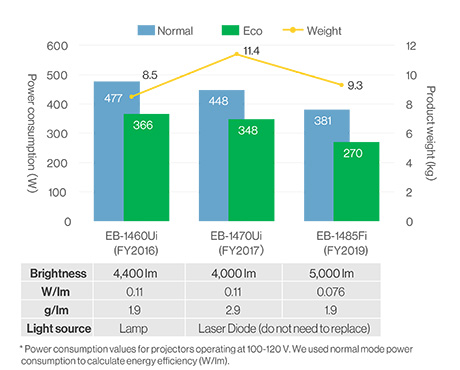 Eco Features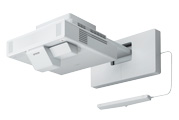 Connect your videoconferencing system to the projector, and use the multi-location interactive and split-screen functions to display your videoconference on one side of the screen and your presentation on the other, to achieve easy remote collaboration and reduce the need for travel. Helps to reduce your environmental footprint.
This all-in-one interactive projector includes copyboard, electronic blackboard, and other whiteboard functions to save both resources and installation space.
Projected data and images can be annotated with digital pens. Minimize printouts by saving data as is or by emailing it directly from the projector.
The laser light source is extremely reliable, eliminating the worry of lamp failure during important presentations.
Energy-saving features

An illuminance sensor detects ambient brightness and automatically adjusts the output of the lamp
You can reduce power consumption by as much as 29% using ECO mode
Textiles
Driving Production Process Innovations with Digital Textile Printers
Epson's digital textile printers faithfully reproduce prints in vivid colors and wonderful detail-and they do so with outstanding throughput and minimal environmental impact.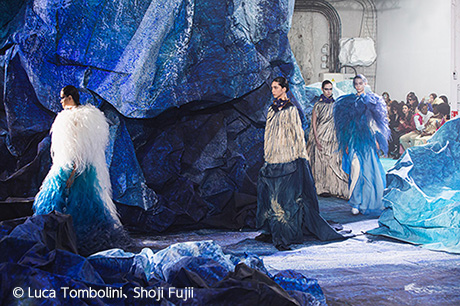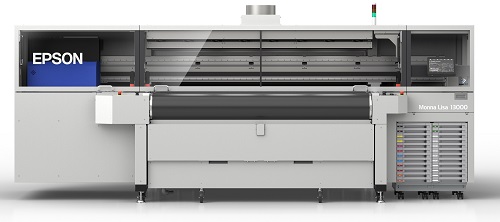 Streamlined Manufacturing Process
Epson's inkjet digital textile printers expand your design possibilities while minimizing your use of energy, water,
materials, and time compared to conventional processes. Digital textile printing involves the use of printing systems
to print out digital data to direct to fabric. It is different from traditional analog printing in which dedicated printing
plates are pressed directly onto the fabric. Digital printing has the following characteristics:
Faithful reproduction of fine gradations and subtle color tones
Since no analog plates are needed, digital textile printing saves storage space, eliminates time spent on plate
management, and enables small production runs at low cost and with fast turnaround
Minimize the environmental impact in comparison with analog printing

Little less of dyeing material
No need for water for plate washing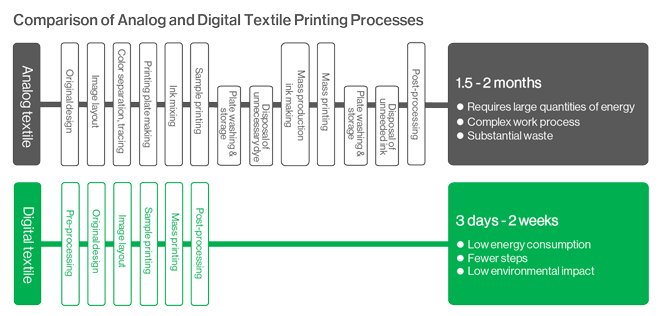 Efficient Inventory Management
Digital textile printing minimizes inventory losses associated with materials, partly-finished products, and finished products, from production through distribution and sale.

Eco Features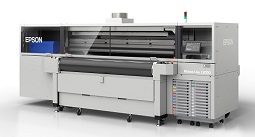 Since the digital textile printing process is shorter and does not require printing plates, it uses less energy and water than a traditional analog process, and wastes far less ink.
Ideal for small-lot production. Minimizes inventory losses from manufacturing through to sales.
Digital textile printer inks have acquired Eco Passport certification, indicating that they meet international safety standard for chemical substances of textiles.
See here for a partnership that aims to transform the fashion industry.
An Inkjet Workflow for Brightly Colored Garments with Fineness of Detail
There is a growing market for the printing of original images on T-shirts, polo shirts, tote bags and other cotton products. We are answering the needs of this market with advanced inkjet printing technology that renders images in vivid colors and intricate, faithful detail with low environmental impacts.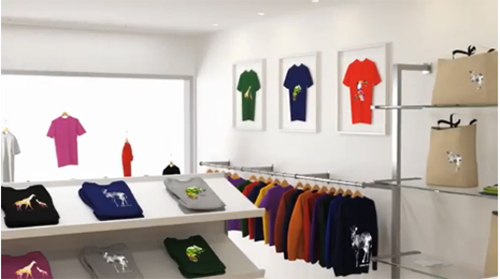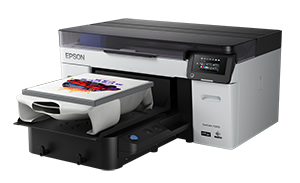 Transforming the Garment Printing Workflow
Traditional silk-screen printing requires extensive preparation, including the production of screens and the mixing of ink, as well as maintenance. For photos and other multicolored prints with gradations, the print process is long, and the longer the process, the more energy, water, materials, and other resources are used.
Digital prints produced with a SureColor SC-F2100 print digital data from a PC directly onto T-shirts and other garments. So, not only is there no need for screens or plates but images and photos can be reproduced with smooth gradations and in full color. The SureColor SC-F2100 shortens the garment printing workflow.
Moreover, the inkjet process saves resources and is more environmentally conscious than analog processes because there are no films, screens, or plates to produce, wash, or store.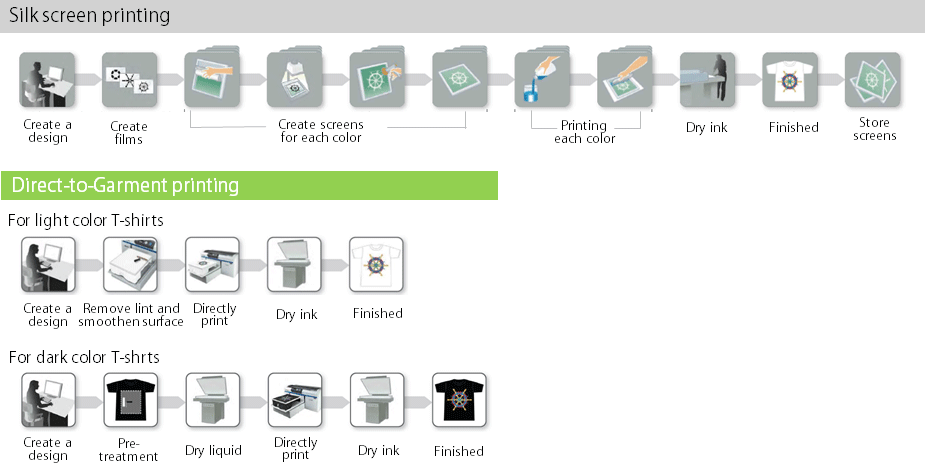 Infant-safe Prints on Textiles
The UltraChrome DG inks and pretreatment liquid used in Epson's garment printers are Eco Passport 1 certified and complies with ZDHC MRSL 2 level1, indicating that they meet international safety standard for textiles. Under this standard, even printed textiles that directly contact the skin of infants and toddlers are safe. Additionally, the inks are approved with GOTS 3.

1 Eco Passport by Oeko-Tex® is a system by which textile chemical suppliers demonstrate that their products can be used in sustainable textile production.
2 The evaluation is based on analytical testing in accordance with the Manufacturing Restricted Substances List (MRSL), which prohibits the intentional use of chemicals in the manufacturing process of textile products and others. It demonstrates compliance with the ZDHC MRSL Guidelines. ZDHC: Zero Discharge of Hazardous Chemicals.
3 An international standard for products made from organic textiles.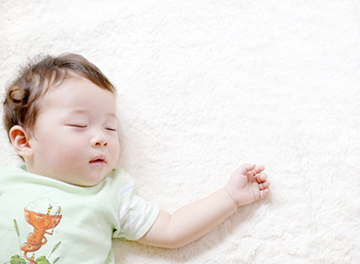 Eco Features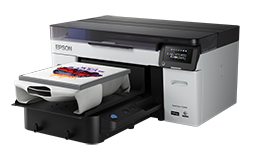 Streamlined garment printing workflow compared to silk-screen printing.
Saves resources because no plates or screens are used, unlike traditional printing processes that require a separate film and screen for each color. No washing required, since there are no screens.
UltraChrome DG ink and pretreatment liquid are certified of Eco Passport.
Manufacturing
The Value of Color on Demand
Easily print full-color labels, tickets and tags - where and when users need them and in the quantities required.
Eliminate large inventories of pre-printed labels on demand by printing labels in short runs.

Epson's ColorWorks Inkjet Label Printers Simplify Traditional Processes
Thermal printers were traditionally used to overprint black onto pre-printed labels, but this approach can be slow, disruptive, wasteful and inconvenient. Epson's range of on-demand color inkjet printers eliminates these issues easily. With the ability to print customized color labels, tickets and tags in-house as and when required, users no longer have to worry about inventory, production downtime, label waste, lost orders or late shipments.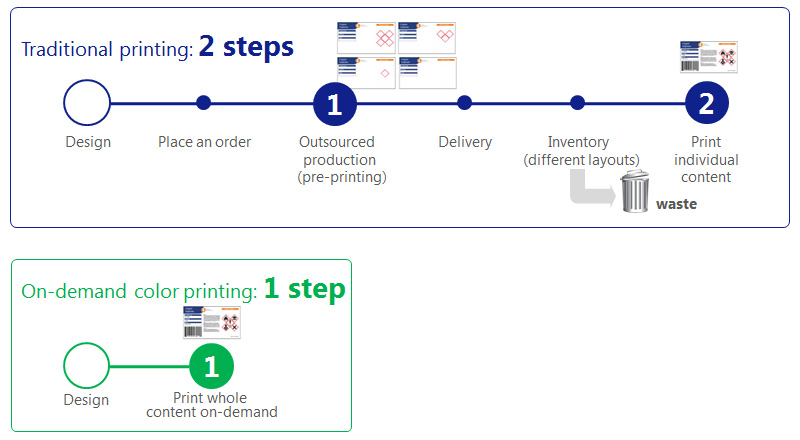 Eco Features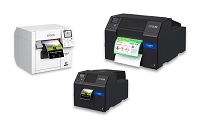 Simplifying the traditional label printing process, improve inventory management and reduce waste.

Streamline label production by printing color labels on-demand
No need to keep an inventory of pre-printed labels
Label Printing Technology Shifting from Analog to Digital
The trend toward short-run print jobs has spread to labels and packages, giving rise to demand for efficient printing systems that can agilely respond to this demand. Epson's digital inkjet label presses provide customers with a new label printing workflow that meets their needs.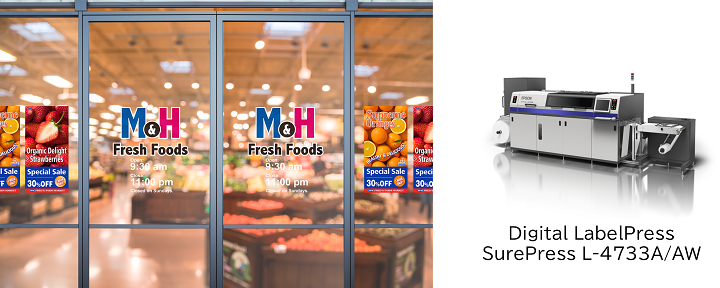 An Efficient Label Printing Process with a Low Environmental Impacts
A digital printing process does not need the press plates and other prepress processes required by analog printing processes. And, since a digital process does not use developer or film or plate materials, it conserves resources. Capable of stable, consistent output, a digital process does not require mock-ups and thus can reduce the waste of ink and label substrates during setup. Digital label presses thus offer both a more efficient workflow from start to finish and lower environmental impacts.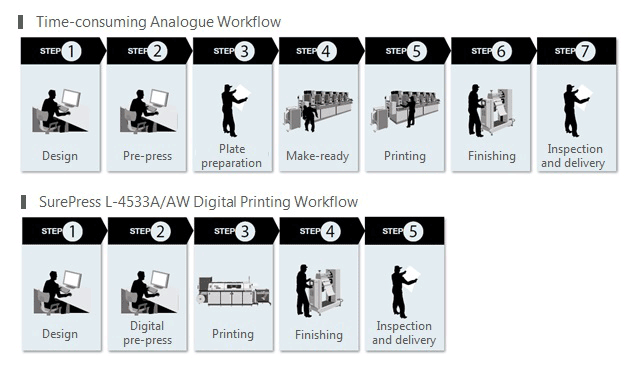 SurePress AQ Ink for a Better Printing Environment
Epson's SurePress AQ ink is a non-toxic, low odor, and noncombustible water-based pigment ink that offers print shops a better working environment. This ink also provides excellent adhesion on label substrates, without the need for pre-treatments or coatings.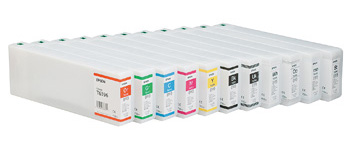 Eco Features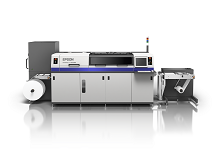 Save resources by removing the need for pre-press process like plate making, and eliminating the use of developer and films.
Easy color-matching and no replacement of plates makes the SurePress less wasteful, and enables it to consume less standard label stock and ink.
No need for special cleaning eliminates waste fluid emissions from maintenance.
Removing the need for pre-treatment, SurePress water-based ink has good adhesion on a variety of standard label stocks. Non-toxic, low odor, and noncombustible water-based pigment ink offers print shops a better working environment.
Reducing Environmental Impacts by Providing Remote Work Assistance with Smart Headsets
Epson's smart headsets with binocular, see-through lenses increase operational efficiency and work quality by displaying digital manuals and work instructions in the field of vision and enabling workers to perform work with both hands. In industrial settings, these headsets can be used by managers to provide remote service and maintenance personnel, for example, with instructions and assistance.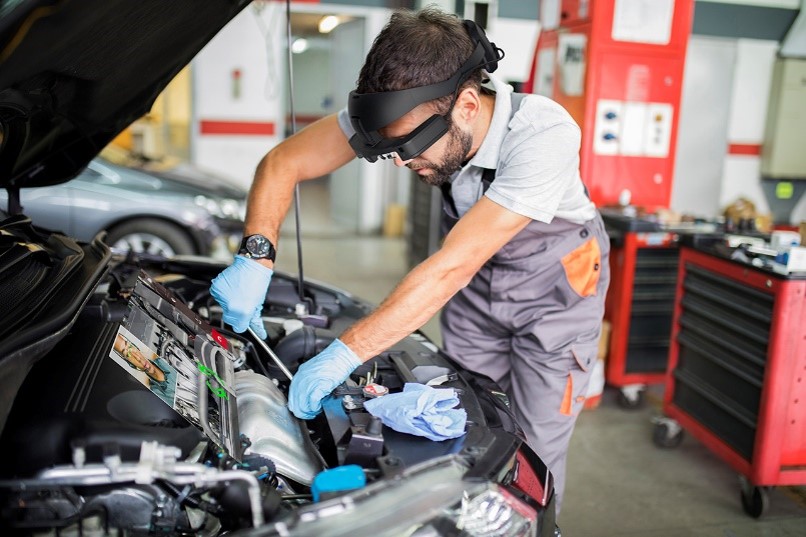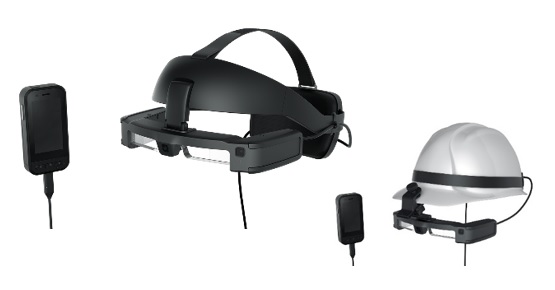 Remote Work Assistance
The centered high-resolution 8 mega-pixel front-facing camera enables workers to share their view and receive help with complex tasks through streaming or recorded Full HD pictures and videos.
In addition to safely increasing work efficiency and contributing to greater overall operational efficiency, Epson's smart headsets enable skilled personnel in a remote location to provide technical instructions to workers on the ground. This helps to reduce the need for travel and, consequently, your environmental footprint.


Advantages
Printed paper manuals and instructions are rendered unnecessary.
Greater work efficiency thanks to hands-free operation.
Tasks can be completed safely because the binocular, see-through lenses allow workers to see their surroundings through projected content.

Images and voice can be shared with workers in remote locations so that assistance can be provided effectively.
Usage Scenes
Used for work where they wear caps, or where they do not need to wear anything on their head
Infrastructure (server room)
Manufacturing (assembly of office automation equipment, household appliances, vehicles, etc.)
Maintenance (large equipment such as aircraft, semiconductor manufacturing equipment)
Agriculture (technology transfer)

Used for work where wearing a helmet is mandatory
Infrastructure (electricity, gas, water)
Manufacturing (heavy machinery, steel, robotics)
Construction, Public Works (building construction, excavations, bridges)

Eco Features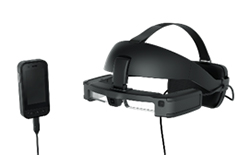 The headsets are equipped with a camera and sensors that provide remote personnel with an accurate picture of the situation so that they can provide workers on the ground with instructions and assistance without having to travel, so the environmental impacts associated with travel can be reduced. The headsets also promise to reduce downtime and time losses associated with travel.
Hands-free operation enables tasks to be performed safely and efficiently, improving both operational efficiency and work quality.
Make More with Less: Micro Injection Molding Machines for Superior Financial and Environmental Performance
The smaller the parts, the greater the waste of materials and energy consumed in the manufacturing process.
Epson's micro injection molding machines solve this customer issue by allowing users to make more with less.
Epson's AE-M3 and AE-M10 micro injection molding machines employ a proprietary disk drive system that dramatically reduces machine size, making them ideal for molding small, precision parts with exceptional energy efficiency.
These machines are standard-equipped with a hot runner system that minimizes waste and efficiently uses input resources.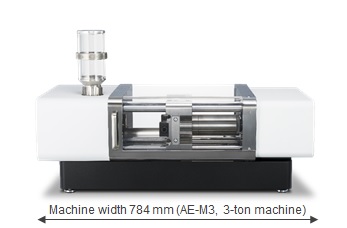 Fast, Precision Injection with Minimal Energy and Waste
Injection molding machines melt a plastic material with a heater and precisely inject the molten material into a mold cavity, where the material cools and hardens before being ejected as a molded product.

Epson's micro injection molding machine employs a proprietary disk drive system to melt and inject the plastic. The molten plastic is precision injected with minimal energy. The short melting path has the additional benefit of reducing damage to thermally sensitive materials, thus helping to ensure good molding quality.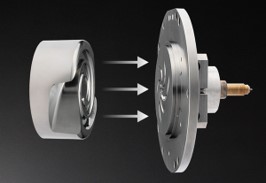 The hot runner system that is standard on these molding machines minimizes material waste from runners and other parts in the molding process. It also shortens cooling time after mold clamping, which reduces molding time (cycle time) and thus increases productivity.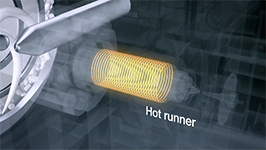 * The video above was provided using the service of YouTube™. YouTube™ is a trademark of Google Inc.


Reduces CO
2

by Conserving Energy, Saving Space, and Reducing Waste Plastic
Epson's micro injection molding machines have a far smaller environmental impact than the average 30-ton molding machine. In addition to unrivaled compactness and an energy saving design, our machines eliminate much of the waste material from runners and such that are generated in the part molding process.


* This evaluation compares the impacts of a 30-ton machine and a 3-ton machine when producing 500,000 Epson printer parts per month. Calculations were checked using a method of Mizuho Research & Technologies Institute. Epson's AE-M3 (3-ton molding machine) produces two parts at a time and has a molding time of 694 hours, whereas the average 30-ton molding machine of other companies produces eight parts at a time and has an average molding time of 382 hours. The manufacturing, transportation, and disposal stages of products and accessories are not taken into account when calculating CO2 emissions.
These are the estimated results of a hypothetical model based on Epson's actual results, and the calculation results may differ depending on the conditions of the customer's equipment and materials.
Calculation conditions: Cubic volume of part was 0.5 cm3, plastic material was POM, the 30-ton machine was a composite imagined using the mean value of three representative models from other manufacturers, and the installation area was the molding machine installation space + incidental equipment + work space.

2022 Good Design Award
The micro injection molding machine AE-M3 and AE-M10 won a 2022 Good Design Award, which presented annually for designs that benefit and enrich our lives and society. In addition, these were selected for the Good Design Gold Award and the Good Design Best 100.

< Reasons for Award >
Global industries need to find ways to economically produce the goods that are needed in only the amounts they are needed. However, there is a structural dilemma in that high-mix, low-volume production results in large losses; in fact, making more with less-less waste, less energy-is hard to do. We live surrounded by all kinds of plastic products, most of which are made using large plastic molding machines that waste significant amounts of material. Epson's micro injection molding machines are revolutionary in that they can efficiently do the work of a large factory in an area the size of a desktop.
Eco Features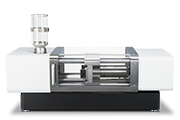 Designed around the concept of "making more with less," the AE-M3 and AE-M10 are micro injection molding machines that support on-demand production and mass customization.
A proprietary disk drive system dramatically reduces machine size and achieves exceptional energy efficiency. These machines are standard-equipped with a hot runner system that minimizes waste and efficiently uses input resources.
The machines save energy and reduce plastic waste, thereby reducing CO

2

emissions by as much as 78%1 compared to an average 30-ton machine from other manufacturers.
1A 78% reduction from the average CO2 emissions of a standard 30-ton machine from other manufacturers. This figure is an estimate for when the same quantity of parts is produced using a model based on Epson's actual results.
Stores
Intelligent Receipt Printers that Control Peripherals
TM-T88V-DT and TM-T88V-i are next-generation receipt printers with integrated printer and PC functions that support smart store operations when connected with tablet and POS peripherals.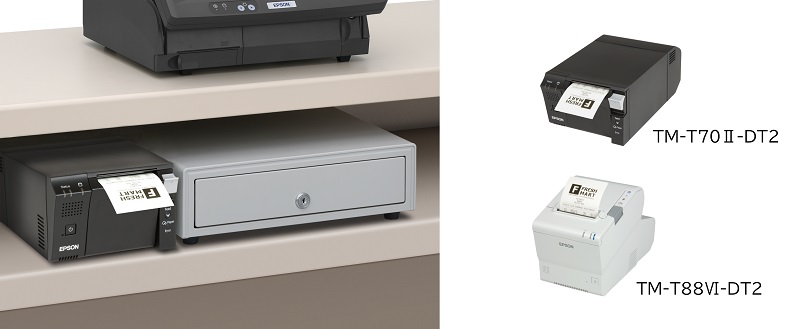 Greatly Simplified System Configuration
The TM-T88V-DT is loaded with interfaces for connectivity with a wide assortment of peripheral devices. Since it can be used with a Web browser and is not dependent on any one OS or terminal type, the TM-T88V-DT greatly simplifies POS system configuration.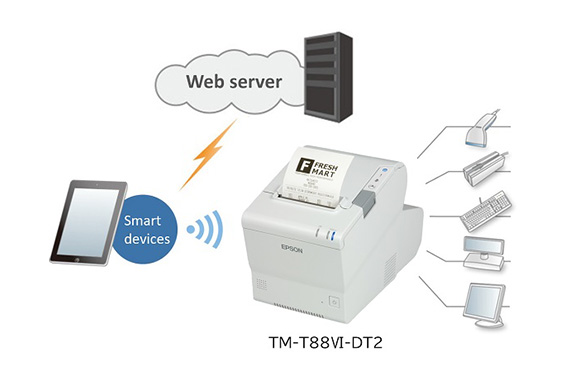 Easy maintenance
The latest applications are always available through the cloud (Web server), reducing the environmental impacts of onsite installation and updating by the service staff.

POS configuration flexibility
Because the number of POS systems can be flexibly changed depending on the level of demand, users can reduce the environmental impacts of their operation by removing unnecessary devices.

Every network terminal is available
The latest power-saving smart devices can be utilized because the Intelligent receipt printer has no restrictions on the type of terminal or OS.

Resource-saving design
Contributes to resource-saving by incorporating the space-saving design of the TM series printers. It's footprint is approx. equal to the TM-T88V.
Paper-saving features reduce paper use by up to 30%.
Eco Features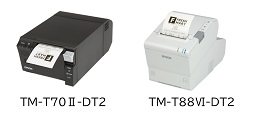 Because the number of POS systems can be flexibly changed depending on the level of demand, users can reduce the environmental impacts of their operation by removing unnecessary devices.
The latest applications are always available through the cloud (Web server), reducing the environmental impacts of onsite installation and updating by service staff.
The latest power-saving smart devices can be utilized because the TM-T88V-DT has no restrictions on the type of terminal or OS.
Equipped with paper-saving features, that uses up to 30% less paper than the TM-T88IV.
The TM-T88V-DT contributes to resource-saving by incorporating space-saving design. Its footprint is approximately equal to that of the TM-T88V.
Photo
Revamping the Photo Printing Workflow with Inkjet Minilabs
Epson inkjet minilabs are easier to maintain than traditional silver-halide photofinishing equipment. In addition to streamlining the photo printing workflow, they save maintenance costs, help to mitigate resource consumption and reduce the environmental impacts of the printing process.

Efficient Photo Printing with Digital Printing
Silver-halide minilabs require chemical adjustment and calibration in the morning, as well as waste fluid processing and cleaning at the end of the day 1. The SureLab SL-D3000 inkjet minilab, however, does not require any special maintenance at startup and shutdown. Inkjet minilabs dramatically improve the photofinishers' work environment because, without chemicals, there is no waste liquid to be processed, no parts to be cleaned, and no chemical smell.

1 According to Epson research.

Eco Features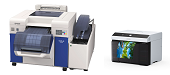 No chemicals means no liquid waste.
No washing process means no water hookup is needed.
Compact body has a 2.1 m² installation footprint 2.
The compact design allows greater installation freedom.
2 Without sorter option