Epson Wins 2022 Good Design Awards for Compact Injection Molding Machines, Printers, Projector, and Robot Software
- Three compact injection molding machines selected for the Good Design Gold Award and Good Design Best 100 -
- TOKYO, Japan, October 7, 2022 -

Seiko Epson Corporation (TSE: 6724, "Epson") has won a 2022 Good Design Award for five designs, including one for compact injection molding machines, two for printers, one for a projector, and one for an industrial robot programming software application. Good Design Awards are presented annually for designs that benefit and enrich our lives and society. In addition, the AE-M3, AE-M10, and AE-M3V compact injection molding machine were selected for the Good Design Gold Award and the Good Design Best 100. The design winners are described below along with the reasons for their selection.
AE-M3, AE-M10, and AE-M3V Compact Injection Molding Machines
These compact injection molding machines are a new molding platform that aims to advance the frontiers of industry by making it possible to produce parts in compact factories with a reduced environmental impact. A proprietary disk drive system makes the machines smaller and more efficient at injection molding, and enable environmentally-conscious local production.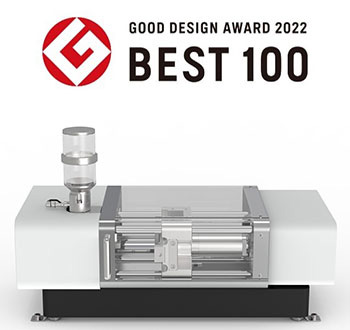 Reasons for Award
Global industries need to find ways to economically produce the goods that are needed in only the amounts they are needed. However, there is a structural dilemma in that high-mix, low-volume production results in large losses; in fact, making more with less-less waste, less energy-is hard to do. We live surrounded by all kinds of plastic products, most of which are made using large plastic molding machines that waste significant amounts of material. Epson's compact injection molding machines are revolutionary in that they can efficiently do the work of a large factory in an area the size of a desktop.
TM-L100 Compact Label Printer
The TM-L100 is a small label printer that is ideal for managing orders and managing food in food service businesses. It has a smooth, clean design that enhances a sense of cleanliness, is easy to clean, and is suitable for food-handling environments. The spread of food delivery services has created demand for a wider variety of labels. The TM-L100 meets this demand, supporting high-adhesive liner-free labels that do not produce waste and that reduce environmental impacts and improve the usage environment.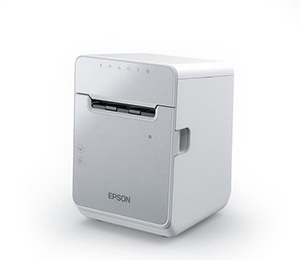 Reasons for Award
This small label printer for the food service industry supports current needs, where the pandemic has led to an explosion in food delivery services and greater awareness of the need for high standards of hygiene. The housing is smooth and easy to wipe, while the silver color of the front panel also emphasizes cleanliness. The pursuit of cleanability and hygiene has resulted in a clean and sleek design. The product was also recognized for improved connectivity with tablets and for the use of liner-free labels that eliminate waste and reduce environmental impact.
TM-P20II and TM-P80II Mobile Receipt Printers
These mobile receipt printers are engineered for customer service, delivery, and meter reading applications. They have a stylish appearance when worn on a belt or over a shoulder and a sleek design that blends harmoniously within a store space. They are also robust enough for safe use in harsh environments, providing impact resistance of up to 2.1 m and protection to IP54 dust and water resistance standards. The seamless design makes the printers easy to clean, which is an especially important consideration during a pandemic.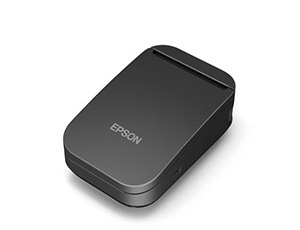 Reasons for Award
The judges appreciated the sleek, seamless design, which is endowed with both the cleanability needed in the age of COVID-19 and the robustness required for mobile devices. The form was well thought out, with the top surface sloped to give it a clean appearance when mounted on a belt and making it easy to slip into a pocket. The ability to customize the top space is also a thoughtful touch.
EH-LS800W and EH-LS800B Home Projectors
An ultra-short-throw lens allows this projector to be installed approximately 2.5 cm from a wall and still produce an 80-inch picture. A distance of about 9.5 cm between the projector and wall is needed to project a 100-inch picture, which is about 29.2 cm less than the 38.7 cm required by their predecessor, the EH-LS500. Since this frees up more space within a room while still producing a large picture, the projector allows you to enjoy not only movies but also more dynamic online content such as fitness activities.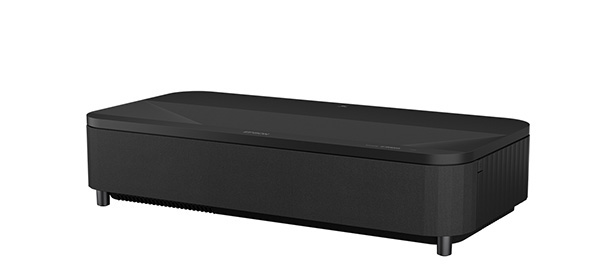 Reasons for Award
These projectors, which have a short-throw lens that delivers a large, compelling picture from a shorter distance than ever before, feels like the culmination of the advanced technology that Epson has cultivated over many years. The products are finished beautifully, with a design engineered to minimize any sense of oppression in the space. These projectors will expand the range of activities that can be enjoyed and provide a richer user experience.
Epson RC+ Express Edition programming software for industrial robots
This software application has a GUI that allows even users with no specialized knowledge of industrial robots to program them. Anyone can easily create programs for industrial robots simply by combining commands with intuitive operations. The ability to program robots quickly and easily will help to solve societal issues by raising productivity and easing labor shortages through automation.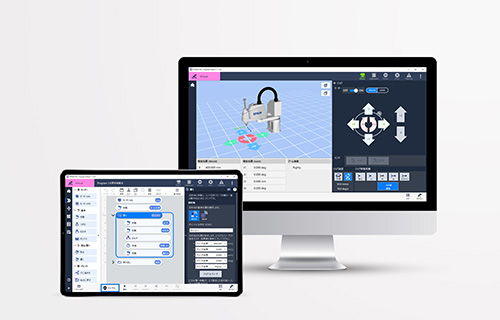 Reasons for Award
Unlike in ordinary programming, this software is equipped with special functions for creating sequential control programs for industrial robots, such as motion direction guides and graphical jog buttons that allow users to immediately see which direction a robot will move when it is operated. Visual programming makes it possible to create programs at the user level without needing to learn programming languages. Judges saw it as an excellent tool that contributes to society by, for example, improving productivity and eliminating labor shortages through automation.
* Note that product names and availability may vary by region. Please contact your local Epson sales company for details.
About Epson
Epson is a global technology leader whose philosophy of efficient, compact and precise innovation enriches lives and helps create a better world. The company is focused on solving societal issues through innovations in home and office printing, commercial and industrial printing, manufacturing, visual and lifestyle. Epson will become carbon negative and eliminate use of exhaustible underground resources such as oil and metal by 2050.
Led by the Japan-based Seiko Epson Corporation, the worldwide Epson Group generates annual sales of more than JPY 1 trillion.
corporate.epson/en/
---