Sustainability Report
Epson has published a CSR activity report every year since 1999. In 2003, the name of the report was changed from Environmental Report to Sustainability Report.
Sustainability Report 2023
Reporting period : April 2022 - March 2023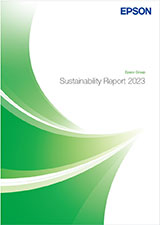 Interactive PDF with the icon linked to adequate page on an article and/or upper page is helpful for PC or tablet users. iOS users can open the file in the Books app.
Download by Section
Sustainability Management
Materiality
Contributing to the SDGs
TCFD
Participation in External Initiatives
Evaluation by External Parties
Environmental Vision 2050
Environmental Management
Decarbonization
Closed Resource Loop
Customer Environmental Impact Mitigation
Environmental Technology Development
Pollution Prevention & Chemical Management
Biodiversity Conservation
Human Resource Strategy
Diversity, Equity and Inclusion
Human Rights
Health and Productivity Management
Occupational Safety and Health
Supply Chain Intiatives
Responsible Mineral Sourcing
Supply Chain Human Rights Due Dilligence
Quality Improvement
Product Safety
Universal Design
Corporate Governance
Internal Control System
Security
Archive
GRI Standards Comparison (GRI content index)
This report has been prepared in accordance with the GRI Standards: Core option. Epson discloses information appropriately as part of responsible corporate activity.
Related Information