Engineer Interviews
Solving problems and improving operational efficiency at production sites that use large-format printers
Epson Cloud Solution PORT was developed to solve production issues involving large-format printers and thus increase the efficiency of our customers' operations. The name was inspired by a desire to develop a solution as a "port" (harbor) from which to deliver Epson value to customers in the commercial and industrial printing industry.
Eight members of the team that was responsible for the development of Epson Cloud Solution PORT talk about their objective and share some behind-the-scenes stories.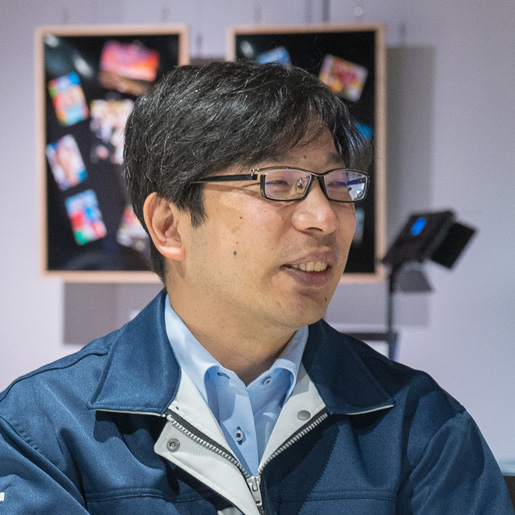 Nagai, planning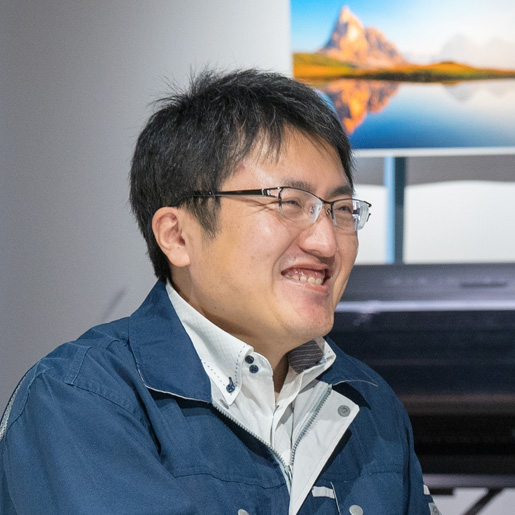 Kamata, color management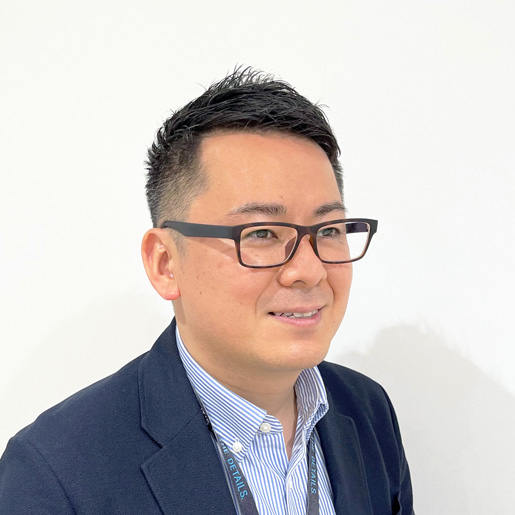 Nakayama, sales and marketing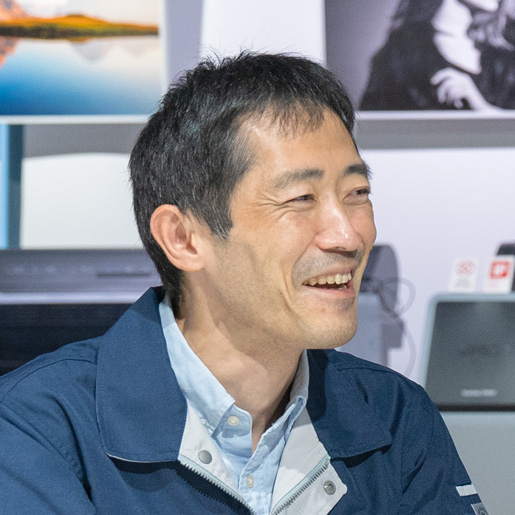 Kito, DX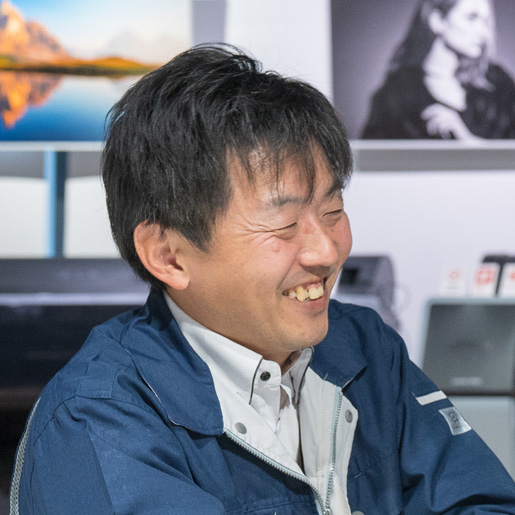 Sugimoto, ERMS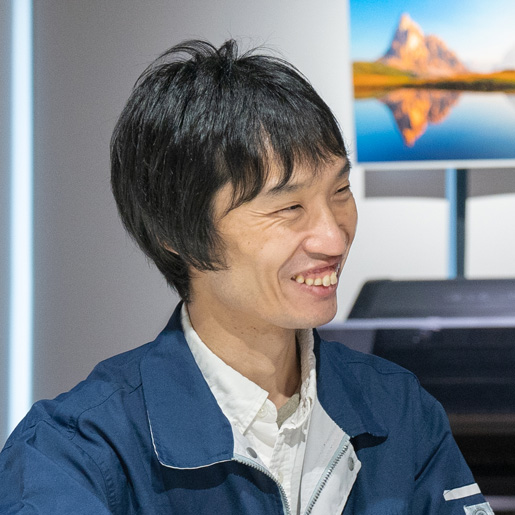 Ozawa, firmware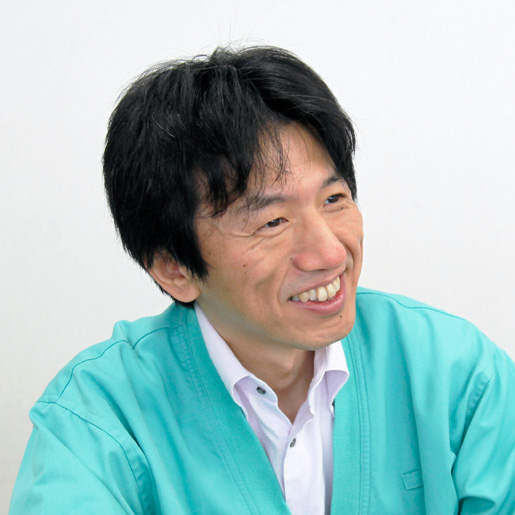 Niikura, application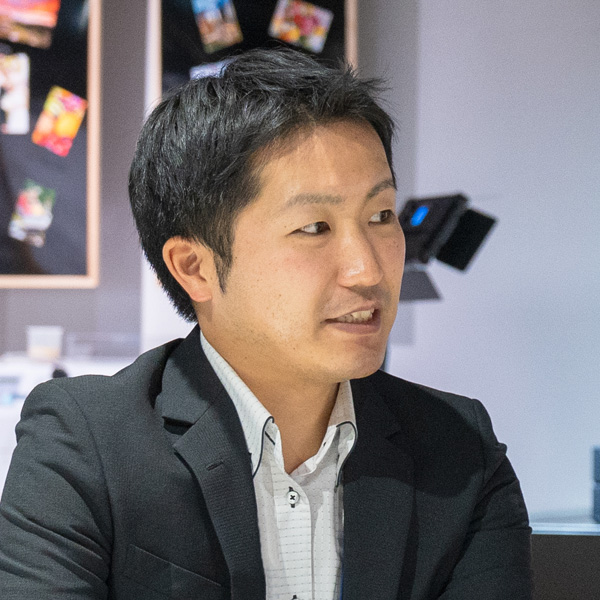 Suzuki, sales and marketing
Why a printer manufacturer offers cloud-based services
Why do you want to help customers improve the efficiency of their operations using cloud-based services? What is the motive behind this?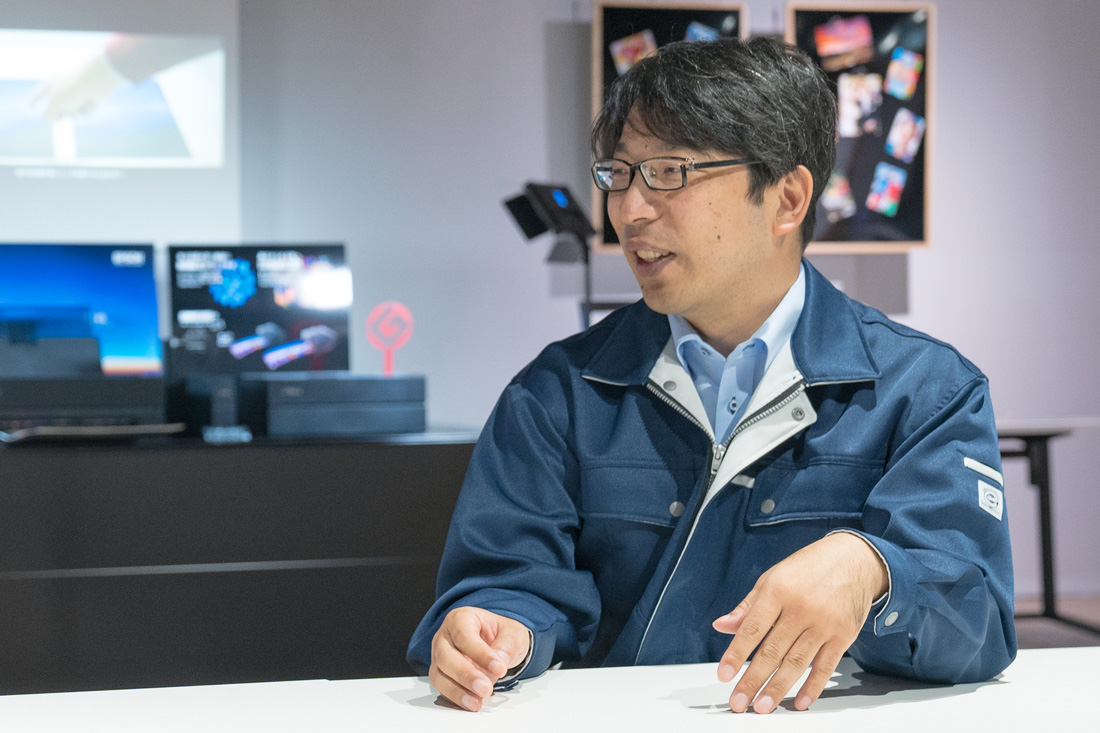 NagaiMost large-format printers are used in business and, as a printer manufacturer, our mission is to help drive our customers' earnings. To do so, we need to enable them to use their printers to increase their profits. In other words, they need to increase the utilization rate of the printers in their fleet and reduce waste. However, certain factors can interfere with printer utilization rate in production. Color matching is one of them.
What is color matching and what are the challenges?
KamataIt is the process of matching the colors that the client wants to the colors of the print output from the printer. Hundreds of printed color samples called "color patches" are used for color matching. There are many types of media for printing. You have to find the right combinations of colors and media to accurately reproduce the colors you want. Sometimes you are asked to output the same colors as those you see on a PC monitor. Color matching is extremely difficult in these cases because a lot depends on the monitor settings and sensory perception. You need to make a lot of test prints to get the colors right. It takes a lot of time and effort. And, production is idled during that time, of course.
There are also subtle differences in the colors produced by different models of printer and even among printers of the same type. This makes color matching especially challenging when printing is decentralized. Customers may own multiple printers depending on what and how much they are printing. To increase productivity or accommodate rush jobs, they may want to output the same job simultaneously on multiple printers. However, this isn't efficient. Let's say, for example, that they get an order for 100 prints. Even if they print the job on three printers, they'd have to make 100 prints on each printer because the colors wouldn't match. This would also lower the utilization rate of their entire printer fleet.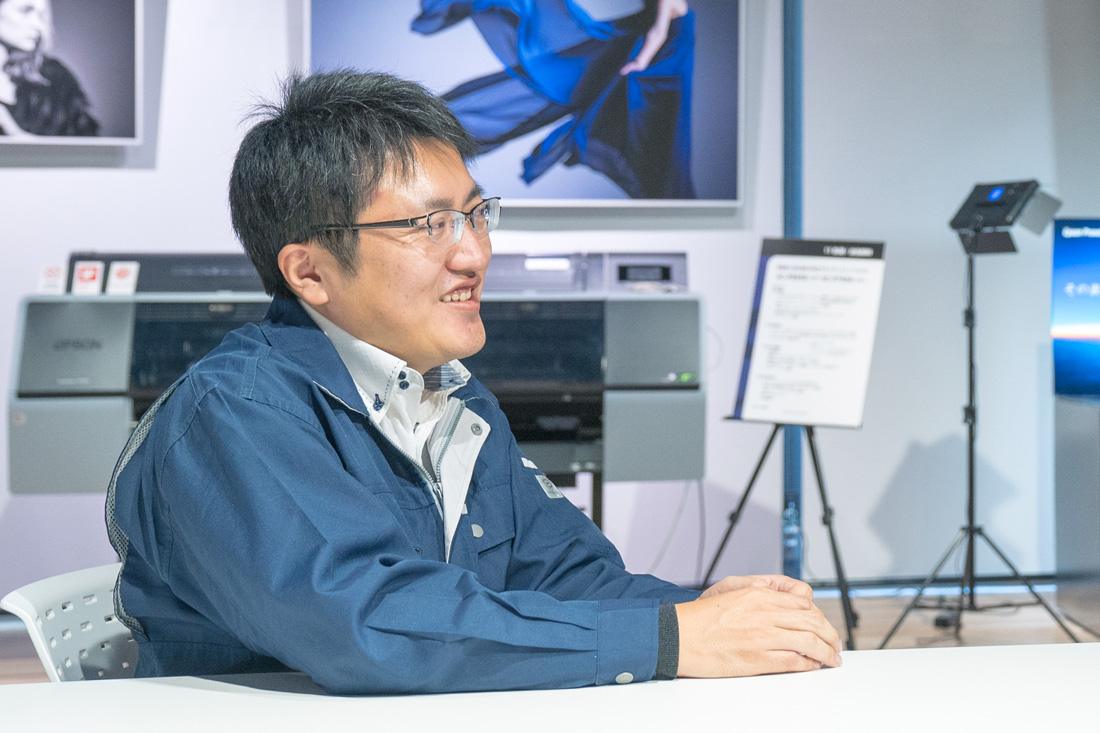 Individual differences between printers of the same model and between different models also create other challenges. Sometimes companies get repeat orders from a client who wants them to make the same prints again with the colors produced before. Since the company needs to maintain the color reproduction of older machines, they are unable to upgrade to a new, more productive model.
What kinds of challenges or needs are there besides color matching?
NagaiThere was a need to increase the efficiency of printer management that relied on people and on individual skills. For example, printing companies needed to increase efficiency by eliminating the need for handwritten notes and keeping track of printer operation and print settings digitally. They needed to automate work allocation according to the capabilities of each worker, and they needed to efficiently manage production at multiple sites.
In other words, Epson Cloud Solution PORT was designed to solve issues related to quality control, production control, and maintenance management.
NagaiThat's right. The first step is to improve the customer's productivity by connecting to their large-format printers over a network to gain visibility into printer operating status, error information, and things like that.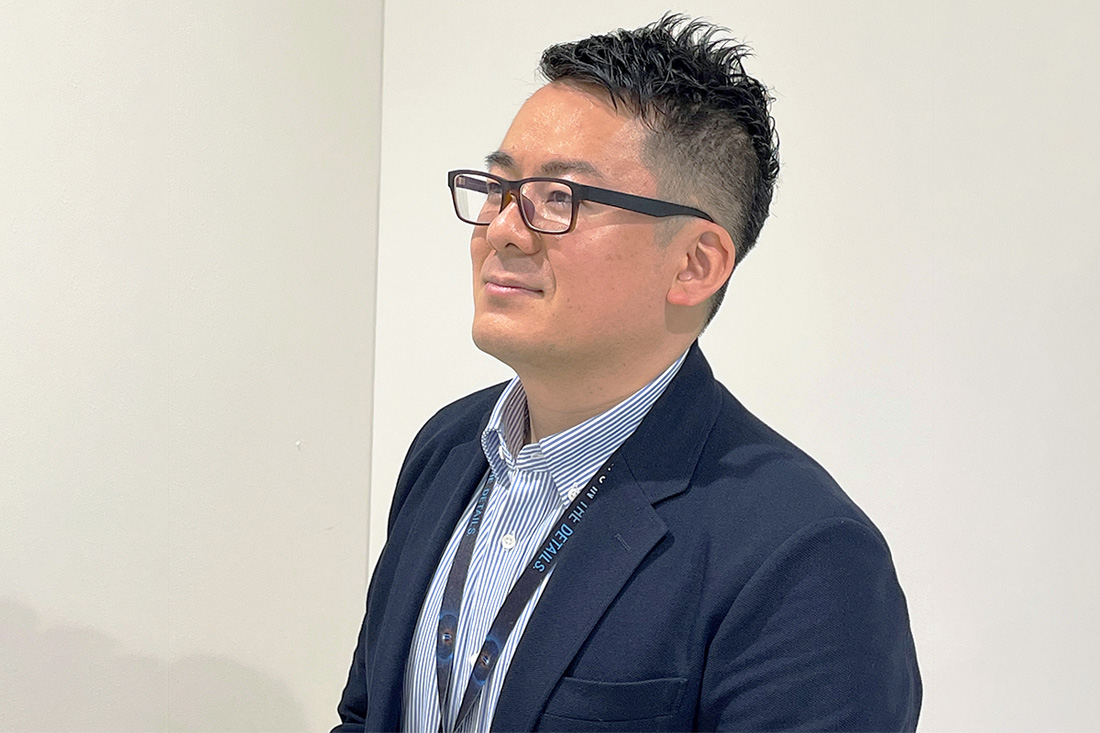 NakayamaIn the past, when a customer contacted our call center or a service representative to get help with a problem, we had a hard time identifying the problem because it is hard to get a clear picture of the situation at the site and the printer's status over the phone, so it took a long time to get a handle on the problem.
However, if we remotely monitor printer operations, we can accurately diagnose problems and provide useful advice, which can help to shorten call times and speed up problem resolution. In addition, if field service engineers know where a problem lies before heading to a customer's site, they can bring the parts they need with them. This can reduce the number of visits and downtime.
A behind-the-scenes look at Epson Cloud Solution PORT development
How do you build a platform to connect with providing services to customers?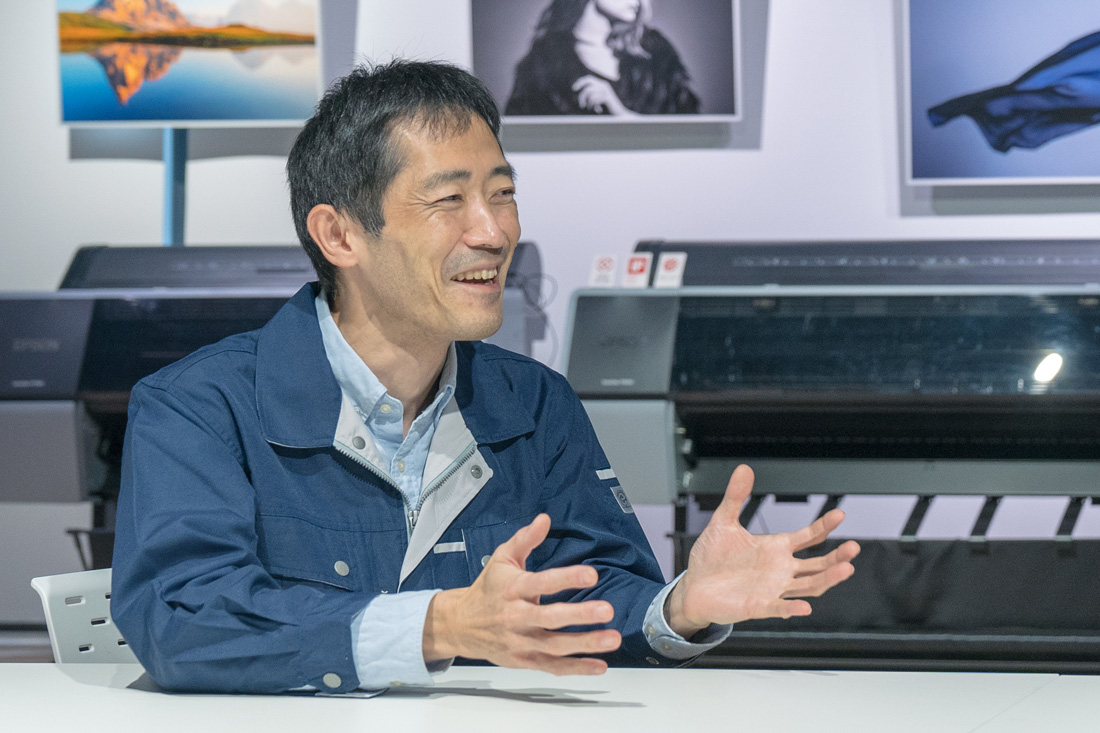 KitoWe have a lot of IT infrastructure in place, including global ID user accounts that customers can use to access a variety of services provided by Epson, a system that allows us to centrally manage customer information, and subscription-based business models. We are taking advantage of these technology assets to build a system for connecting us with our customers' large-format printers. We plan to use it as a platform to provide additional new services.
SugimotoIt took a long time to figure out what information to collect from large-format printers and to come up with a remote monitoring service.
What kinds of things did you struggle with?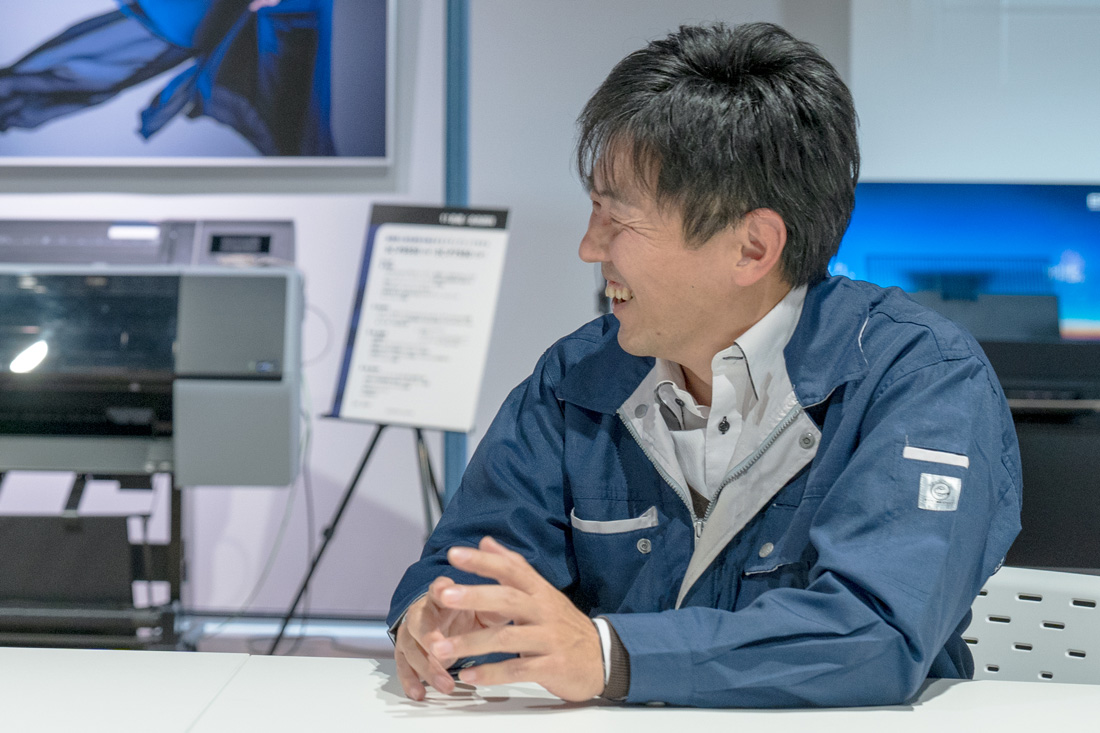 SugimotoSeveral years ago, we moved forward on a plan to monitor large-format printers, but things didn't work out at first. The problem was that we were looking only at monitoring methods and didn't have a well-defined purpose in mind. So, we went back to the drawing board, identified what our customers' essential needs and problems were, analyzed what could be solved with IT, and then identified those that could be solved by monitoring. We then incorporated the requirements in the design specifications.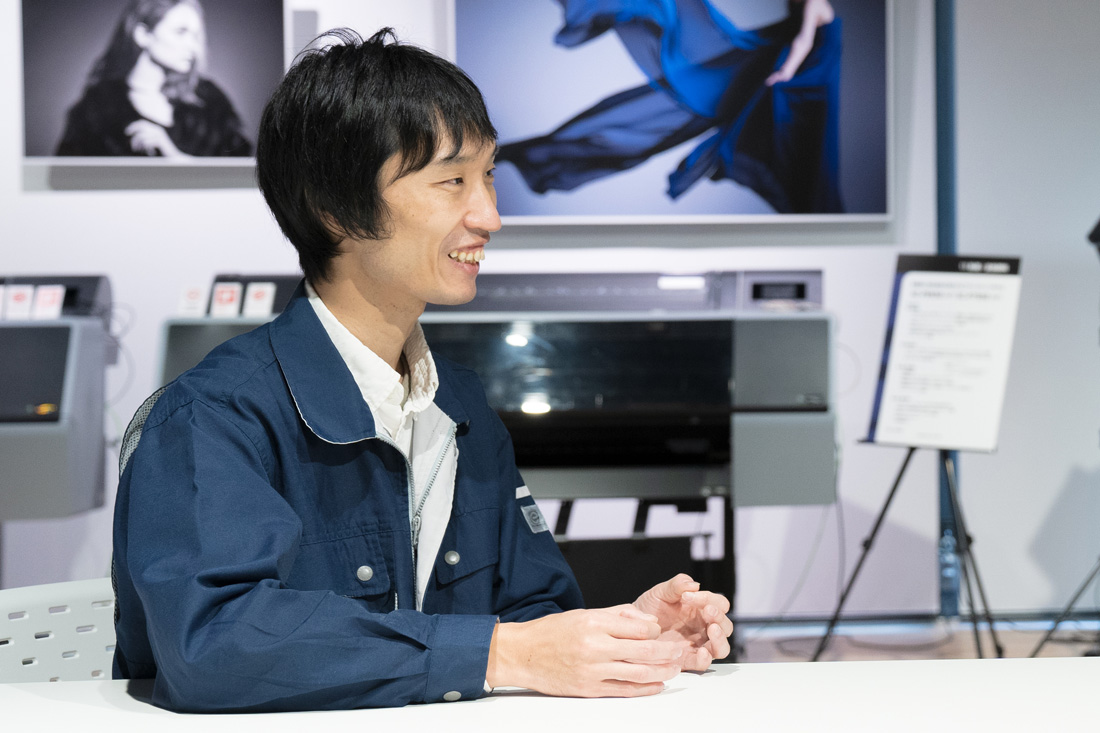 OzawaWe designed firmware that collects the necessary information from printer connected to a network and sends it to an Epson-designated server. As Kito-san mentioned earlier, we have subscription services (such as Epson's Smart Charge) that collect data from the business printers of subscribers, who are charge based on actual use. We were able to use this technology so that we didn't have to start development from scratch.
Having said that, the amount of information collected from large-format printers is far greater than that collected from business printers. That made it really hard to engineer within a limited development period. We worked closely with the department that was engineering the firmware to drive forward efficiently.
KitoAll the data obtained from large-format printers has to be stored on a server, and that data has to be processed and analyzed according to the type of service. We achieved this by leveraging our IT infrastructure.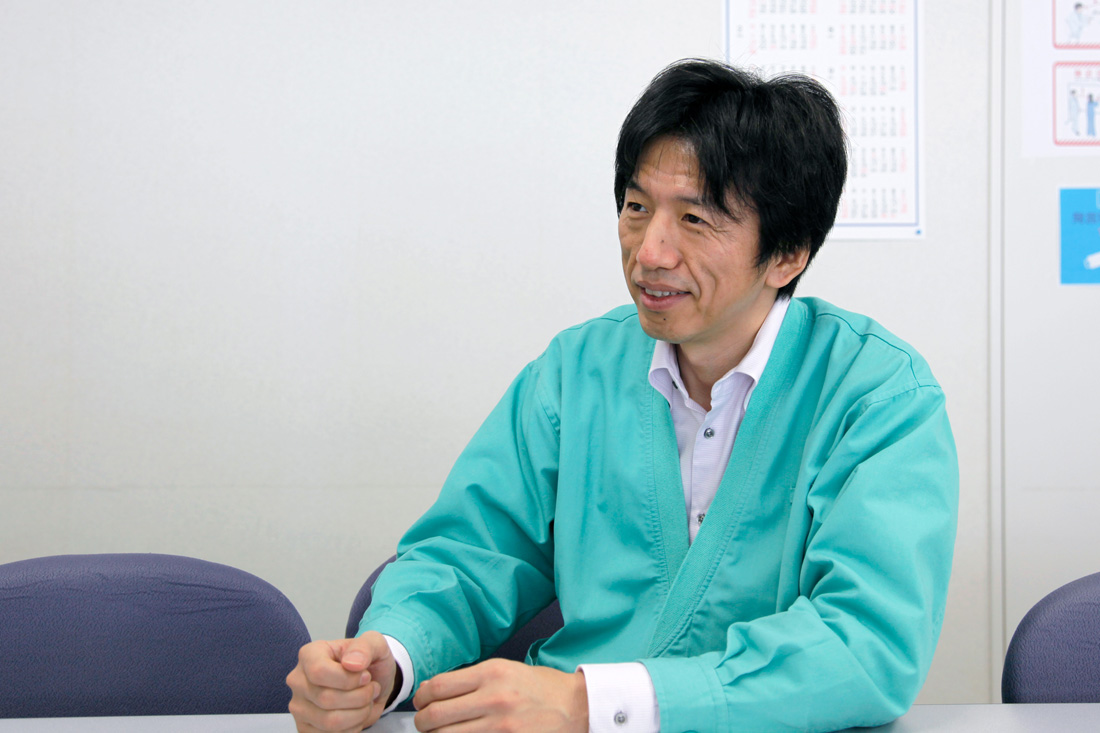 NiikuraTo enable utilization of the accumulated information, we designed an application for displaying the results on a PC or mobile device. The design team that was in charge of development had never designed an application before, so it was a struggle at first. We ended up creating it through a process of trial and error with the cooperation of other planning and design departments and sales companies.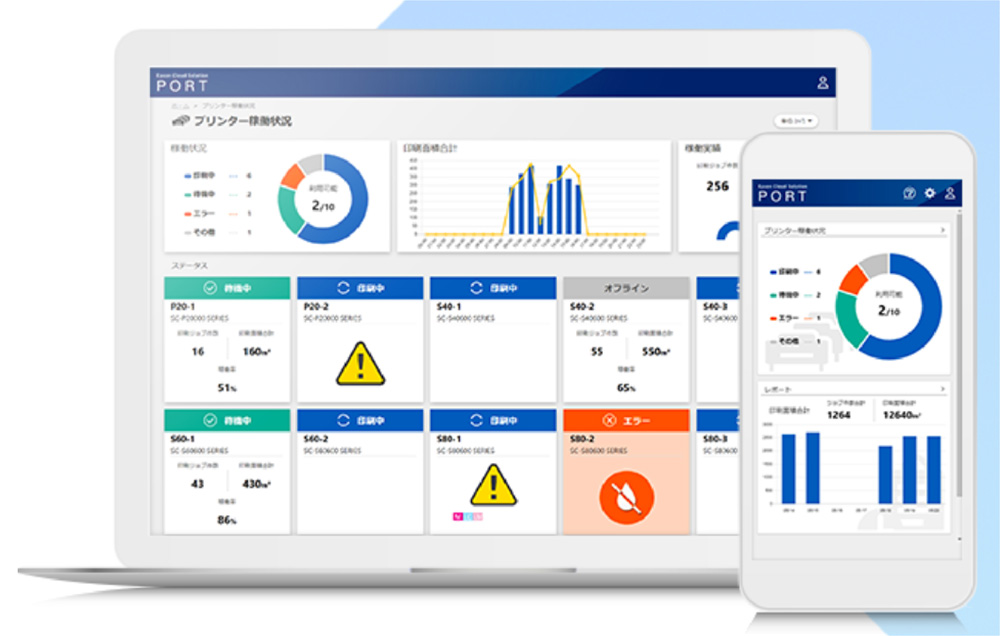 Lastly, please tell us about what the future holds.
NagaiWe plan to regularly update the software to provide additional customer solution services, expand the number of models supported, and provide total support for production.
KamataIn terms of total support, we will propose solutions, including solutions to problems related to color quality control. Epson has Color Control Technology that enhances color reproduction in commercial and industrial printing. This technology is currently provided as a standalone service for a limited number of models, but eventually it will be incorporated into Epson Cloud Solution PORT.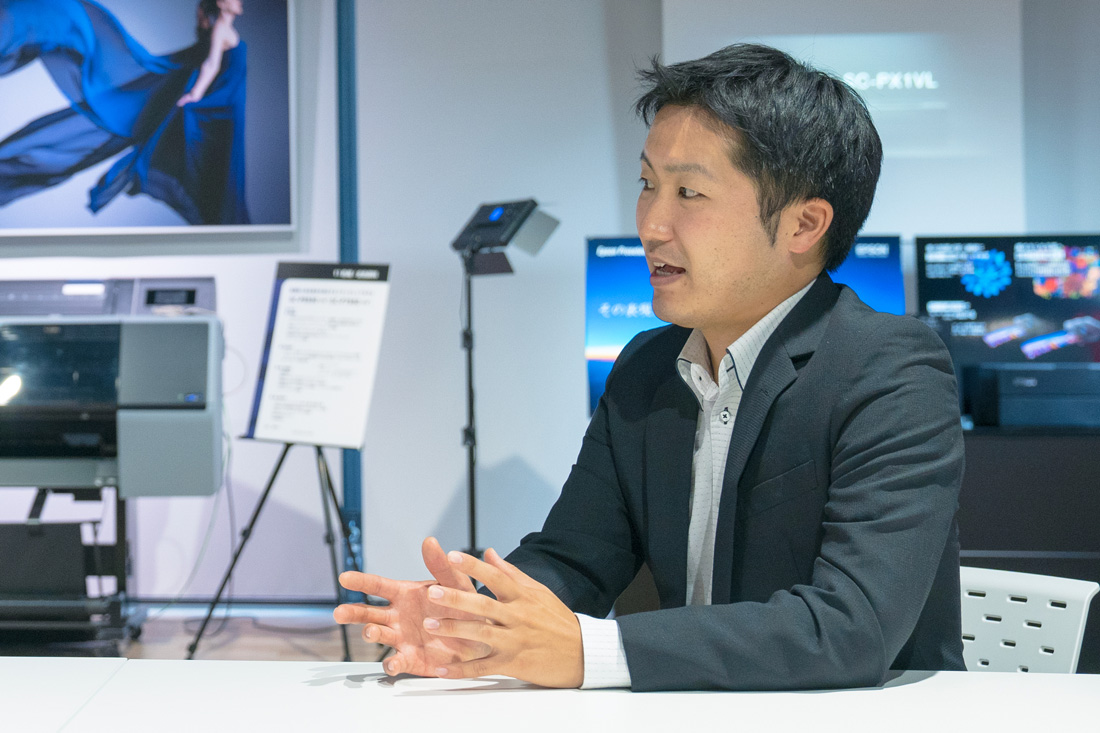 SuzukiEpson Cloud Solution PORT is the port through which Epson delivers solutions to customers. To ensure that it develops into a bustling port, we need to not only create services that customers find attractive but also provide systems that naturally attract a lot of people. To this end, we will work with our sales companies in Japan and overseas to educate customers about Epson Cloud Solution PORT and get them to experience the value it provides firsthand.