Artisan Studio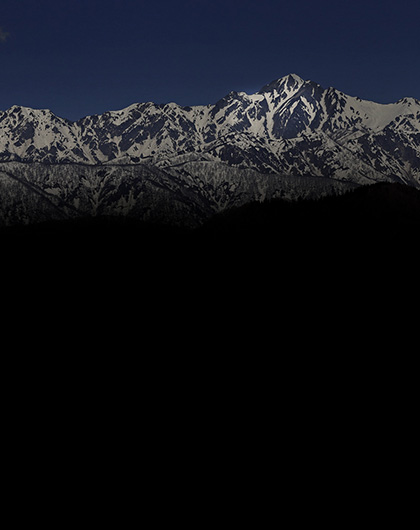 The Shinshu Watch Studio
This studio applies both traditional craftsmanship and advanced technology to fabricate premium watches with unique mechanisms such as a Spring Drive*1 movements.
The Shinshu Watch Studio houses four separate studios: the Micro Artist Studio, Takumi Studio, Dial Studio, and Case and Jewelry Studio. Among the studios' staff are numerous Contemporary Master Craftsmen, recipients of the Medal with a Yellow Ribbon, and WorldSkills medalists.
*1 Spring Drive is a unique Epson movement that achieves high accuracy by combining a mechanical watch mainspring, which exerts force to turn gears as it unwinds, with an integrated circuit and quartz control system.
(Spring Drive is a registered trademark of Seiko Holdings.)
Micro Artist
The Micro Artist Studio was created in 2000 by a WorldSkills Competition gold medalist to uncover and preserve watchmaking skills. The studio is a manufacture, which, in the world of horology, means that it plans, develops, designs, fabricates, assembles, and inspects its own watch parts and finished products. The artisans who work here plan and produce complicated Spring Drive timepieces that manifest their vision and skills.
Takumi Studio
The skills and passion of certified watch technicians who have stood at the pinnacle of a WorldSkills Competition are being passed on to today's watchmakers. Using their eyes and hands to assemble movements, attach cases and external parts, and perform final inspection, they exercise exquisite care in building some of Japan's leading luxury wristwatches.
Dial Studio
Dials are the "face" of a watch and thus one of the most important parts. To ensure the most beautiful, legible, and flawless dials possible, we fabricate all of our own hands, indices, and logos. Luxury dials, manufactured from start to finish in this studio, feature distinctive designs, such as gorgeous stamping patterns and delicate radiating patterns.
Case and Jewelry Studio
This studio covers all facets of luxury case manufacturing, from pressing to machining to polishing. Elegant, distortion-free cases rely on the hands of skilled practitioners. Jewelry watch artisans braze precious metal cases and bracelets and individually set each diamond and gemstones by hand. They employ both traditional Japanese engraving and western engraving techniques to create jewelry watches with a distinctive signature.
ORIENT STAR The Akita Studio
This studio in Akita prefecture produces hand-assembled ORIENT STAR mechanical watches.
Founded in 1950, Tamakeiki Co., Ltd. (changed company name to ORIENT Watch Co., Ltd. the following year) has long produced mechanical watches that have earned a large and loyal following. In 2017, ORIENT Watch merged with Epson, a company with which it had partnered for more than 20 years. This merger consolidated technologies and skills, conferring mastery over mechanical watches for a new era.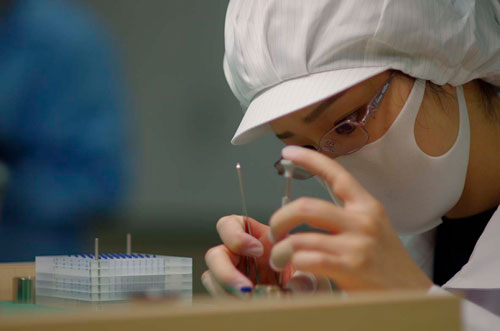 With a combination of masterful skills and state-of-the-art technology, they produce mechanical watches that are both exquisite and accurate.
Working in a cleanroom, skilled technicians install the hands one by one while making tiny adjustments for the subtle idiosyncrasies of the tiny hands.
Uncompromising quality is maintained by highly skilled technicians who inspect finished products, searching for specks of dust invisible to the naked eye and examining parts for almost imperceptible scratches and flaws.