Engineer Interviews
Faster, More Elegant Textile Printing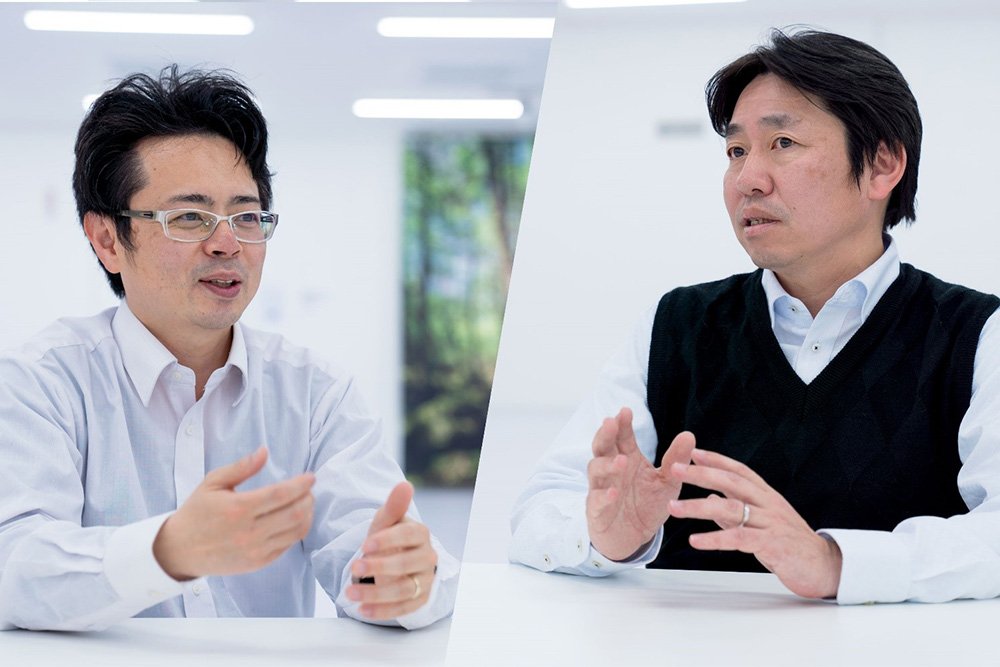 Epson's Fujimi Solution Center in Nagano, Japan, is equipped to perform all digital textile printing processes, from fabric pretreatment and printing to post-treatment. Customers can also consult on sample work and the introduction of pre- and post-treatment processes. First opened in June 2019, the Center was renovated in October 2021. Now white from floor to ceiling, the newly redesigned center is stylish, with a bright and clean feel.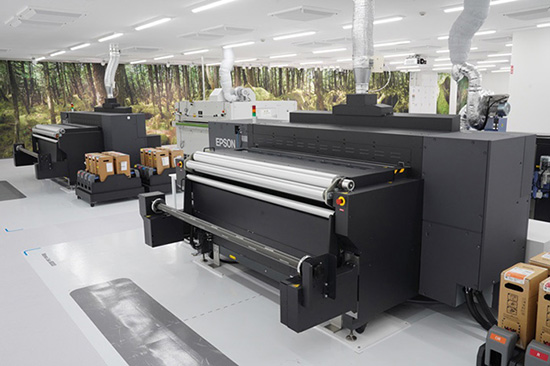 The work environment is comfortable and conducive to creativity. Ideas that bubble up can quickly be given shape in a cycle that can be rapidly repeated. Digital direct-to-fabric printing takes less time and consumes less water and fewer resources than traditional textile printing because it does not require plate making or ink mixing.
Faster, more elegant textile printing
Sonoyama and Miyajima of the P Commercial & Industrial Planning & Design Department talk about the digitalization of the direct-to-fabric printing process and the customer experience.
Becoming a Textile Professional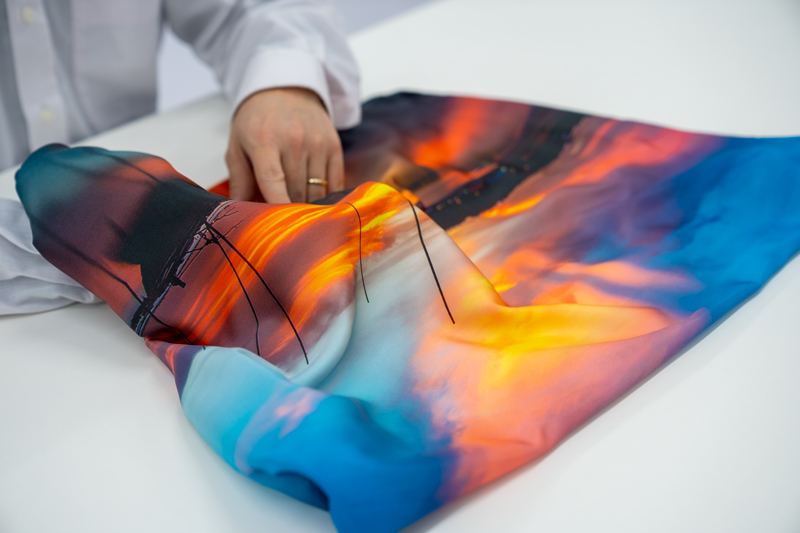 "Epson is, after all, just a printer company."
Those words, spoken in 2018 by someone in the textile printing industry, leave a bitter taste in Sonoyama's mouth. They suggest that the textile printing industry regards printers as no more than part of a solution. Digitally printed fabrics need to be pretreated prior to printing so that the ink is properly absorbed by and fixed to the fabric. Post-treatment is necessary to develop the color of the printed inks. No matter how good a textile printer is, it will never provide satisfactory print quality without proper pre- and post-treatments.
In 2019, before the Fujimi Solution Center ("TSC Asia" at the time) was opened, Sonoyama and other engineers crossed the globe to learn about the world's leading textile printing technology. The destination was the Como area of Italy, a center of textile printing for high-end apparel brands. Como is home to Epson Como Printing Technologies S.r.l., an Epson Group company that develops, manufactures, sells, and proposes solutions for textile printing. Created by a merger that included a company called For.Tex S.r.l., Epson Como Printing Technologies uses textile printing know-how and experience accumulated over decades to provide samples to customers for evaluation. Sonoyama recalls acquiring a lot of knowledge, including tacit knowledge, about their methods and for gaining insight into customers.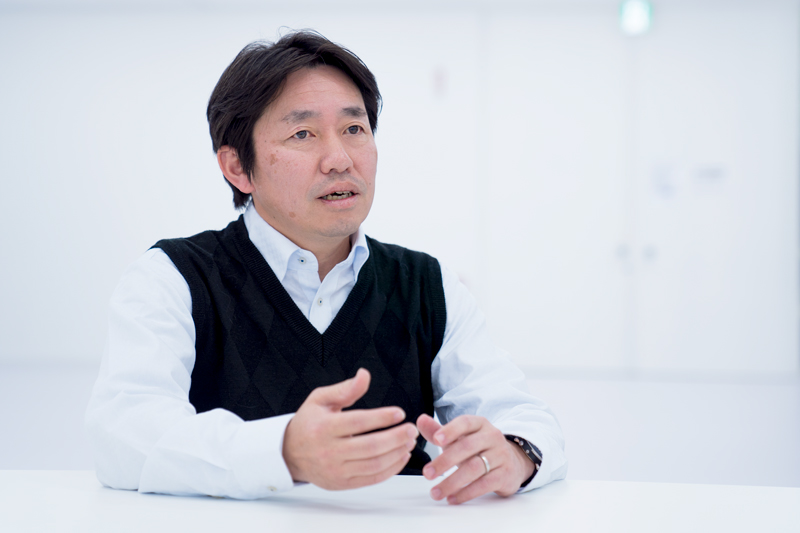 Global Lessons Sparked Our Own Creativity
After returning from Italy and opening the Fujimi Solution Center, Sonoyama produced hundreds of sample works. "I accumulated knowledge through a process of trial and error," he says. "Eventually, I learned how to provide printing samples that would satisfy even the most demanding customers, thanks to close collaboration with the team at Epson Como Printing Technologies after my return home to Japan."
Having repeatedly experienced the challenges of responding to the exacting demands of Epson's global sales companies and customers, Miyajima, who trained alongside Sonoyama at Como, spoke about the difficulty of printing a wide range of designs on an array of fabrics.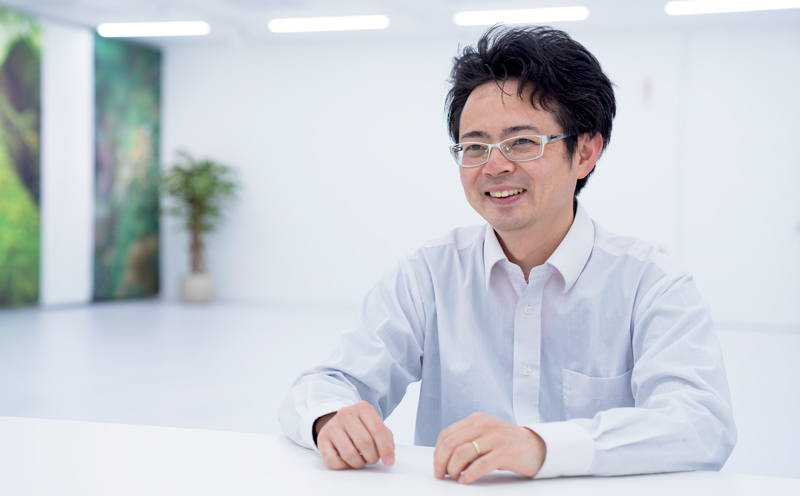 "When it comes to digital printing, what our customers want most is the ability to accurately reproduce the colors they want. The ability to achieve the desired color depends not only on the performance of the ink and printer but also on the material from which the fabric is made. And, usually, we can't choose the fabric; it is specified by the customer. So, we have to devise a pretreatment process to obtain the desired colors and designs.
"For example, dye inks impregnate the fabric to impart color, so a pretreatment solution that aids ink penetration is applied beforehand. For delicate designs and tones, the composition and amount of pretreatment solution are adjusted to limit the penetration of ink and prevent unwanted bleeding. For vivid colors, the solution is adjusted so that the ink penetrates deep into the fibers. The degree of ink penetration depends on the fiber material and thickness. To obtain the optimal results, you must identify all of the many factors that can affect quality, and that's where technology and know-how come into play."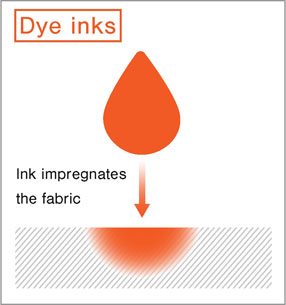 Miyajima also says that while we tend to think of color preferences as personal, he found that certain colors tend to be preferred in certain countries and regions. "In Japan, subdued colors such as ivory and gray tend to be used for clothing, but in Southeast Asia, for example, there is more of a preference for vivid and distinct primary colors." Epson has sales companies all over the world, and we have accumulated insight into color by creating samples for customers in different countries and regions. "Our insights into how to make colors more vivid and improve coloration are also helping us to improve the pretreatment solutions we offer."
Sonoyama hinted that the road to becoming recognized as a true member of the printing industry was not a smooth one, saying "Becoming a textile professional was a lot more difficult than I expected." But now, we are ready to respond to our customers' needs as 'textile printing sommeliers' who are able to make recommendations about the best fabrics, inks, and pre- and post-processing."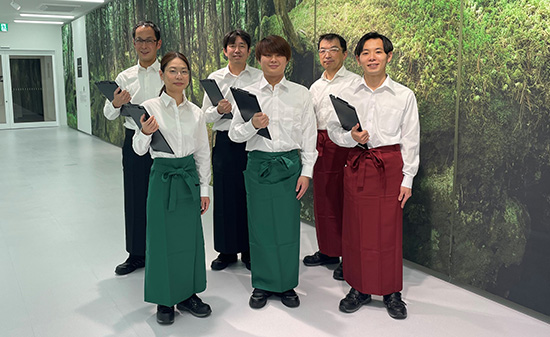 Epson sells four digital direct-to-fabric printer models, ranging from the eight-head ML-8000 to the 64-head ML-64000. We offer 17 fabric pretreatment products and four ink sets, including acid dyes and printing pigments with excellent abrasion resistance (as of June 2022). Customers can see the actual printers and inks at the Fujimi Solution Center, which tunes them to customers' needs.
Epson sales companies are also opening their own solution centers to highlight our digital direct-to-fabric printers. The Fujimi Solution Center is spreading digital textile printing technology by educating technicians at these centers. The centers are connected over a network. The goal is to decentralize printing by enabling digital direct-to-fabric printers, regardless of where they are in the world, to provide the same print (image) quality on any fabric.
Production Assistance Provided for the Paris Haute Couture Collection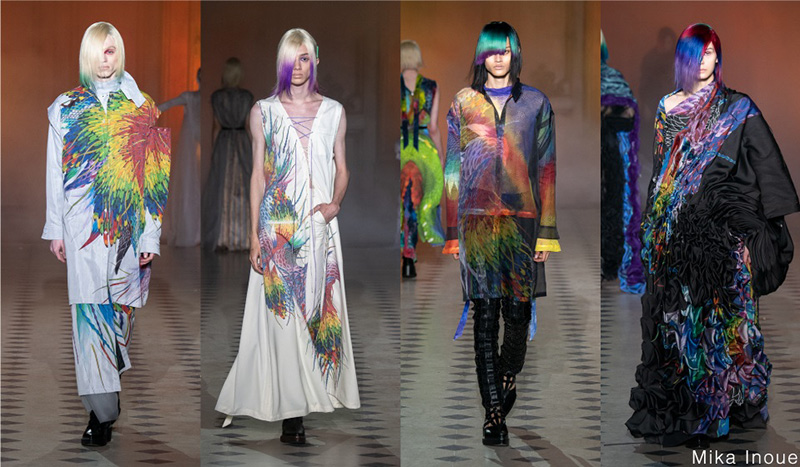 The fashions that appeared on the catwalk at the Paris Haute Couture Collection (Paris Collection) in January 2022 were printed at the Fujimi Solution Center. The works were created by one of Japan's leading fashion designers, Yuima Nakazato, who graduated from the Royal Academy of Fine Arts in Antwerp, Belgium and, in July 2016, was selected as one of the official guest designers of Paris Haute Couture Fashion Week.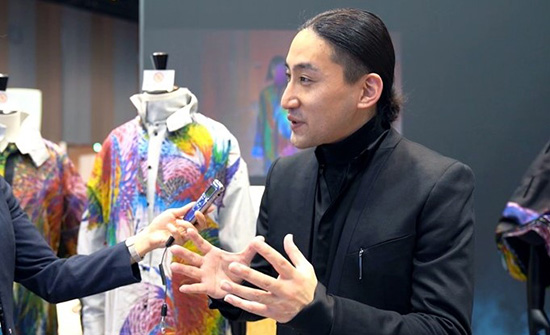 Epson assisted in the digital direct-to-fabric printing of some of Nakazato's works using pigment ink, which can be printed on any type of fabric. In addition to fabric compatibility, pigment ink is fixed on the surface of the fabric by heating, so thermal drying is the only post-treatment process required. Unlike with dye inks, there is no need to steam the fabric to fix the ink, nor does the fabric need to be washed to remove any excess ink that did not set. This makes it possible to use significantly less water and to shorten the production process.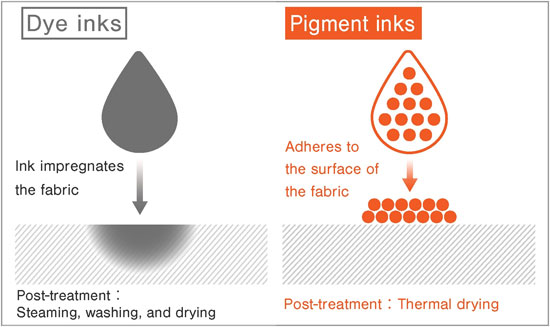 Creating a New Aesthetic with Pigment Ink
In the world of fashion, designers pursue beauty, but there is also an ugly side to the industry. More and more clothing is being produced—and thrown away—than ever before, putting a huge burden on the environment. What is true beauty? What is the essence of clothing and its possibilities? Yuima Nakazato is seeking answers to these questions and solutions to the problems facing the fashion industry and the planet as he explores how clothing should be and how it should be made. He is looking to make haute couture more accessible and to enable more people to easily obtain one-of-a-kind clothing. Nakazato sees the potential of pigments in making this possible, and we want to help. Sonoyama and Miyajima, who were tested by the effort of creating works with pigment inks, both stress that the challenge was both difficult and a source of pride.
Miyajima says, "Digital textile printing with pigment inks is not all that common in the fashion industry. That is because components in the pigment ink that are needed to make the colorant adhere to the fabric impart a somewhat stiff finish. We experimented with the composition of the ink in order to reduce the stiffness. Using this improved ink, we adjusted the amount of ink while checking the colors and designs. We were able to achieve the texture that Mr. Nakazato wanted, even with a soft silk fabric."
Nakazato used the stiffness of the pigment ink to his advantage by creating stiff, three-dimensional features. This is a perfect example of how looking at pigment ink in a different way generated new value.
Using pigments in works shown at the world's four most prestigious fashion shows is a challenge for us. But this is not the only challenge. Among the fabrics used in Nakazato's collection was a thin, sheer, plain-woven silk organdy. It is so thin that it flutters in a breeze and refuses to stay flat. This makes it difficult to dye uniformly with digital textile printing.
If the fabric is not flat when it is fed beneath the printheads during printing, it could come into contact with the heads, causing ink to smear on the surface of the fabric or the heads to fail. Miyajima recalls the difficulty of feeding the fabric to avoid distorting its shape. "We adjusted the rotation speed and strength of the rollers that feed the fabric to the printing area to avoid placing excessive stress on the fabric."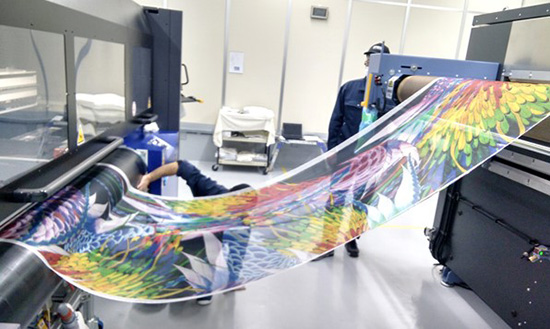 New Ideas Born Through the Fusion of Technology and Aesthetics
The works for the collection had to be finished in a short period of time. It was because of this limited preparatory period that the advantages of pigment inks came to the forefront. "With dye ink, you won't know the extent to which colors develop until the fabric is steamed, washed, and dried. With pigment ink, on the other hand, you can tell what the final color will be immediately after it is printed. You can make as many test prints as you need until you're satisfied, and do so in a short period of time," says Sonoyama, explaining the advantage of pigment inks.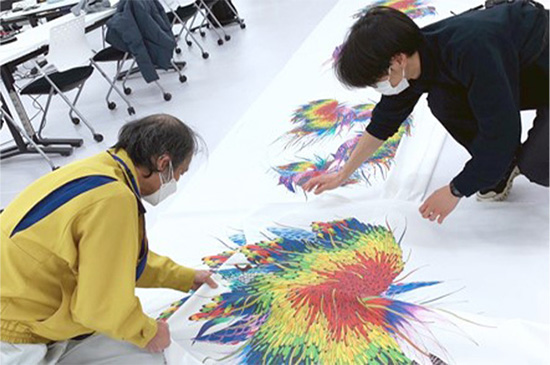 In fact, Nakazato's assistant designer, who came to the Fujimi Solution Center, perfected the works on the spot by checking the output, fine-tuning the design data and printing conditions, and making new prints. And this was immediately before Nakazato left for Paris. Nakazato drew inspiration from this and came up with the idea for a grand dress made of silk organdy. This dress became the last piece of the collection.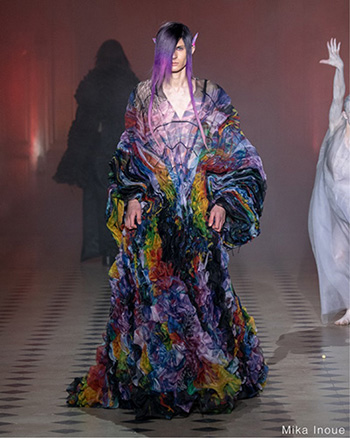 The world is transitioning from volume production and consumption to short-run production to respond to the diversification of consumers' needs. On top of that, there is a powerful need for environmental consideration.
Resource and work sustainability can be realized by adopting production processes that have a smaller environmental footprint and reducing the labor burden. We will expand the breadth of creation with beautiful, high-quality printing and fast order turnaround. Epson will contribute to sustainability by digitalizing printing.