Epson Receives the Prime Minister's Prize at the National Commendation for Invention 2021
- Prize for inventing a high-brightness, high-image-quality projector using laser light source -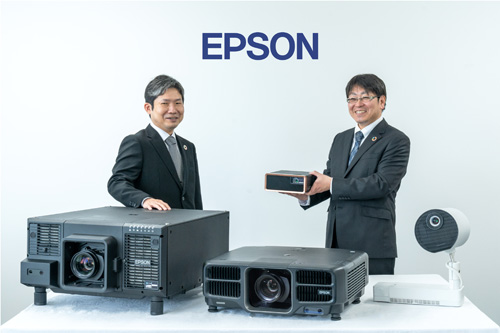 - TOKYO, Japan, May 25, 2021 -
Seiko Epson Corporation (TSE: 6724, "Epson") today announced that, "The Invention of a High-Brightness, High-Image-Quality Projector using Monochromatic Laser Light Source (Japanese Patent No. 5928569)" has received the Prime Minister's Prize at the National Commendation for Invention 2021 (sponsored by the Japan Institute of Invention and Innovation). This is the second time that Epson has received this prize since 1974, when Epson received this prize for Japanese Utility Model Registration No. 957711 for "The Invention of a Device for Correcting the Date and Day of the Week of a Calendar Watch."
A ceremony will be held on June 22 at The Okura Tokyo, Minato Ward, Tokyo.
The National Commendation for Invention*1 are awarded by the Japanese Imperial Family*2 and are intended to contribute to the improvement of science and technology and the development of industry by honoring those who have completed or implemented inventions in Japan and those who have contributed to the promotion of inventions. The winner of the best invention or design receives the Imperial Invention Prize, followed by the Prime Minister's Prize.
*1: The National Commendation for Invention started with the first Imperial Commendation for Invention in 1919, and is sponsored by Ministry of Education, Culture, Sports, Science and Technology, Ministry of Economy, Trade and Industry, Japan Patent Office, Japan Business Federation, Japan Chamber of Commerce and Industry, Japan Patent Attorneys Association, and the Asahi Shimbun Company.
*2: On the Emperor's Birthday, the Imperial Family grants funds to encourage inventions.
The invention that was the subject of the prize this time is technology that generates red, green, and blue projection light using laser light and a phosphor wheel. In addition, the laser light is digitally blinked to enable brightness adjustment while preventing flicker from appearing in the projection image. By adopting this technology, we have achieved high brightness and high image quality for laser projectors.
Prizes and Winners
Prime Minister Prize
Takashi Toyooka and Makoto Zakoji (Visual Products Division)
Invention Implementation Achievement Award
Yasunori Ogawa (President and Representative Director, Chief Executive Officer)
The Winners' Comments
Takashi Toyooka
"It's a great honor for us to have created a projector with high brightness and high image quality using this invention and other technologies, and to have been able to contribute to the development of new image expressions such as projection mapping and digital art. We believe this prize is recognition for the image technology developed by Epson through the effort of our many colleagues. We will continue to pursue value from large-screen images and the beauty of light, and we will continue to develop technology that enriches communities."
Makoto Zakoji
"It's a great honor to receive the Prime Minister's Prize. Creating a laser projector that includes the present invention meant we had to build a new product from the bottom up, from basic development through to the commercialization stages. It was tough overcoming some of the issues, but I think this prize acknowledges that laser projectors have now become more widespread worldwide. I'm delighted that the hard work of all our colleagues have been recognized in this way. We will continue to work to develop technology that will help bring projectors closer to people and make them more user-friendly."
Compared with lamp light source models, laser projectors have higher brightness, longer operating life, and smaller size, thus reducing environmental impact. Illumination is instantaneous, and they can project from various angles so there are no restrictions on the installation angle meaning they are handy for projecting on the ceiling or floor. In addition, the use of this technology makes it easy to digitally adjust the brightness of the projected image, making it very convenient for various environments.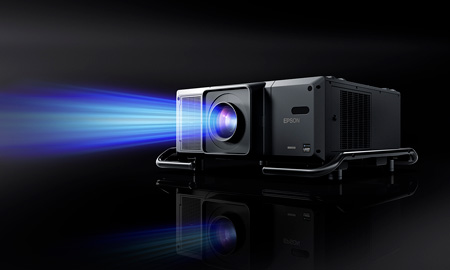 Projectors using this technology are are used for fantastic spatial design with vivid projection images at MORI Building DIGITAL ART MUSEUM: EPSON teamLab Borderless (Koto Ward, Tokyo). They also contribute to arts and culture, as a tool for creating new image expressions.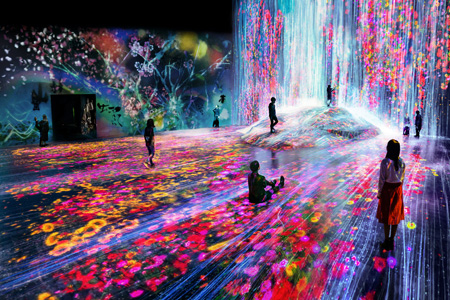 Overview of the Invention
In the present invention, attention was focused on the fact that a desired color light can be generated by irradiating a phosphor material with laser light. A phosphor wheel is irradiated by monochromatic laser light, and red, green, and blue light are then produced from the resultant fluorescent light (yellow = red + green) and the monochromatic laser light (blue) and used as projection light. For the brightness adjustment function required for projectors, the laser light is digitally blinked using a frequency signal with pulse widths having lengths corresponding to the desired brightness. Because image flicker occurs when the blinking frequency and the rotation frequency of the phosphor wheel interfere with each other, the two frequencies were optimally set. By the above, a high-brightness and high-image-quality projector has been realized that has a long operating life, is highly convenient, and can be used for projection mapping and the like. In particular, its brightness can be controlled digitally and more accurately so the projectors can be easily used in situations that require many projectors, such as spatial design.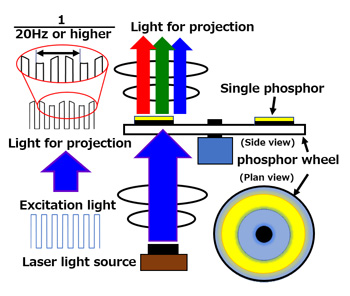 Related links
Please see the below for details of the invention
URL: corporate.epson/en/technology/interview/projector.html
About Epson
Epson is a global technology leader dedicated to co-creating sustainability and enriching communities by leveraging its efficient, compact, and precision technologies and digital technologies to connect people, things, and information. The company is focused on solving societal issues through innovations in home and office printing, commercial and industrial printing, manufacturing, visual and lifestyle. Epson will become carbon negative and eliminate use of exhaustible underground resources such as oil and metal by 2050.
Led by the Japan-based Seiko Epson Corporation, the worldwide Epson Group generates annual sales of around JPY 1 trillion.
corporate.epson/en/
---