Epson Expands Its Lineup of One-Inch Platform IMUs with High-Spec M-G370PDG
- TOKYO, Japan, June 15, 2023 -
Seiko Epson Corporation (TSE: 6724, "Epson") has expanded its inertial measurement unit1 (IMU) lineup with the development of the M-G370PDG ("M-G370G"), an IMU equipped with a high-performance, six degrees of freedom sensor. The M-G370G will enter volume production in July 2023.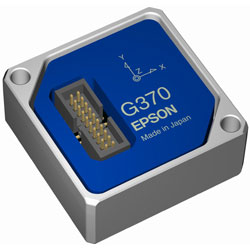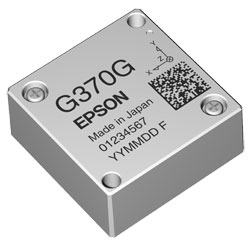 First launched in 2011, Epson's IMUs have been used in an array of customer applications, from precision agriculture (GNSS2) and industrial drones to camera and antenna platform vibration control and stabilization, earning an excellent reputation for outstanding performance and quality. Epson has a full range of IMUs, from basic models to high-spec models. All are based on a platform that measures about one inch along the sides, the standard form factor for IMUs.
As with the standard and basic models, the high-spec M-G370G allows users to select an accelerometer output range of either ±8G or ±16G and offers 0.05% non-linearity3 of the full-scale range of the gyroscopic sensor. These features enable the new IMU to accurately measure all types of motion, from slow to fast.
By expanding and enhancing its lineup of small, lightweight, low-power, one-inch platform products, Epson is giving customers more options, allowing them to choose a product that has the best functions and performance for their needs and applications.
Epson plans to exhibit the M-G370G at Maintenance and Resilience Tokyo 2023 (organized by the Japan Productivity Association) from July 26-28 at Tokyo Big Sight.
Given the social and technological changes that are underway, Epson believes that the need for precision sensors that can visualize information will only expand going forward. We at Epson will continue to leverage our philosophy of efficient, compact, and precise innovation to provide small, lightweight, low-power sensing systems that offer outstanding precision and stability to significantly contribute to our customers' products and services.
Product Features
One-inch platform (24 x 24 x 10 mm3)
Downward compatible with the M-G330 and M-G366, M-G370, M-G370S, sharply reducing customer development costs and evaluation time
User selectable accelerometer output range at ±8G or ±16G
Gyroscopic sensor non-linearity is 0.05% for the sensor's full scale range
Low current consumption: 16 mA
Product Applications
Vibration damping for cameras, antennas, etc.
Unmanned vehicles (industrial drones, terrestrial vehicles, sea probes, etc.)
Vibration, angle, trajectory measurement of industrial equipment, etc.
Navigation systems (GNSS, INS4, high-precision locators), etc.
Related link
Please see the link below for product details.
global.epson.com/products_and_drivers/sensing_system/
General Specifications
Performance & Function / Product Name

New Product

Current Product
Current Product

New high-spec model

High-spec model
High-spec low-noise model
Product

M-G370G

M-G370F
M-G370S
Output range
Gyroscopic sensor5
±450°/s
±450°/s
±200°/s
Accelerometer
±16G/±8G
±10G
±10G
Accuracy
&
stability
Gyro bias instability6
0.8°/h
Angle random walk7
0.06°/√h
0.06°/√h
0.03°/√h
Gyro non-linearity
0.05%
of Full Scale
0.05%
of ±300°/s.
0.05%
of ±130°/s.
Initial bias
Gyroscopic sensor
±360°/h,σ (-40℃ to +85℃)
Accelerometer
±2mG,σ
Interfaces
SPI & UART
Output resolution
32-bit / 16-bit
Maximum data output rate
2,000 Hz
Operating temperature range
-40℃ to +85℃
Current consumption
16mA(3.3V)
Size
24 x 24 x 10 mm³
Note: The specified values are typical values unless stated otherwise.
1 Inertial measurement unit (IMU)
An IMU is a device that is used for sensing inertial motion. It is comprised of triaxial angular rate sensors and triaxial accelerometers.
2 A global navigation satellite system (GNSS)
A satellite system that is used to pinpoint a geographic location anywhere in the world
3 Non-linearity
The maximum deviation from an approximate straight line of the output versus input of a gyroscopic sensor or accelerometer. It is typically expressed as a percentage of the full scale.
4 Inertial navigation system (INS)
5 Gyroscopic sensor (angular rate sensor)
Measures the rotation angle (angular rate) of an object versus a reference axis per unit of time.
6 Bias instability
The part of the Allan variance* that represents the horizontal (zero power) characteristic is called bias instability. It correlates with 1/f noise and is one of the important indicators of sensor potential.
7 Angle random walk
The part of the Allan variance with a slope of -1/2 is called the angle random walk. Since there is a correlation with white noise, increasing the average time decreases the value at -1/2 of the average time.
* Allan variance
An indicator of sensor performance, the Allan variance indicates the stability of the static output. The horizontal axis shows the averaging time of data, and the vertical axis shows the distribution of the average value when separated by the average time. It is known that the slopes of the characteristics appearing in the Allan variance are -1, -1/2, 0, 1/2, and 1st power slopes, the Allan variance correlates with the noise density, and the noise density is the frequency. Allan variance is an indicator expressed in time. The smaller the value, the higher the stability and the better the performance.
About Epson
Epson is a global technology leader whose philosophy of efficient, compact and precise innovation enriches lives and helps create a better world. The company is focused on solving societal issues through innovations in home and office printing, commercial and industrial printing, manufacturing, visual and lifestyle. Epson's goal is to become carbon negative and eliminate use of exhaustible underground resources such as oil and metal by 2050.
Led by the Japan-based Seiko Epson Corporation, the worldwide Epson Group generates annual sales of more than JPY 1 trillion.
corporate.epson/en/
---