Epson Precision Philippines Achieves RBA Platinum Status for Socially Responsible Manufacturing
- TOKYO, Japan, November 2, 2022 -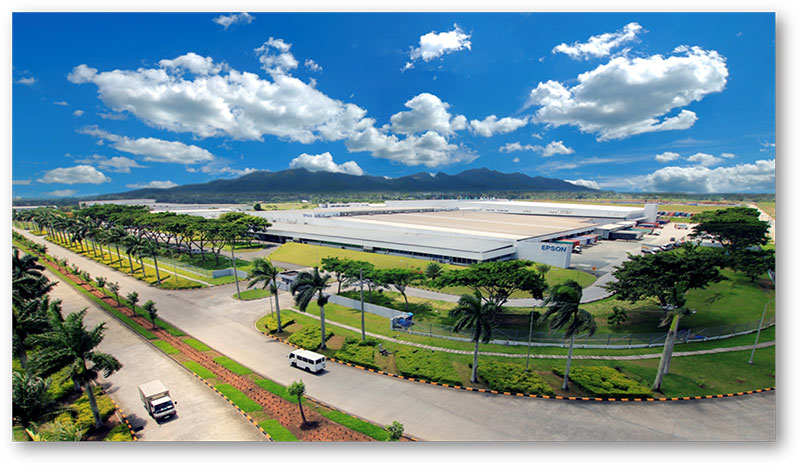 Epson Precision (Philippines), Inc. , a Philippines printer, and projector factory of global technology firm Epson, has achieved platinum status in the Validated Assessment Program (VAP) of the Responsible Business Alliance (RBA) for reaching industry-leading levels of corporate social responsibility.
The RBA is the world's largest industry coalition dedicated to corporate social responsibility in global supply chains and is committed to supporting the rights and wellbeing of workers and communities worldwide. The coalition recognizes factories and sites across the world that achieve the highest standards of corporate social responsibility in their production processes and focuses on fair working conditions, human rights and sustainability.
Epson Precision (Philippines), which employed almost 19,000 people as of March 2022, was recognized in the RBA VAP for achieving these standards. The factory is one of Epson's main manufacturing plants and produces a range of inkjet printers including its EcoTank models, and projectors.
The recognition demonstrates that Epson operates its factory at Epson Precision (Philippines) to the highest possible CSR standards and is firmly committed to the wellbeing of all its employees. It represents a significant milestone for Epson as compliance with labour and social standards in public ICT procurement is an important part of all tender specifications and Epson's business customers are increasingly demanding strong independent evidence of socially responsible manufacturing.
"We are delighted and honored to achieve this platinum rating for our Philippines Plant," said Tatsuaki Seki, Chief Sustainability Officer, Epson. "In our recently defined corporate purpose, we have committed ourselves to enriching lives and creating a better world. This means operating in a sustainable and socially responsible way in every location worldwide and in every part of our operations. We are determined to maintain and build upon the high standards represented by this rating."
Yoshiro Nagafusa, Executive Officer and President of Epson Europe said: "This recognition is important not only for Epson but for our customers who rightly insist our products are made to the highest standards of socially responsible manufacturing. The platinum standard is the very highest level we can achieve and communicates to the market that an Epson product has been made to meticulous standards, from manufacturing and distribution to use of resources and the wellbeing of our people. Although we are proud of this achievement, we want to assure everyone that we will continue to drive improvements in every aspect of what we do."
About Epson
Epson is a global technology leader whose philosophy of efficient, compact and precise innovation enriches lives and helps create a better world. The company is focused on solving societal issues through innovations in home and office printing, commercial and industrial printing, manufacturing, visual and lifestyle. Epson's goal is to become carbon negative and eliminate use of exhaustible underground resources such as oil and metal by 2050.
Led by the Japan-based Seiko Epson Corporation, the worldwide Epson Group generates annual sales of more than JPY 1 trillion.
corporate.epson/en/
About RBA Recognition
One of the most fundamental RBA programs is the Validated Assessment Program (VAP), which is the leading standard for onsite compliance verification and effective, shareable audits. The RBA itself does not conduct the audits but rather sets the standards and relies on approved audit firms. The RBA recognizes that the primary value of an onsite compliance audit is not in the identification of issues at a factory, but in the correction of those issues. RBA wants to recognize those factories that demonstrate their commitment to corporate responsibility through verified closure of the issues identified in a VAP audit.
RBA offer three levels of recognition:
Platinum: for factories with a minimum VAP score of 200 and all Priority, Major and Minor findings closed
Gold: for factories with a minimum VAP score of 180 and all Priority and Major findings closed
Silver: for factories with a minimum VAP score of 160 and all Priority findings closed
To meet the requirements for recognition, all audits must be verified through a VAP Closure Assessment. Audits carried out on RBA member facilities and their suppliers' facilities are completed by independent third-party auditors specially trained in social and environmental auditing and the VAP protocol.
More information on the following link: https://www.responsiblebusiness.org/vap/about-vap/
---