Epson Provides Production Support for Fashion Designer Yuima Nakazato's Paris Fashion Week
- Epson's inkjet technology used to create clothing and backdrop -
- TOKYO, Japan, July 15, 2022 -
Seiko Epson Corporation (TSE: 6724, "Epson") provided support to fashion designer Yuima Nakazato for his collection shown at the 2022 Paris Haute Couture Collection on July 7, 2022. Epson supported the production of the fashions and stage design from June 3 to June 28.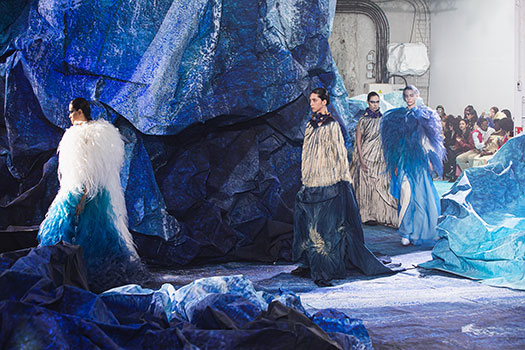 Yuima Nakazato's fashion house has a vision that the evolution of clothing will create an even richer future. To fulfill its responsibility for the future, the fashion house has continued to carefully select the materials used and the sources from which they are procured. It has always sought to create clothing that is designed to be worn for a long time and then recycled.
Epson endorses the Yuima Nakazato vision and recently used digital textile printing technology to support the reproduction of the delicate textures and colors of hand-painted materials to the exacting requirements of the fashion house as well as producing the works with a reduced environmental impact. Yuima Nakazato's designs were faithfully reproduced on extremely thin (0.07 mm) silk organdy fabric that was used for some of the fashions using a Monna Lisa digital inkjet textile printer at the Solution Center in Epson's Fujimi Plant.
Digital textile printing does not require printing plates, so it is ideally suited for the rapid production of material in only the amount required. And, since these designs were printed using pigment ink, which requires fewer steps than a dye ink printing process, Yuima Nakazato was able to work on the designs for the fashion collection until shortly before the show. Inkjet textile printing has a far smaller environmental footprint than conventional textile printing because it uses only a tiny fraction of the amount of water.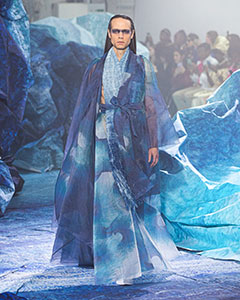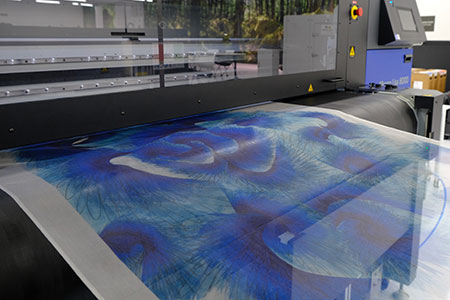 In addition to supporting clothing production, Epson also supported the stage design by using its digital printing technology in the production of paper sculptures. These sculptures were important elements that helped to create the vision of the blue-themed collection. The entire stage was enshrouded in images of Earth that were hand-painted by Yuima Nakazato. These images were enlarged and printed over a total of 832 square meters of print paper using an SC-P20050 inkjet printer at the LFP Solution Center in Epson's Hirooka Office.
Armatures were used to support the printed paper to create three-dimensional objects d'art in the staging area. The armatures were made from used paper from within Epson that was processed using Epson's Dry Fiber Technology*. Epson collected the decorative pieces used for the collection after the show ended and plans to discuss their use in other applications with Yuima Nakazato.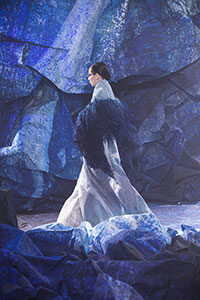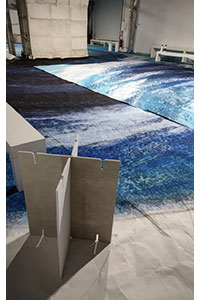 Epson is committed to co-creating with partners to make a wide variety of its customers' creations possible, and through its initiatives to reduce environmental impacts, realize its vision of achieving sustainability and enriching communities.
* Proprietary Epson technology for defibrating a wide variety of materials for high-function applications. For more information, please see Epson's website.
https://global.epson.com/products_and_drivers/smartcycle/dft.html
About Epson
Epson is a global technology leader dedicated to co-creating sustainability and enriching communities by leveraging its efficient, compact, and precision technologies and digital technologies to connect people, things, and information. The company is focused on solving societal issues through innovations in home and office printing, commercial and industrial printing, manufacturing, visual and lifestyle. Epson will become carbon negative and eliminate use of exhaustible underground resources such as oil and metal by 2050.
Led by the Japan-based Seiko Epson Corporation, the worldwide Epson Group generates annual sales of more than JPY 1 trillion.
corporate.epson/en/
---