Epson Opens Three New Solution Centers at its Hirooka Office
- Highlighting solutions for textile printing, label printing, and paper upcycling -
- TOKYO, Japan, May 31, 2022 -
Seiko Epson Corporation (TSE: 6724, "Epson") has opened a new DTF Solution Center, Label Press Solution Center, and PaperLab Solution Center at its Hirooka Office in Shiojiri, Japan.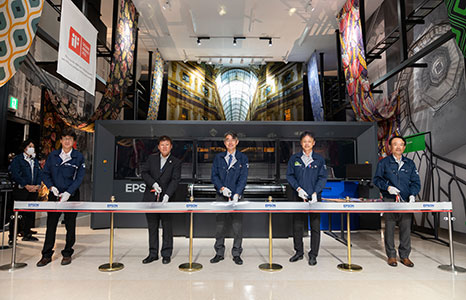 Epson sees textile printing, label printing, and other segments of the commercial and industrial printing markets as growth areas. The company also is pursuing environmental initiatives in line with its corporate vision, Epson 25 Renewed.
The three new solution centers, like the existing LFP Solution Center at the Hirooka Office, will give prospective customers a chance to experience an Epson solution first-hand.
DTF Solution Center
The DTF Solution Center is replete with samples of printed textiles used in the fashion world. These samples demonstrate the high quality of print that can be achieved.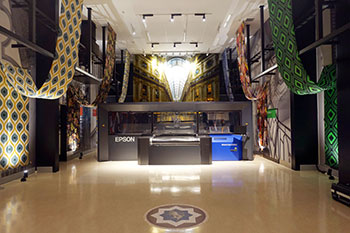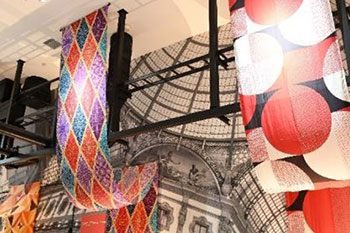 What to see
A Monna Lisa ML-64000, the flagship model in Epson's line of digital inkjet textile printers, and a ML-8000, an entry-level model suited for short-run production
Textile samples printed on materials such as silk and cotton
A space where visitors can see how the look of textiles varies depending on the day, evening, and shade conditions that are reproduced by changing the color temperature and direction of lighting
Interior with an Italian theme, a nod to one of the world's greatest centers of the textile printing industry
Label Press Solution Center
Visitors to the Label Press Solution Center can experience first-hand an automated label printing workflow. Print samples show how sharp and fine label print quality can be.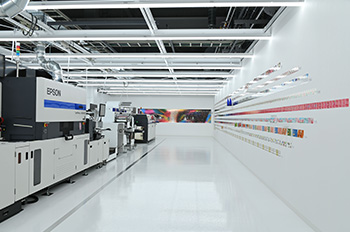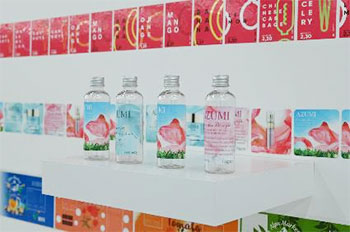 What to see
A SurePress L-4733AW digital label press with a water-based ink set and a SurePress L-6534VW digital label press with a UV ink set
A demonstration of an in-line solution with pre- and post-processing equipment and a labor-saving automated printing process
Variable printing samples that demonstrate the uniqueness of a digital process
A clean printing environment that can only be achieved with a digital process, shown in juxtaposition to a conventional analog label printing process, in a white, bright space that offers a glimpse of what printing factories will look like in the near future
PaperLab Solution Center
Visitors to the PaperLab Solution Center can see the process by which new paper is produced from used paper.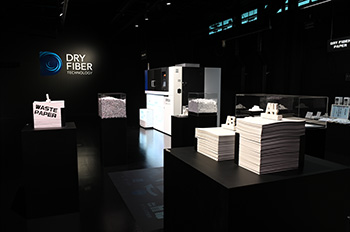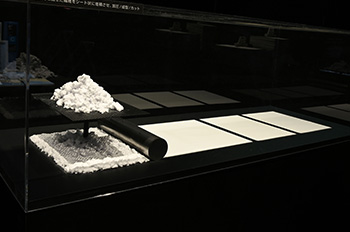 What to see
PaperLab A-8000, an office papermaking system that utilizes Epson's Dry Fiber Technology to defibrate used paper in an essentially waterless process*
Physical samples of paper produced by a PaperLab A-8000 as well as examples of recycled paper and dry fiber technology applications
Projection mapping on the floor and PaperLab make it appear as if the system looms into view from the darkness
Epson will accelerate the digitalization of commercial and industrial printing to raise productivity and provide high print quality while also closing resource loops and pursuing other environmental initiatives.
* A small amount of water is used to maintain humidity inside the system.
About Epson
Epson is a global technology leader dedicated to co-creating sustainability and enriching communities by leveraging its efficient, compact, and precision technologies and digital technologies to connect people, things, and information. The company is focused on solving societal issues through innovations in home and office printing, commercial and industrial printing, manufacturing, visual and lifestyle. Epson will become carbon negative and eliminate use of exhaustible underground resources such as oil and metal by 2050.
Led by the Japan-based Seiko Epson Corporation, the worldwide Epson Group generates annual sales of more than JPY 1 trillion.
corporate.epson/en/
---