Epson Recognized as Global Leader for Engaging Its Supply Chain on Climate Change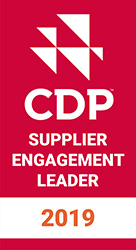 - TOKYO, Japan, February 27, 2020 -
Seiko Epson Corporation (TSE: 6724, "Epson") has been identified as a global leader for engaging with its suppliers on climate change, being awarded a position on the Supplier Engagement Leaderboard by global environmental impact non-profit CDP.
Epson has been recognized for its actions and strategies to reduce emissions and manage climate risks in its supply chain in the past reporting year. Over 4,800 companies in total were assessed by CDP and given a Supplier Engagement Rating, based on answers to selected questions about governance, targets, scope 3 emissions, and value chain engagement of their response to the CDP 2019 climate change questionnaire and their overall CDP climate change score. COMPANY is among the top 3% of organizations assessed by CDP, one of almost 160 companies on the Leaderboard this year.
Epson recognizes climate change/ global warming as the most serious issue facing the planet. In response, we are striving to achieve our Environmental Vision 2050, and will leverage our efficient, compact and precision technologies as we take aggressive measures to reduce the environmental impact of our products and business operations, and throughout our value chain.
Reference
Epson's environmental initiatives
corporate.epson/en/sustainability/environment/
About CDP
CDP is a global non-profit that drives companies and governments to reduce their greenhouse gas emissions, safeguard water resources and protect forests. Voted number one climate research provider by investors and working with institutional investors with assets of US$96 trillion, we leverage investor and buyer power to motivate companies to disclose and manage their environmental impacts. Over 8,400 companies with over 50% of global market capitalization disclosed environmental data through CDP in 2019. This is in addition to the over 920 cities, states and regions who disclosed, making CDP's platform one of the richest sources of information globally on how companies and governments are driving environmental change. CDP is a founding member of the We Mean Business Coalition.
About Epson
Epson is a global technology leader dedicated to becoming indispensable to society by connecting people, things and information with its original efficient, compact and precision technologies. The company is focused on driving innovations and exceeding customer expectations in inkjet, visual communications, wearables and robotics. Epson is proud of its contributions to realizing a sustainable society and its ongoing efforts to realizing the United Nations' Sustainable Development Goals.
Led by the Japan-based Seiko Epson Corporation, the worldwide Epson Group generates annual sales of more than US$10 billion.
corporate.epson/en/
---