Epson Research Reveals More People Cite Climate Change as a Critical Global Issue than any Other - as Technology Seen as an Enabler to Solve the Crisis
- People born since around the first COP - the COP Generation - optimistic about a solution but sensitive to cost -
- TOKYO, Japan, October 12, 2023 -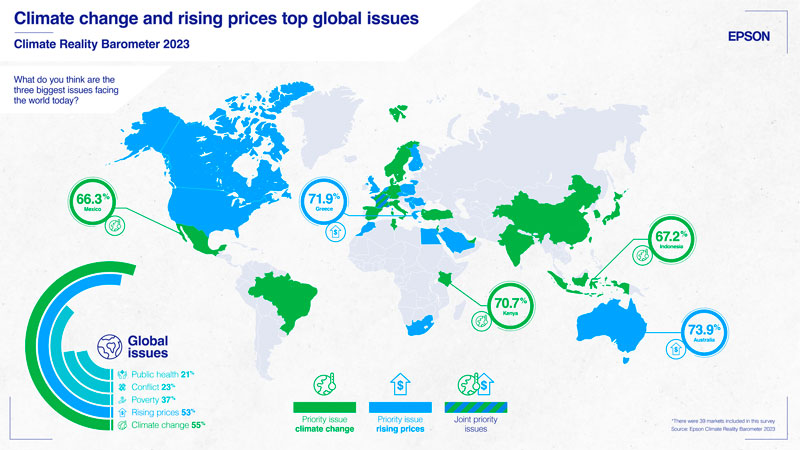 This year's Epson's Climate Reality Barometer captures the views of over 30,000 people in 39 markets to better understand global responses to climate change. Results reveal that more people now cite climate change as a major global issue than any other - and that technology is seen as a key enabler in solving the crisis. As we approach COP 28 in the UAE, Epson also focuses on the unique perspectives of those born since around the time of the first COP in 1995 - exploring their experiences and needs as they act to tackle climate change.
Now in its third year, the Barometer is published as evidence grows of catastrophic climate change: with record high sea temperatures; record low levels of Arctic and Antarctic sea ice; and extreme climate events across the world. Increasingly adverse events are likely to explain more people citing "Climate Change" (55%) than any other global issue, including "Rising Prices" (53%), "Poverty" (37%) and "Conflict" (23%).
Yasunori Ogawa, global president of Epson, said, "As adverse impacts accelerate, now more than ever, we need to understand attitudes towards ongoing climate change. Epson is fully committed to achieve UN Sustainable Development Goal 13 through positive climate action - and to delivering solutions that enrich lives and build a better world.
"The Climate Reality Barometer has enabled us to reach out across geographies, generations and economies, and has given us insights into how climate change transforms the ways we live - and how we can all combat it. We believe that listening to the younger generation will help governments, communities and companies better align positive action to support those for whom climate change has been a lifelong reality.
"Epson will heed this call to action and step up its current activities aimed at realizing a carbon-free society, for example through the PaperLab office dry papermaking system and inkjet printers designed to reduce electricity consumption and save resources. We also seek to achieve a circular economy through measures such as Dry Fiber Technology that upcycles unwanted garments and digital textile printers that help designers unleash their creativity. And we will continue to work diligently with partners to develop and research products and technologies that will help create a better world for the younger generations to inherit."
The COP Generation - optimism from climate change natives
With the 28th COP fewer than 50 days away, Epson shines a spotlight on the attitudes of people born since the first COP in 1995. Currently under 29 years old*, this is the COP Generation (Gen COP). They are climate change natives who have lived their whole lives in the shadow of increasingly adverse weather events - and their experiences and insights need to be central to effective solutions.
While there may be regional differences, the Climate Reality Barometer reveals that globally Gen COP is the joint most optimistic age group (equal with 35-44) - with close to half (49%) believing that we will solve the climate crisis within their lifetime. This contrasts with the 45-54 and 55+ age groups, which register the lowest optimism at 42% and 32% respectively.
Groups invested in the decades ahead - either for themselves or through their children - show the highest levels of optimism about our ability to solve the crisis. While Gen COP is the most optimistic age range, the most optimistic group of all (55%) consists of parents of children under the age of 18 - the world's 'Mom & Pop'.
Extending this comparison, however, it's clear that optimism leads to different outcomes. When asked what positive climate actions they already take, Gen COP records: lower levels of action than the global average in nine of the 14 categories; and lower levels of action than Mom & Pop in 12 of the 14 categories (see the climate actions table in notes to editors below). It's also interesting to note that Gen COP sees "Rising Prices" as a bigger issue than "Climate Change" (51% v 47%).
Climate action - and inaction
While climate positive action is widespread, there are groups of respondents who state that they will never act across key areas. As an example, globally, 38% report that they have already reduced international business and leisure travel, and a further 30% that they plan to do so. Almost one person in six, however, states that "I will never do this" (17%).
Globally, the "I will never do this" response is also particularly noticeable in areas such as "Reduce consumption of animal products" (18%), "Boycott unsustainable brands" (15%), and "Encourage friends and family to learn about the climate crisis" (10%).
Technology as an enabler
Barometer respondents see technology as the most important weapon in the fight against catastrophic climate change.
When asked what they believed was the most important thing that a business could do to tackle the issue, 48% cited investment in environmental technologies. This was closely followed by improvements in the recycling and reuse of products (45%), with reductions in the use of resources (28%), encouraging employee participation in environmental activities (21%) and offsetting carbon and plastic impact (21%) making up the top five.
About Epson
Epson is a global technology leader whose philosophy of efficient, compact and precise innovation enriches lives and helps create a better world. The company is focused on solving societal issues through innovations in home and office printing, commercial and industrial printing, manufacturing, visual and lifestyle. Epson's goal is to become carbon negative and eliminate use of exhaustible underground resources such as oil and metal by 2050.
Led by the Japan-based Seiko Epson Corporation, the worldwide Epson Group generates annual sales of more than JPY 1 trillion.
corporate.epson/en/
Research methodology
The research was conducted by Censuswide, among a sample of 30,294 general respondents aged 16+ (weighted by age) across 39 markets. The data was collected between 13.07.2023 - 25.07.2023.
Censuswide abides by and employs members of the Market Research Society and follows the MRS code of conduct which is based on the ESOMAR principles.
* The first COP took place in March and April 1995. For the purposes of this survey, we have included those aged 29 years and under in the COP Generation.
Notes to Editors
Percentage of three key groups already taking action across 14 climate positive areas
| | | | |
| --- | --- | --- | --- |
| Reduce international biz/leisure travel | 34 | 38 | 38 |
| Switch to an electric vehicle | 23 | 23 | 20 |
| Walk/cycle more often | 55 | 60 | 59 |
| Switch to renewable energy | 31 | 34 | 31 |
| Boycott unsustainable brands | 26 | 29 | 26 |
| Reduce plastic use | 53 | 65 | 62 |
| Improve recycling habits | 54 | 64 | 62 |
| Switch to more sustainable products | 43 | 50 | 46 |
| Use more reusable goods | 60 | 70 | 68 |
| Encourage workplace to commit/further net zero strategy | 33 | 35 | 33 |
| Encourage friends and family to learn more about the climate crisis | 44 | 50 | 45 |
| Reduce consumption of animal products | 33 | 37 | 35 |
| Make more mindful fashion purchases | 43 | 47 | 44 |
| Encourage my educational establishment to commit to/further its net zero strategy | 29 | 29 | 29 |
---