Epson Wins 2023 Good Design Awards for Four Printers and Scanner
- TOKYO, Japan, October 5, 2023 -

Seiko Epson Corporation (TSE: 6724, "Epson") has won 2023 Good Design Awards for four printers and one scanner. The Awards are presented for designs that benefit and enrich people's lives and society in general. The winning designs are described below along with the reasons for their selection.
Business Inkjet Printers: WorkForce Enterprise LM-C4000, 5000 and 6000
These high-speed A3 inkjet printers are intended for medium-sized to large offices. These inkjets don't use heat to fire ink*, and therefore consume less power than laser equivalents.
Together with a simple structure that saves resources, these printers are designed to minimize environmental impact. The exterior is white, clean, rounded and unimposing.
* This describes the characteristics of Epson's Micro Piezo technology, and not the performance of specific inkjet printers.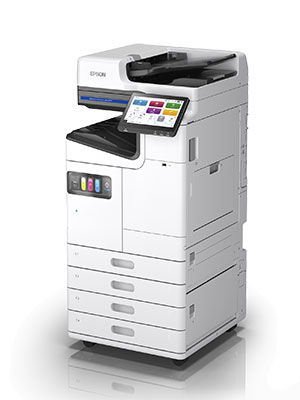 Reasons for Award
The multifunction printers in this class are sophisticated products that can be equipped with various options. They earned high marks for their graceful body design, including gentle form and rounded corners that suggest the smaller environmental footprint of the inkjet system. We felt that the ink cartridge window may play a supporting role in printer operation rather than being a differentiator with competitive products. We hope that in future the design of optional units such as finishers and paper feeding units will be harmonized with the body design.
Compact Photo Printers for Business: SL-D500 Series
These compact photo printers for commercial use can be installed efficiently in stores. They feature a lightweight and compact body size and frontal operation allowing them to be installed on narrow shelves or counters. They also have a box design that allows up to three units to be installed on top of each other. In addition to the compactness of the body, the large-capacity ink tank model contributes to lowering environmental impact by reducing consumables and waste.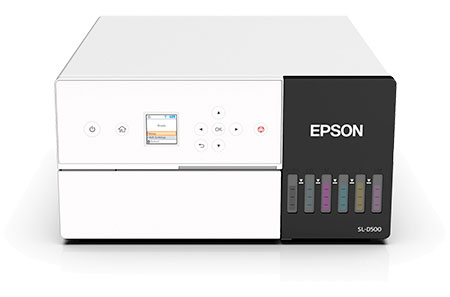 Reasons for Award
These are special printers designed for shops around town offering photo printing services. All necessary operations can be completed entirely from the front panel, and multiple units can be combined side by side in compact configurations inside stores. These printers look like simple, ordinary cubes at first glance, but space is at a premium in tiny, specialized shops offering photo printing services and designs like this can be expected to save a considerable amount of space.
POS Receipt Printer: TM-m30III
The point of sale (POS) receipt thermal printer is operated from a smartphone or tablet. It has a cube design that fits perfectly in a variety of retail interiors. The design gives the printer a stylish appearance and makes it easy to clean. Users can easily install it because it offers 2-way paper output. Epson makes this printer using antibacterial resin making it ideal for use at self-checkout counters.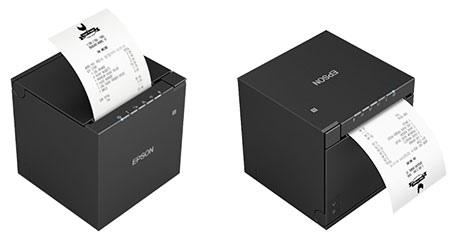 Reasons for Award
Epson has previously released cube-shaped receipt printers. However, the company has finally arrived at the ultimate cube shape, which will be welcomed in many stores for its clean impression. Epson has thought deeply about the people who will use this printer. For example, the printer is designed so that you can change the paper ejection direction by changing the orientation of the body, a feature that supports self-checkout counters. We felt that the cube shape was the perfect form for this idea and liked that more went into the design than just its cubic shape.
Garment Printers: SureColor SC-F2200 Series
These garment printers can directly print onto T-shirts and other clothes. The compact design of these printers makes them easier to install, expand and transport. Epson has also changed the design of the operating unit, which contributes to reduced downtime and improved productivity. Epson hopes that the product helps contribute to the digitalization of the textile printing industry.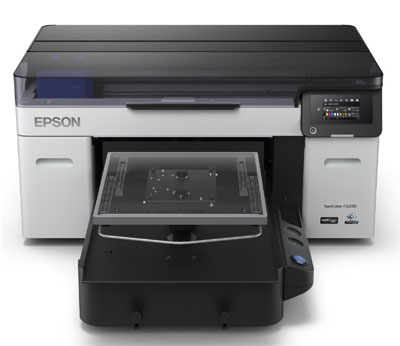 Reasons for Award
Epson revamped the design of its previous garment printer in response to feedback from its users. They reduced the depth of the unit and made installation space more compact. The SC-F2250 is now the standard model in the garment printer series. The high performance and roundness give a sense of intelligence combined with the beautifully arranged details to produce an attractive appearance. Furthermore, the easily operable controls, movable parts, and top transparent cover are uniformly black on a white-tone background. This fully expresses a brand identity rooted in usability and gives the impression of reliability and advanced technology over the entire series. In addition, we also appreciated that the software is provided with well-organized graphics that are easy to use, with no PC knowledge required.
Document Scanners: DS-C480W and DS-C420W Series
These compact desktop scanners help save space. The U-turn paper feeding vertical layout, frontal operation and flattened back achieve space saving, which helps contribute to an environment where the user can work comfortably and smoothly.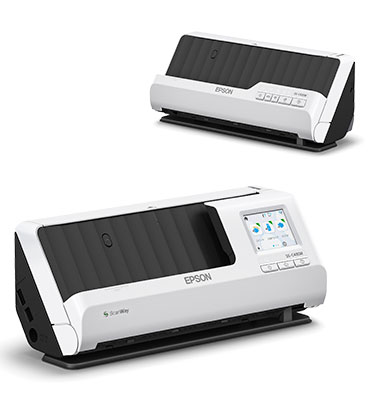 Reasons for Award
The idea to thoroughly reduce the size of these products by sorting the thickness of documents into two classes was wonderful. Plain paper documents are scanned by feeding them in a U-turn layout to reduce the installation area. Thicker documents can be scanned by tilting the angle of the body backward. This is a very interesting structure. We rated this series for having solved the challenge of neatly consolidating the functions into a compact design.
* Note that product names and availability may vary by region. Please contact your local Epson sales company for details.
About Epson
Epson is a global technology leader whose philosophy of efficient, compact and precise innovation enriches lives and helps create a better world. The company is focused on solving societal issues through innovations in home and office printing, commercial and industrial printing, manufacturing, visual and lifestyle. Epson's goal is to become carbon negative and eliminate use of exhaustible underground resources such as oil and metal by 2050.
Led by the Japan-based Seiko Epson Corporation, the worldwide Epson Group generates annual sales of more than JPY 1 trillion.
corporate.epson/en/
---