Epson Awarded Order of the Blue Ribbon for Humanitarian Assistance to Ukraine
- TOKYO, Japan, June 5, 2023 -
Seiko Epson Corporation (TSE: 6724, "Epson") has been awarded the Japanese Order of the Blue Ribbon for having donated 500,000 US dollars to the United Nations High Commissioner for Refugees (UNHCR) in March 2022.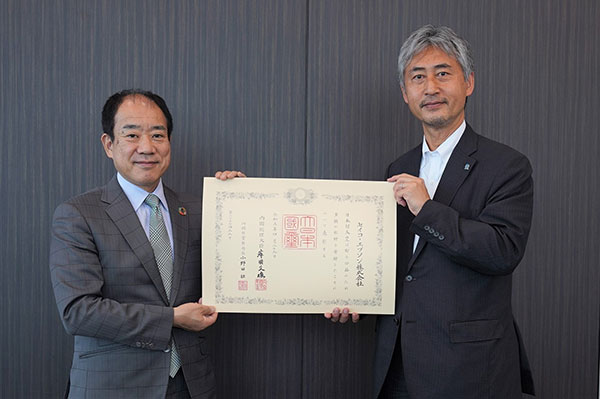 The Order of the Blue Ribbon is awarded to individuals and corporations who have made personal or corporate donations for public welfare. The Japanese government conferred a certificate of commendation on Epson through the United Nations UNHCR Association, the official support channel in Japan.
"We uphold the principle of respecting human rights as one of the core tenets of our Management Philosophy, rooted in the concept of 'trust-based management'. I sincerely hope for the earliest possible resolution to the war in Ukraine," said Epson global president Yasunori Ogawa.
Reference: Epson Response to the Ukraine Crisis (March 9, 2022)
About Epson
Epson is a global technology leader whose philosophy of efficient, compact and precise innovation enriches lives and helps create a better world. The company is focused on solving societal issues through innovations in home and office printing, commercial and industrial printing, manufacturing, visual and lifestyle. Epson's goal is to become carbon negative and eliminate use of exhaustible underground resources such as oil and metal by 2050.
Led by the Japan-based Seiko Epson Corporation, the worldwide Epson Group generates annual sales of more than JPY 1 trillion.
corporate.epson/en/
---