Epson Now Shipping Samples of the SG2016 Series of High-Frequency, Low Phase Jitter SPXOs
- At 54% smaller than Epson's SG2520 series SPXOs, this series is ideal for high bandwidth optical modules such as 800G transceivers -
- TOKYO, Japan, October 12, 2022 -
Seiko Epson Corporation (TSE: 6724, "Epson") has begun shipping samples of a new series of simple packaged crystal oscillators (SPXO) with differential output1. The series includes the SG2016EGN, SG2016EHN, SG2016VGN and SG2016VHN. All have low phase jitter2 in fundamental mode3 and come in small packages measuring 2.0 x 1.6 mm, with a height of 0.63 mm (typ.). Volume production is scheduled to start in the first quarter of 2023 (calendar year).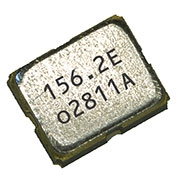 Future data traffic will increase even further due to the growth of 5G networks and the implementation of the Internet of Things (IoT). To deal with this traffic, optical transmission modules are expected to transition to even higher speeds and larger capacities, from 400 Gbps to 800 Gbps. Next-generation 800 G optical transmission modules will need to be even smaller because they will have a larger digital signal processor (DSP) built in, which will require more space for heat dissipation.
The new oscillators are 54% smaller in cubic volume than their predecessors, Epson's SG2520EGN, SG2520EHN, SG2520VGN, and SG2520VHN. Like their predecessors, they employ an HFF crystal unit4 and a compact oscillator IC engineered by Epson. They also offer the same high frequency, high stability, and low phase jitter. These features make them ideal for next-generation 800 G transmission modules.
As a leader in quartz crystal devices, Epson seeks to use its technology to contribute to the realization of a smart society and will continue to provide crystal device products that meet the needs of all manner of electronic devices and social infrastructure.
Product applications
- Optical transmission modules (built into network equipment such as routers and switches)
- Data centers
- Factory automation equipment and measuring instruments
- High-speed DA/AD converters
Related link
Please see the link below for product details.
https://www5.epsondevice.com/en/products/lp/sg2016xgn_xhn.html
Product specifications
Model No.
SG2016EGN
SG2016EHN
SG2016VGN
SG2016VHN
Output type
LV-PECL
LVDS
Output frequency range
25 MHz to 500 MHz
Supply voltage
2.5 V ± 5%
3.3 V ± 5%
1.8 V ± 5%
2.5 V ± 5%
3.3 V ± 5%
Operating temperature
-40 to +85℃, -40 to +105℃
Frequency tolerance
±25 x 10-6
±50 x 10-6
±20 x 10-6
±25 x 10-6
±50 x 10-6
±20 x 10-6
Current consumption
60 mA Max.
28 mA Max. (in output option A)
Phase jitter
(12 kHz to 20 MHz)
70 fs Max.
(output frequency: 156.25 MHz)
60 fs Max.
(output frequency: 156.25 MHz)
Dimensions
2.0 x 1.6 x 0.63 mm, Typ.
1 Differential output: A method that outputs frequency signals with opposite polarities. Differential output enables high-frequency transmission and has strong noise resistance.
2 Jitter: Fluctuations in the clock period that can cause things such as fluctuations in displayed images and bit errors in data transmissions.
3 Fundamental mode: The natural frequency at which a crystal unit vibrates.
4 High-frequency fundamental (HFF) crystal unit: A crystal unit that can oscillate at a high-frequency fundamental without compromising crystal chip strength because a photolithographic process is used to create an inverted-mesa structure in which only the vibrating area of the crystal chip is thinned to a thickness of several microns. HFF crystal units contribute to the stability of high-speed, high-capacity telecommunications because they can suppress nearby harmonic components.
About Epson
Epson is a global technology leader whose philosophy of efficient, compact and precise innovation enriches lives and helps create a better world. The company is focused on solving societal issues through innovations in home and office printing, commercial and industrial printing, manufacturing, visual and lifestyle. Epson will become carbon negative and eliminate use of exhaustible underground resources such as oil and metal by 2050.
Led by the Japan-based Seiko Epson Corporation, the worldwide Epson Group generates annual sales of more than JPY 1 trillion.
corporate.epson/en/
---