Epson to Construct New Factory at Akita Epson to Manufacture Inkjet printheads
- New facility to triple printhead production capacity -
- TOKYO, Japan, October 4, 2022 -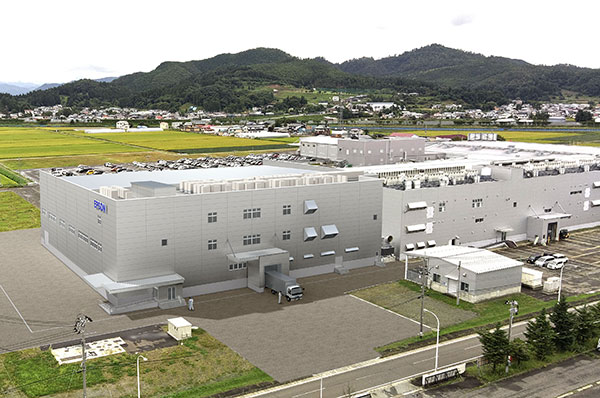 Akita Epson Corporation, a group company of Seiko Epson Corporation (TSE: 6724, "Epson"), will invest a total of approximately 3.5 billion yen on the construction of a new factory on the Akita Epson lot to increase production capacity of printheads for inkjet printers. Construction work on the new factory will begin in November 2022 and is scheduled for completion in December 2023. This investment will approximately triple Akita Epson's current printhead production capacity.
Epson's printing solutions business provides products and services based on original Micro Piezo inkjet technology to customers in the office, home, commercial, and industrial markets. Global demand for inkjet printers in the office and home inkjet printer markets is forecast to continue growing over the medium and long terms. The need for distributed printing that arose with COVID-19 is helping to fuel this demand, as is the strong demand for high-capacity ink tank printers in North America and other developed economies.
The new factory will be used to manufacture and assemble inkjet printheads, the core devices used in inkjet printers. The investment plan will ensure that Epson has enough production space to meet the predicted future growth in demand. It will also enable Epson to strengthen its product lineup and expand printhead sales to third parties, with a view to increasing the supply of inkjet printers equipped with cutting-edge PrecisionCore MicroTFP printheads*.
The plan is to construct the new factory adjacent to the existing factory. By consolidating PrecisionCore MicroTFP printhead production at Akita Epson, the company aims to maximize efficiency. In addition, production equipment and processes will be arranged to further increase human productivity and space productivity.
As a production site with high technological capabilities, Akita Epson works closely with other Epson R&D sites. It shares the advanced production technology and know-how it gains through the production of core devices with Epson's worldwide production sites to help maximize manufacturing capabilities across the Group.
* PrecisionCore MicroTFP printheads are critical components that determine the image quality and speed of an inkjet printer. Equipped with an array of individually controlled nozzles, they are capable of ejecting 50,000 tiny ink droplets per second, with droplet sizes as small as several picoliters (a picoliter is one trillionth of a liter).
Please see the links below for further details about Micro Piezo inkjet technology and PrecisionCore printheads.
Micro Piezo Technology
corporate.epson/en/technology/search-by-products/printer-inkjet/micro-piezo.html
Micro Piezo printhead manufacturing technology
corporate.epson/en/technology/search-by-products/printer-inkjet/precision-core.html
Profile of the New Akita Epson factory
| | |
| --- | --- |
| Business operations | Manufacture and assembly of printheads for inkjet printers (printheads for high-capacity ink tank printers and business inkjet printers) |
| Factory floor area | 3,668.80 m² |
| Total floor space | 10,683.77 m² |
| Employees | Plans to hire a number of new employees |
Akita Epson corporate profile (as of April 1, 2022)
Company name
Akita Epson Corporation
Location
1 Dannoue, Iwasaki, Yuzawa City, Akita Prefecture
President and Representative Director
Masatoshi Endo
Established
June 20, 1986
Share capital
80,000,000 yen (Akita Epson is a wholly owned subsidiary of Seiko Epson Corporation)
Business operations

Printhead manufacturing
Wearable products processing and assembly
Fabrication and processing of ultra-precision parts and molded production tooling

Lot area
87,620 m²
Employees
987
About Epson
Epson is a global technology leader whose philosophy of efficient, compact and precise innovation enriches lives and helps create a better world. The company is focused on solving societal issues through innovations in home and office printing, commercial and industrial printing, manufacturing, visual and lifestyle. Epson will become carbon negative and eliminate use of exhaustible underground resources such as oil and metal by 2050.
Led by the Japan-based Seiko Epson Corporation, the worldwide Epson Group generates annual sales of more than JPY 1 trillion.
corporate.epson/en/
---