Leading Epson Printer Factory Transitions to 100% Renewable Electricity Using Biomass
- Indonesia Epson Industry converts from coal to palm kernels and other renewable sources -
- TOKYO, Japan, September 7, 2022 -
Seiko Epson Corp. (TSE: 6724, "Epson") today announced that the electricity consumed at one of its leading printer manufacturing subsidiaries PT. Indonesia Epson Industry (IEI) will from now be generated from renewable biomass energy sources.
The transition to renewable electricity comes in the wake of an agreement signed in July with a local electricity supplier that has recently started transitioning from coal to biomass energy.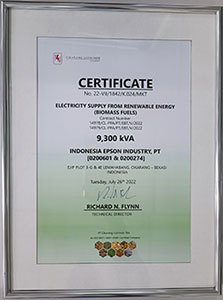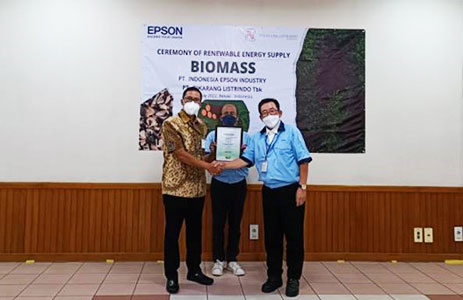 Certificate and signing ceremony with the electricity company
IEI, which is the first customer of the electricity company to convert to biomass, consumes approximately 37 GWh of electricity annually and will require approximately 22,828 tonnes of biomass fuel annually. The energy used to power the plant will be derived from natural energy sources including palm kernel shells (PKS), which are formed from the palm trees that are plentiful in the area. PKS are generated after palm oil is extracted, and were previously considered as waste. However, they have recently been seen as a good source for biomass fuel because they burn at high temperatures due to their low water and high calorific content.
In its Environmental Vision established in 2021, Epson committed to becoming carbon negative and underground resource free by 2050. To achieve the decarbonization goal set forth in the Paris Agreement, Epson has positioned renewable electricity use as a priority action in its 2025 Science Based Targets achievement scenario.1 The company has therefore set an ambitious goal of converting to 100% renewable electricity worldwide by 20232. To achieve this, Epson is steadily converting its sites worldwide using sources including mega-solar panels, geothermal heat and hydroelectricity depending on the characteristics of the region.
"We are delighted to complete the transition to biomass fuels," said Emile Pattiwael, president of IEI. "Epson is only one company, but we have shown how we can contribute to sustainability by working with partners to help create a better world for future generations. We strongly encourage other corporations to take similar steps."
1 SBT Initiative-validated target of reducing scope 1 and 2 GHG emissions by 34% versus FY2017 levels by FY2025.
2 Excludes leased properties of some sales sites, etc.
About Epson
Epson is a global technology leader dedicated to co-creating sustainability and enriching communities by leveraging its efficient, compact, and precision technologies and digital technologies to connect people, things, and information. The company is focused on solving societal issues through innovations in home and office printing, commercial and industrial printing, manufacturing, visual and lifestyle. Epson will become carbon negative and eliminate use of exhaustible underground resources such as oil and metal by 2050.
Led by the Japan-based Seiko Epson Corporation, the worldwide Epson Group generates annual sales of more than JPY 1 trillion.
corporate.epson/en/
---