Epson Shipping Samples of the Latest Addition to Its Series of 32-Bit MCUs with Sound Playback Hardware
- S1C31D41 provides same usability as its predecessors but with voice pitch conversion and built-in clock with ±1% accuracy -
- TOKYO, Japan, June 2, 2022 -
Seiko Epson Corporation (TSE: 6724, "Epson") has begun shipping samples of the 96 KB Flash memory S1C31D41, the latest addition to Epson's series of 32-bit microcontrollers (MCUs) with dedicated sound playback hardware. Epson plans to produce 200,000 units per month.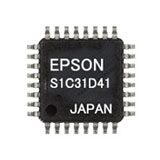 Sound is becoming an increasingly popular feature in home electronics, remote controllers for home appliances, industrial devices, health and fitness equipment with guidance systems, and alarms in office buildings, shopping complexes, and factories. The S1C31D41 is the ideal microcontroller for sound playback in this type of equipment, where built-in memory and wide pin pitch packages are desirable.
The S1C31D41 is equipped with 96 KB of Flash memory, an amount suitable for products in the target field. In addition to voice speed conversion function, a new voice pitch conversion function allows voice to be set at a pitch that is easy to hear. The MCU is also equipped with an internal clock that is accurate to ±1%(0 - 85℃), which enables customers to reduce the number of external components.
Like the earlier S1C31D50 and S1C31D51, which have 192 KB of Flash memory, the new MCU is a highly versatile 32-bit Arm® Cortex®-M0 + RISC processor with a dedicated HW processor. The HW processor is a sound playback circuit that performs 2-channel mixing, voice speed/pitch conversion, and buzzer melody/voice playback without using CPU resources.
Epson also helps to streamline the voice data creation process by providing a voice creation PC tool that supports 12 languages, so customers can easily create multilingual voice data without the need for studio recording and, possible to use WAV data that they already have.
Epson will help customers further improve the performance of their products and contribute to smart social infrastructure by leveraging its efficient, compact, and precision technologies to save energy, save space, and deliver exceptional precision and accuracy.
Product features
1. A variety of ways to play back sound
Speaker, electromagnetic buzzer, piezoelectric buzzer
S1C31D41 Product video URL: youtu.be/6l8YCIlqodc
* The video is provided by YouTube™ services.
* YouTube is a trademark of Google Inc.
2. The HW Processor dedicated hardware block executes a variety of functions without using CPU resources.
A variety of speech and sound playback functions
- 2-channel mixing sound (for playing background music + voice)
- Voice speed conversion (playback speed adjustable in 5% increments between 75% and 125%)
- Voice pitch conversion (supported only by the D41; adjustable in 5% increments between 75% and 125%)
- The sampling rate of 15.625 kHz is high enough for background music as well as voice
- High-compression and high-quality algorithm (D41: 16/24 kbps; D50 & D51: 16/24/32/40 kbps)
Self-memory check function
- Built-in RAM: R/W check, MARCH-C START
- Built-in Flash / External QSPI-Flash checksum, CRC
Simple HW processor interface
Set functions and commands in the special register and then start
3. Easily create voice data with Epson's voice creation PC tool
Studio recording is not needed. The PC tool is all that is needed to create speech data. Support is provided for the languages below.
- America: American English, American Spanish, Canadian French
- Europe: British English, German, French, Spanish, Italian, Russian
- Asia: Japanese, Chinese, Korean
Sound data, which is assigned a number in the PC tool, can be played back by specifying the assigned number in the HW processor register, so there is no need to create and evaluate codes for linking sound data, etc.
WAV format sound data is easily imported into the PC tool
Epson voice creation PC tool movie URL: youtu.be/d5brmLL9khM
Fire alarm reference design
Click on the links below to view a fire alarm demo video and reference designs for things such as software for low sleep current and high-speed clock activation for long battery life in products in the targeted fields.
Development environment
Evaluation boards provide an easy development environment by supporting DAPLink, which enables debugging via a USB cable, and UPMUX, a multiplexer that allows software to assign the desired peripheral I/O function to an I/O port, as well as by providing a socket that allows direct plug-in of a sensor module.
Product specifications (PDF,120KB)
* ARM and Cortex are registered trademarks of ARM Limited (or its subsidiaries) in the US and other countries. All rights reserved.
About Epson
Epson is a global technology leader dedicated to co-creating sustainability and enriching communities by leveraging its efficient, compact, and precision technologies and digital technologies to connect people, things, and information. The company is focused on solving societal issues through innovations in home and office printing, commercial and industrial printing, manufacturing, visual and lifestyle. Epson will become carbon negative and eliminate use of exhaustible underground resources such as oil and metal by 2050.
Led by the Japan-based Seiko Epson Corporation, the worldwide Epson Group generates annual sales of more than JPY 1 trillion.
corporate.epson/en/
---