Epson Wins Selection to the Clarivate Top 100 Global Innovators for the Ninth Time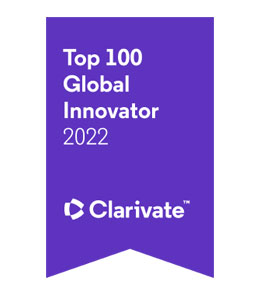 - TOKYO, Japan, February 24, 2022 -
Seiko Epson Corporation (TES: 6724, "Epson") has been listed among the "Clarivate Top 100 Global Innovators 2022" announced by global information services firm Clarivate Analytics. This represents the ninth time Epson has been named to the list since its inception in 2012.
Epson's intellectual property
Epson considers its unique, advanced core technologies to be its most important asset. And intellectual property activities to protect these core technologies are a vital and integral part of our business strategy. Piezo printheads are a core device in the printing sector. We own more patents related to these printheads than anyone else in the industry*, and this IP has given us a formidable competitive advantage.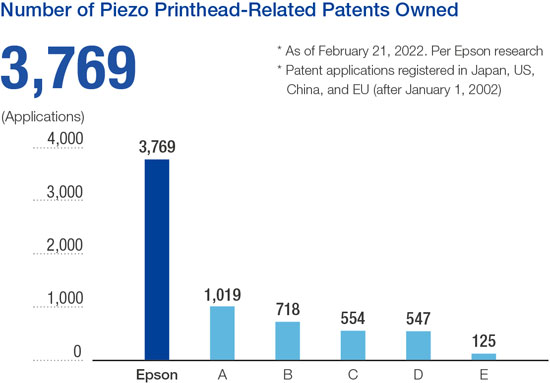 Comments from Toshihiko Kobayashi, General Administrative Manager of the Intellectual Property Division
"It is an honor to be selected as one of the Top 100 Global Innovators. We at Epson are seeking to address societal issues through our aspirational goal of achieving sustainability and enriching communities. We are thus working to convert intellectual property into value and to sustainably increase corporate value so that we can promote innovation, shape the future, and further enhance our brand image. We will continue to conduct our business and intellectual property activities in line with Epson 25 Renewed, a corporate vision that makes finding ways to use Epson's strengths to help solve societal issues a top priority."
The Clarivate Top 100 Global Innovators
The Top 100 Global Innovators model of excellence calculation uses a mathematical Foundation focused on comparison and is based on a twin track approach to evaluation. The first track identifies innovating organizations that pass qualification criteria based on volume of inventive activity. The second track evaluates all inventions in the Derwent World Patents Index™ (DWPI™) and score them on four factors: Influence, Success, Globalization and Technical Distinctiveness. Each invention returns a Derwent Strength Index based on these four factors, creating a holistic baseline that compares each idea with all other patented ideas.
For details, please see the Clarivate Analytics press release.
https://clarivate.com/news/
For more details about Epson's intellectual property, click on the link below.
corporate.epson/en/technology/intellectual-property/
*: As of February 21, 2022. Per Epson research. Patent applications registered in Japan, US, China, and EU (after January 1, 2002).
About Epson
Epson is a global technology leader dedicated to co-creating sustainability and enriching communities by leveraging its efficient, compact, and precision technologies and digital technologies to connect people, things, and information. The company is focused on solving societal issues through innovations in home and office printing, commercial and industrial printing, manufacturing, visual and lifestyle. Epson will become carbon negative and eliminate use of exhaustible underground resources such as oil and metal by 2050.
Led by the Japan-based Seiko Epson Corporation, the worldwide Epson Group generates annual sales of around JPY 1 trillion.
corporate.epson/en/
---