Epson Begins Shipping Samples of the S2D13V42 Controller IC for High-Resolution Head-Up Displays
- New controller supports advanced head-up displays with pitch correction and enhanced display safety features -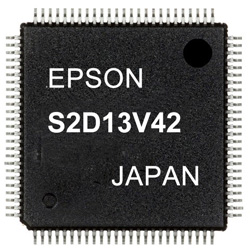 - TOKYO, Japan, January 31, 2022 -
Seiko Epson Corporation (TSE: 6724, "Epson") has developed and begun shipping samples of the S2D13V42, a controller IC designed specifically for high-resolution head-up displays. Epson plans to produce 100,000 units per month.
Automotive head-up displays that can be recognized with minimal eye movement are increasingly being installed in vehicles to enhance safety and lessen fatigue, and demand for them is expected to continue to expand. Demand for displays with higher resolutions is also expected to grow as the amount of information displayed increases. On the other hand, however, there are issues such as system develop cost and development time. To address these issues, Epson developed the S2D13V42 controller IC for high-resolution head-up displays.
The new controller enables rapid head-up display system development by offering the ability to correct the distortion of images streamed from a host (SoC1) at resolutions up to 1280 x 720 according to the curvature of a vehicle's windshield, without external memory. The controller, which is equipped with pitch correction and enhanced display safety features, supports the building of more reliable display systems. Moreover, it satisfies the strict quality requirements for automotive products, as it is compliant with AEC-Q1002 and operates at temperatures up to 105℃.
Epson seeks to advance the frontiers of industry and drive the circular economy by applying the efficient, compact, and precision technologies that it has developed over many years to solve challenges. These technologies, which save energy, enable smaller products, and increase accuracy and precision, enable Epson to contribute to the Sustainable Development Goals (SDGs), which will bring about a better and more sustainable future for all.
Epson also seeks to leverage its device technologies to realize a smart society. Toward this end, the company will continue to develop a variety of controllers and drivers for in-vehicle display systems that require high resolution and safety features and that enhance the performance of our customers' products.
Product features
- Support for resolutions up to 1280 x 720
- Pitch correction function
- Enhanced display safety features
Related links
Please see the link below for product details.
Website URL: https://global.epson.com/products_and_drivers/semicon/products/interface_auto/#ac06
Movie URL: https://youtu.be/sdODaX7tRn8
Provided using YouTube™ services
YouTube is a trademark of Google Inc.
Product specifications
Model No.
S2D13V42
Supply voltage
3.3 V (I/O)
1.2 V (internal core)
Input interface
Open LDI
Output interface
Open LDI
Supported resolutions
Up to 1280 x 720
Safety features
Display safety features
Automotive standard
AEC-Q100
Operating temperature range
-40 to +105℃
Other
Pitch correction
Built-in PLL, built-in SSCG
Shipping condition
P-LQFP100-1414-0.50 (14 mm x 14 mm x 1.7 mm, 0.5 mm pitch)
1 A system on a chip (SoC) integrates most or all the functions required for the operation of a system on a single chip. The configuration differs depending on the system, but SoC generally integrate a CPU, memory, and I/O functions.
2 AEC-Q100: The Automotive Electronics Council (AEC) is an industry group that creates standards for the reliability and qualification of automotive electronics. It was formed by the "Big Three" U.S. automobile manufacturers in partnership with major electronic component manufacturers. The AEC standard is a de facto global standard that has been widely adopted as a standard for automotive electronic components.
About Epson
Epson is a global technology leader dedicated to co-creating sustainability and enriching communities by leveraging its efficient, compact, and precision technologies and digital technologies to connect people, things, and information. The company is focused on solving societal issues through innovations in home and office printing, commercial and industrial printing, manufacturing, visual and lifestyle. Epson will become carbon negative and eliminate use of exhaustible underground resources such as oil and metal by 2050.
Led by the Japan-based Seiko Epson Corporation, the worldwide Epson Group generates annual sales of around JPY 1 trillion.
corporate.epson/en/
---