Epson and High-end Fashion House Brunello Cucinelli Drive Global Vision for Technology-enabled Circular Economy
- TOKYO, Japan, December 14, 2021 -
Global technology company Epson has partnered with leading Italian luxury fashion brand, Brunello Cucinelli, with the latter's adoption of Epson's PaperLab - an innovative and sustainable paper recycling system allowing organisations to close the resource loop and fully embrace the circular paper economy in their journey towards sustainability.
The partnership embodies Epson's long-standing commitment to sustainable technology and joint common purpose with Brunello Cucinelli, a company whose deep-seated respect for the Creation, all humanity and the planet is at the very core of its philosophy. This combination of modernity and craftsmanship, as well as of creativity and passion, is the common denominator of this collaboration.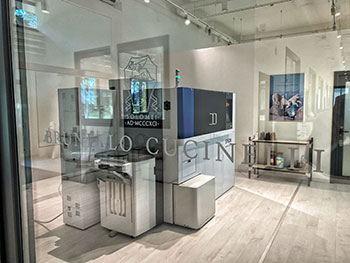 With Epson's PaperLab, the world's first in-office water-free secure paper recycler, organisations can recycle and upcycle paper in one process - a truly circular solution that significantly reduces paper, waste and energy waste. Today, Brunello Cucinelli can not only recycle but also upcycle its paper in a single process. It is a truly circular solution that significantly reduces paper, water and energy waste.
Epson Global President Yasunori Ogawa, commented on the industry-leading collaboration, "We are proud to join forces with Brunello Cucinelli, a pioneer of the highest industry standards, committed to creating better and fairer outcomes for both planet and people.
"Epson embraces sustainability that enriches communities: as we transform our own business, we innovate technologies that empower other companies to become truly sustainable. We are honoured that Brunello Cucinelli has chosen Epson to embark on this path of sustainability and we believe that it can be a pioneer for other companies and organisations as they re-align to the circular economy and pursue targets such as the United Nation's Sustainable Development Goals (UN SDGS)."
This choice is explained by Riccardo Stefanelli, CEO at Brunello Cucinelli, who stated, "Brunello Cucinelli rests on the principle of humanistic capitalism, a key feature of which is living and creating in harmony with the natural world. I believe our collaboration with Epson will help us advance our values and goal to always honour human dignity and the environment. This collaboration supports our efforts to cherish and showcase areas of outstanding natural beauty and, with the aid of cutting-edge technology, we can also change from within and become truly sustainable."
This is an important milestone for Epson, which is committed to reducing supply chain emissions by more than 2 million tonnes by 2030 as part of its 25 Renewed Corporate Vision. The strategy paves the way for organisations to pivot their business models, starting with the creation of circular office ecosystems.
Offices are giving rise to growing volumes of paper waste, which represents over 50% of a business's total waste, and this comes with an increasing carbon footprint. It is estimated that paper accounts for over a quarter of total waste at landfills and around 42% of global wood harvest.
A catalyst for a circular office ecosystem, PaperLab works by simultaneously saving trees, water and reducing carbon emissions. Based on Epson's innovative Dry Fiber Technology, PaperLab can produce up to 720 A4 or 360 A3 sheets of paper each hour. It also provides an onsite solution to the challenge of removing or destroying sensitive information which is often contained on paper waste. When this process is carried out offsite, it results in risks, higher costs, and carbon output, all of which can be sidestepped once genuine circular principles are implemented.
PaperLab provides a fundamental disruption to the status quo. In cutting paper, carbon and water usage, the technologies represent a critical step in an organisation's journey towards becoming net zero or net negative.
About Epson
Epson is a global technology leader dedicated to co-creating sustainability and enriching communities by leveraging its efficient, compact, and precision technologies and digital technologies to connect people, things, and information. The company is focused on solving societal issues through innovations in home and office printing, commercial and industrial printing, manufacturing, visual and lifestyle. Epson will become carbon negative and eliminate use of exhaustible underground resources such as oil and metal by 2050.
Led by the Japan-based Seiko Epson Corporation, the worldwide Epson Group generates annual sales of around JPY 1 trillion.
corporate.epson/en/
---