Epson Begins Volume Production of the SG2520 Series of Tiny, High-Frequency, Low Phase Jitter SPXOs
- At 44% smaller than Epson's comparable previous products, the SG2520 series is ideal for small optical communications modules that support 400G -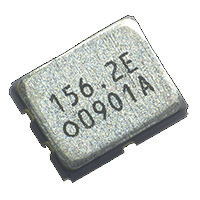 - TOKYO, Japan, December 17, 2020 -
Seiko Epson Corporation (TSE: 6724, "Epson") has a new lineup of differential output1 crystal oscillators (SPXO) that achieve low phase jitter2 in the fundamental mode3 and come in a tiny 2.5 x 2.0 x 0.74mm package. The new lineup includes the SG2520EGN and SG2520EHN, as well as the SG2520VGN and SG2520VHN, all of which provide improved frequency stability. Epson has begun shipping SPXOs with frequencies up to 212.5MHz. Epson plans to begin volume production of SPXOs in frequencies from 212.5MHz to 500MHZ in March 2021.
Telecommunications network traffic and capacity continue to increase with the introduction of 5th-generation telecommunication systems (5G) and the evolution of mobile networks, the Internet of Things (IoT), Advanced Driver Assistance Systems (ADAS), and data centers. At the same time, the noise level permissible in communication signals is lower, and clocks used in network equipment must operate at high-frequency and have low phase jitter. Optical communication modules that connect network devices are becoming faster and smaller, and clocks with a frequency tolerance of ±20 x 10-6 or less are needed for transmissions at ultra-high speeds of 400Gbps and 800Gbps and distances of 80km or more.
Like Epson's earlier comparable products, the SG3225EEN and SG3225VEN, the new SPXOs offer frequencies up to 500MHz and low phase jitter. In addition, they are equipped with a compact oscillator IC developed by Epson that compensates the temperature coefficient of frequency of the built-in HFF crystal oscillator4. The use of this IC enabled Epson to shrink the footprint of the SPXOs by 63% and their cubic volume by 44% compared to the previous products. Furthermore, they demonstrate superior frequency stability, with a frequency tolerance at -40 to +105℃ that is half that of the predecessor for SG2520EGN and SG2520VGN and 40% for SG2520EHN and SG2520VHN. The new series has the ideal characteristics for small optical communication modules.
As a leader in quartz crystal devices, Epson will continue to provide crystal device products required in electronics and social infrastructure.
Product applications
Network equipment (routers, switches, optical modules, etc.)
Data centers
Factory automation equipment, measuring instruments
High-speed DA/AD converters
Related links
Please see the link below for product details.
Website URL: https://www5.epsondevice.com/en/news/topics/sg2520xgn_xhn_lp.html
1 Fundamental mode: The natural frequency at which a crystal unit vibrates.
2 Jitter: Fluctuations in the clock period that can cause things such as fluctuations in displayed images and bit errors in data transmissions.
3 Differential output: A method that outputs frequency signals with opposite polarities. Differential output enables high-frequency transmission and has strong noise resistance.
4 High-frequency fundamental (HFF) crystal unit: A crystal unit that can oscillate at a high-frequency fundamental without compromising crystal chip strength because a photolithographic process is used to create an inverted-mesa structure in which only the vibrating area of the crystal chip is thinned to a thickness of several microns. HFF crystal units contribute to the stability of high-speed, high-capacity telecommunications because they can suppress nearby harmonic components.
Product specifications
Model No.
SG2520EGN
SG2520EHN
SG2520VGN
SG2520VHN
Output type
LV-PECL
LVDS
Output frequency range
25MHz to 500MHz
Supply voltage
2.5V ± 5%
3.3V ± 5%
1.8V ± 5%
2.5V ± 5%
3.3V ± 5%
Operating temperature
-40 to +85℃, -40 and 105℃
Frequency tolerance
±25 x 10-6
±30 x 10-6
±50 x 10-6
±20 x 10-6
±25 x 10-6
±30 x 10-6
±50 x 10-6
±20 x 10-6
Current consumption
60mA Max.
28mA Max.
Phase jitter
(12kHz to 20MHz)
70fs Max. (output frequency 156.25MHz)
50fs Max. (output frequency 491.52MHz)
60fs Max. (output frequency 156.25MHz)
50fs Max. (output frequency 491.52MHz)
Dimensions
2.5 x 2.0 x 0.74mm Typ.
About Epson
Epson is a global technology leader dedicated to becoming indispensable to society by connecting people, things and information with its original efficient, compact and precision technologies. The company is focused on driving innovations and exceeding customer expectations in inkjet, visual communications, wearables and robotics. Epson is proud of its contributions to realizing a sustainable society and its ongoing efforts to realizing the United Nations' Sustainable Development Goals.
Led by the Japan-based Seiko Epson Corporation, the worldwide Epson Group generates annual sales of more than JPY 1 trillion.
corporate.epson/en/
---