Epson Earns a Platinum Rating for Sustainability from EcoVadis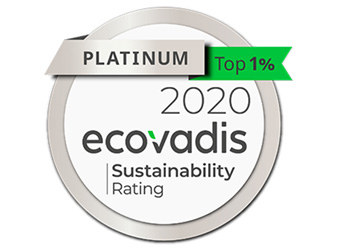 - TOKYO, Japan, October 27, 2020 -
Seiko Epson Corporation (TSE: 6724, "Epson") has earned a platinum rating for sustainability from France-based EcoVadis. The platinum rating, which was established in 2020, indicates that Epson was ranked among the top 1% of companies in the industry. Epson had received a gold rating the previous three years. Gold is awarded to companies that score in the top 5% of companies evaluated.
The platinum rating was awarded in recognition of Epson's global corporate social responsibility (CSR) initiatives. The EcoVadis assessment focuses on four themes: the environment, labor and human rights, ethics, and sustainable procurement. Epson received an "Outstanding" (the highest score) for the environment, as well as high scores for sustainable procurement, labor and human rights, and ethics, putting it in the top 1% in the computer and peripherals manufacturing industry.
"Sustainability is a core management strategy for Epson, so the fact that we received a Platinum rating after three consecutive years of Gold ratings is an honor and has tremendous value. As stated in the Epson Group's Management Philosophy, our goal is to make Epson an indispensable company for our customers and society. And we believe that actions that demonstrate good governance and social responsibility across our supply chain are essential elements for achieving this goal. The whole Group will work together to further advance the technologies that will make our products and services more efficient, compact, and precise so that we may contribute to solutions to societal issues across Epson's value chain and help to realize a sustainable world," said Epson President Yasunori Ogawa.
EcoVadis provides an independent, trusted, common platform for evaluating and rating more than 65,000 groups and companies across 200 industries in 160 countries using CSR assessment criteria that are based on the sustainability standards of thousands of external sources such as NGOs, labor unions, international organizations, local governments, and auditing organizations.
Epson has identified six materialities, including "advancing the frontiers of industry" and "achieving sustainability in a circular economy," and is currently working to deliver products and services that contribute to social sustainability. We are leveraging our efficient, compact, and precision technologies to drive innovations in four areas, including inkjets. We believe that our technology can help to shrink environmental impacts, increase productivity, and play a major role in solving societal issues and in achieving the Sustainable Development Goals of the United Nations.
Epson seeks to achieve social sustainability and publishes details about its environmental initiatives, the creation of social value, corporate governance, and other CSR activities in its Integrated Report and Sustainability Report. Information is also posted on the Social Responsibility pages of the corporate website.
References
Epson CSR & environment
corporate.epson/en/sustainability
About Epson
Epson is a global technology leader dedicated to becoming indispensable to society by connecting people, things and information with its original efficient, compact and precision technologies. The company is focused on driving innovations and exceeding customer expectations in inkjet, visual communications, wearables and robotics. Epson is proud of its contributions to realizing a sustainable society and its ongoing efforts to realizing the United Nations' Sustainable Development Goals.
Led by the Japan-based Seiko Epson Corporation, the worldwide Epson Group generates annual sales of more than JPY 1 trillion.
corporate.epson/en/
---