Epson Atmix to Add New Water-Atomization Production Line at Its Kita-Inter Plant
- New line will expand production capacity by 50% to meet strong demand for superfine alloy powders -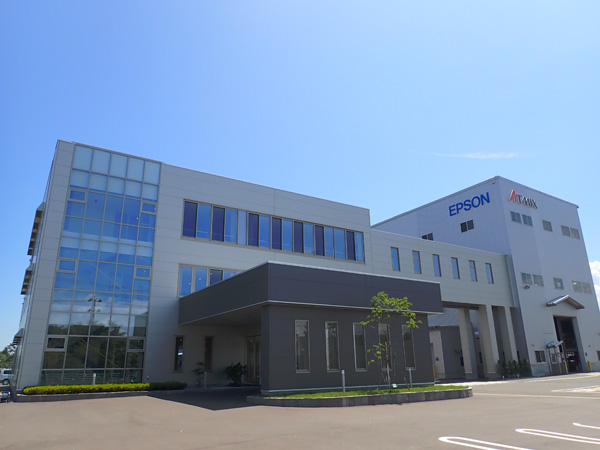 - AOMORI and TOKYO, Japan, October 14, 2020 -
Epson Atmix Corporation, an Epson Group company and the world leader in the manufacture of superfine alloy powders*1, today announced that it has started up operations on a new production line at its Kita-Inter Plant. Built with an investment of approximately 1.5 billion yen and commemorated with an initial firing ceremony, the new production line uses a water-atomization process to produce superfine alloy powders.
The new line will enable Epson Atmix, which also produces superfine alloy powders at its Head Office Plant, to increase its total production capacity to about 15,000 tons per year, which is about 1.5 times its current production capacity, by 2025.
Epson Atmix's water-atomized superfine alloy powders are classified into two main types depending on what they are made from and how they will be used. The two types are magnetic powders and sintered powders for metal injection molding (MIM)*2.
Epson Atmix has added its own technology to a water atomization process*3 in which high-pressure jets of water are impinged on a stream of molten metal from a high-frequency induction furnace to cause the metal to burst into a mist that is then rapidly cooled. This process has helped the company earn an outstanding reputation in the market by enabling it to produce micron-order granules and provide superfine alloy powders that are consistent and have a uniform composition and characteristics.
Magnetic powders have excellent magnetic properties and serve as raw materials for electronic components such as inductors, choke coils, and reactors required to control the voltage of high-performance mobile devices such as smartphones and laptop computers. The market for these powders is expected to expand further in the future owing particularly to an increase in the use of electrical components in automobiles and an increase in the number of inductors installed in hybrid and EV vehicles. Epson Atmix's magnetic powders control energy loss thanks to the company's technology for producing micro-granules. These powders also contribute significantly to reducing the power consumption and size of electrically controlled components and to the support of high frequencies and large currents.
Meanwhile, sintered powders are used in MIM parts that have complex shapes and that require high dimensional accuracy and high strength, such as parts for medical equipment, automobile engine applications, electronic equipment, and office-automation equipment. In addition, demand is expected to grow in the industrial field as metal 3D printers become increasingly common. Epson Atmix's extensive lineup of sintered powders includes stainless steel and low alloy steel. The grain size can be adjusted according to the application to increase sintered part density and strength. The growth of the medical, automotive, and 3D printer markets, among others, is expected to contribute to stable demand going forward.
Since the completion of construction work on the Kita-Inter Plant as a metal powder manufacturing factory in 2013, Epson Atmix has expanded its production lines to meet growing demand, including by adding a manufacturing plant for amorphous alloy powder*4 on the Kita-Inter Plant site. Superfine alloy powders are used in the manufacture of parts used in high-performance mobile devices such as smartphones and tablet PCs, as well as in automobiles and medical devices. The market for these powders has been showing annual growth, a trend that is expected to continue. Epson Atmix will respond to this strong demand by increasing the capacity of fine alloy powders.
Epson Atmix is committed to leveraging its unique metal powder manufacturing technology to continue to create customer-pleasing, trusted products and services.
Epson Atmix Kita-Inter Plant Profile
| | |
| --- | --- |
| Address | 2-1-60 Kita-Inter Industrial Park, Hachinohe, Aomori Prefecture |
| Manufactured products | Superfine alloy powders (magnetic powder, amorphous alloy powder and MIM powder) |
| Floor area | Approximately 8,200 m² of factory floor space on a 30,600 m² lot |
Epson Atmix profile
| | |
| --- | --- |
| Name | Epson Atmix Corporation |
| Address | 4-44 Kaigan, Aza, Kawaragi, Hachinohe, Aomori, Japan 039-1161 |
| President | Isamu Otsuka |
| Beginning of operations | October 1, 1999 |
| Employees | Approximately 330 |
| Capital | 450,000,000 yen (Epson Atmix is a wholly owned subsidiary of Seiko Epson Corporation) |
| Businesses | Development, manufacture, and sales of metal alloy powders, metal injection molded parts, and synthetic quartz crystals |
For further information, please visit the Epson Atmix web site at
https://www.atmix.co.jp/en/
*1 Epson Atmix had the top share of the superfine alloy powder market in 2019 on a monetary basis (per Epson Atmix research).
*2 Metal injection molding is a metalworking process that combines the features of injection molding and powder metallurgy. MIM is used to process superfine alloy powder into parts of various shapes that have high accuracy, density, and strength.
*3 Water atomization is a process for manufacturing superfine alloy powders in which a stream of molten metal from a high-frequency induction furnace is hit by jets of water, creating powder particles that are then rapidly cooled.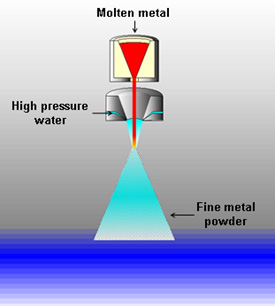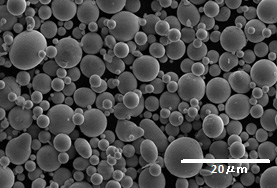 *4 Ordinary alloys have a crystal structure in which atoms are regularly arranged. Amorphous alloys, on the other hand, are made up of atoms that have an irregular arrangement, so although they are solid, they are similar to liquids in that they have densely packed atoms arranged in an irregular structure. Made up of granules with diameters ranging from several dozen to several hundreds of microns, amorphous alloy powder is lightweight and has excellent energy conductivity and strength.
About Epson
Epson is a global technology leader dedicated to becoming indispensable to society by connecting people, things and information with its original efficient, compact and precision technologies. The company is focused on driving innovations and exceeding customer expectations in inkjet, visual communications, wearables and robotics. Epson is proud of its contributions to realizing a sustainable society and its ongoing efforts to realizing the United Nations' Sustainable Development Goals.
Led by the Japan-based Seiko Epson Corporation, the worldwide Epson Group generates annual sales of more than JPY 1 trillion.
corporate.epson/en/
---