Epson Launches 4th-Generation Optical Engine for Smart Glasses
- Accelerating customer value and market expansion through open innovation -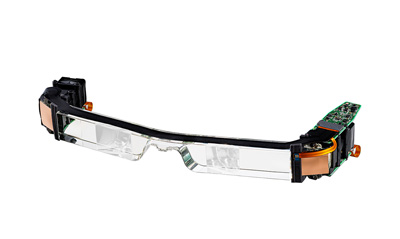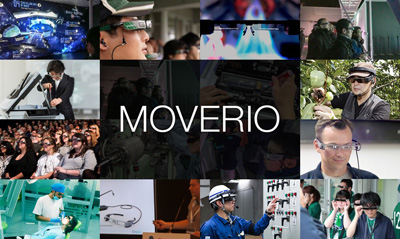 - TOKYO, Japan, September 18, 2020 -
Seiko Epson Corporation (TSE: 6724, "Epson") has developed its fourth generation of optical engines for smart glasses. These optical engines boast the most advanced optical technology yet for Epson's next generation of smart glasses in the Moverio series. We will also begin selling optical engine modules to customers in the consumer and industrial smart glasses markets, where we anticipate considerable growth.
The new optical engine boasts 1.5X greater density, 5X greater contrast, and a 1.5X wider field of view than our previous optical engines owing to the use of our most advanced silicon organic light-emitting diode (Si-OLED) display and optical technologies. Developers and business operators who are considering developing and manufacturing smart glasses can use this advanced optical engine to develop and manufacture smart glasses that provide see-through images of exceptional quality.
Epson has been working with actual users to develop compact, lightweight Moverio smart glasses that use our own Si-OLEDs to offer high image quality for a range of consumer and industrial applications. Users frequently ask us to customize the products for specific applications.
In addition, travel restrictions put in place due to the global spread of COVID-19 have increased the need for smart glasses for business applications, such as to provide remote support for manufacturing industry. The consumer smart glasses market is also heading toward expansion, in part because of demand from individuals who are staying home to watch movies and enjoy social media content.
Given this situation, Epson has decided to start external sales of optical engine modules to accelerate the creation of customer value through its smart glasses. We will continue to drive the growth of the Moverio finished products business, but will also build another core business around the sale of optical engines, a core component of smart glasses. At the same time, we will expand the world of visual communications and further accelerate innovation through wearable displays by building hardware platforms in partnership with companies that have their own core technologies for smart glasses. Applications for smart glasses as personal displays are expanding along with the number of people staying at home and working remotely. Meanwhile, advances in artificial intelligence and IoT have caused a rapid increase in digital information, creating an expanding range of applications for smart glasses as a user interface that connects people with that information. Epson seeks to create new value with smart glasses through open innovation with partners.
Epson's is looking to contribute to sustainability and accelerate growth by pursuing synergies and by developing businesses and markets through collaboration and open innovation.
Related links:
Please see the website below for more information about this product.
https://global.epson.com/products_and_drivers/vsm/
Inquiries:
VSM Project, Seiko Epson Corporation
Visual Sensing Module Developer Site: https://developer.cp.epson.com/vsm/
General specification of the new optical engine
Item
Specifications
Display performance
Si-OLED display size
0.453 inch
Resolution/refresh rate
1920 × 1080/60 Hz
Brightness
1000cd/m²
Contrast
500,000: 1
Field of view
34° (diagonal)
About Epson
Epson is a global technology leader dedicated to becoming indispensable to society by connecting people, things and information with its original efficient, compact and precision technologies. The company is focused on driving innovations and exceeding customer expectations in inkjet, visual communications, wearables and robotics. Epson is proud of its contributions to realizing a sustainable society and its ongoing efforts to realizing the United Nations' Sustainable Development Goals.
Led by the Japan-based Seiko Epson Corporation, the worldwide Epson Group generates annual sales of more than JPY 1 trillion.
corporate.epson/en/
---