Epson Launches Power-efficient 32-bit Microcontroller with an Arm®Cortex®-M0+ Processor
- Single-chip S1C31W73 MCU has 384 kB of memory and high-resolution LCD driver -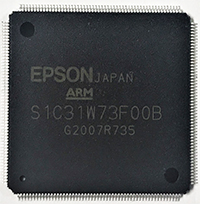 - TOKYO, Japan, May 13, 2020 -
Seiko Epson Corporation (TSE: 6724, "Epson") will add a new microcontroller unit (MCU) to the company's S1C31W series of MCUs. The S1C31W73 has an Arm®Cortex®-M0+ processor and on-chip Flash memory. Epson plans to produce 200,000 units per month when volume production begins in July 2020.
The number of functions provided in electronic equipment has been growing in recent years, and program sizes are increasing, as the amount of information is displayed. Meanwhile, equipment manufacturers need either maintain or further shrink the size of their products, making it essential to reduce the number of parts and save board space.
To solve these problems, Epson developed the S1C31W73, a single-chip microcontroller that has 384 kB of built-in Flash memory and a liquid crystal driver that can directly drive a display of up to 2,560 dots. By combining Epson's strong microcontroller display driver technology with the proven Arm®Cortex®-M0+ processor, Epson will help customers to increase the functionality and performance of their products while also reducing their development burden.
The S1C31W73 offer a wide range of built-in peripherals, including a USB 2.0 full-speed device controller, real-time clock (RTC), various timers, an A/D converter, and a temperature sensor. The low current consumption of this MCU-1.2 µA in RTC mode and a driving current of 150 µA/MHz-makes it ideal for extending the battery life of wearable products and for office equipment that can communicate with PCs over USB. The S1C31W73 can also be used in industrial equipment and measuring instruments because it operates at temperatures up to 105℃ (the highest operating temperature yet for an Epson MCU) and at voltages between 1.8 V and 5.5 V.
Epson is committed helping its customers to improve the performance of their products with solutions that leverage Epson's efficient, compact, and precision technologies.
Arm and Cortex are registered trademarks of Arm Limited (or its subsidiaries) in the US and other countries. All rights reserved.
Notes:
See the website below for more information about this product.
https://global.epson.com/products_and_drivers/semicon/products/micro_controller/armcore/
About Epson
Epson is a global technology leader dedicated to becoming indispensable to society by connecting people, things and information with its original efficient, compact and precision technologies. The company is focused on driving innovations and exceeding customer expectations in inkjet, visual communications, wearables and robotics. Epson is proud of its contributions to realizing a sustainable society and its ongoing efforts to realizing the United Nations' Sustainable Development Goals.
Led by the Japan-based Seiko Epson Corporation, the worldwide Epson Group generates annual sales of more than JPY 1 trillion
corporate.epson/en/
---