ELP-3000
An liquid crystal projector offering high brightness and high resolution
December 1994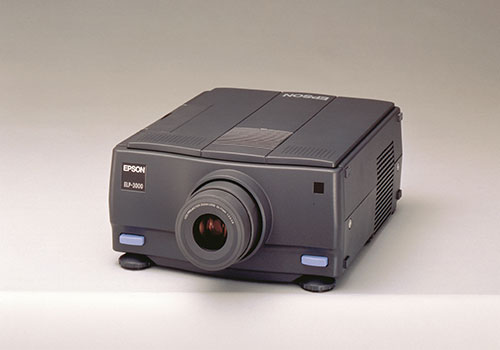 Display method: RGB liquid crystal shutter projection system
LCD panel: 1.3-inch high-temperature polysilicon TFT
Resolution: 307,200 (VGA: 640 x 480) x 3, total resolution: 921,600
Light source: 150 W metal-halide lamp
Optical system: Dichroic mirror separation and prism combination
Screen size: 21 to 300 inches
Color reproduction: Full color (16.77 million colors)
Brightness: 500 lux, 250 lm at 40 inches
Dimensions: (W) 285 x (D) 413 x (H) 149 mm, including lens
Power consumption: 220 W
Weight: 7.7 kg
The high-performance ELP-3000 (EMP-3000 in Europe and Southeast Asia) multimedia liquid crystal projector represented a combination of Epson electronic device superiority and space- and energy- saving technologies. Despite its small size and light weight, the ELP-3000 offered VGA resolution at three times the brightness of previous models, and represented a dramatic leap for the new data projector market.
Epson developed a new liquid crystal panel, a critical component that largely determines the quality of projected images, specifically for this projector. The panel was of a high-temperature polysilicon TFT design, measured 1.3 inches diagonally, and had 307,000 pixels. The panel boasted a high aperture ratio and projected bright, beautiful images even in undarkened rooms.
With its small footprint, light weight, and brightness (it was three times brighter than other projectors), the ELP-3000 earned positive notices and exceeded sales targets by a large margin from the time it was released, in December 1994. The following year, it set a record for single-model share by capturing 30% of the world projector market. In so doing so, it contributed to the growth of the projector market and also broke ground in the new market for data projectors. The development of the ELP-3000 won Epson several prestigious Japanese awards including the Minister of International Trade and Industry Award, the top prize at the 1997 (10th) Chunichi Industrial Technological Prizes, as well as the National Commendation for Invention's Asahi Shimbun Invention Prize. The ELP-3000 triggered a surge in sales and technology not only in Epson's projector business but also in the company's business in high-temperature polysilicon TFT liquid crystal panels, the main devices in the projector.