TM-930
The PC-POS package printer that created a new market
1990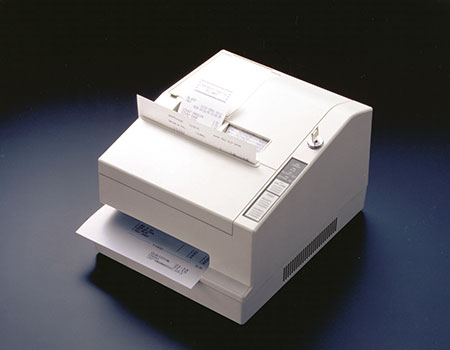 Receipt / Journal / Slip Printer
Printing method: 9-pin serial impact dot matrix
Fonts: 7 x 9 and 9 x 9
Number of columns: 40 / 30 (for journal/receipt); 88 / 66 (for slip)
Interface: RS-232C / Centronics-compliant
Print speed: 211 / 158 characters per second
Copies: Original (1) + 4 more
Dimensions: (W) 251 x (D) 298 x (H) 197 mm
Weight: Approximately 6.0 kg
The TM-930, a terminal module printer for use with PC-based, open-architecture POS systems (PC-POS), made its first appearance in 1990. The culmination of Epson's miniprinter technology, the TM-930 was adopted by top American retailer Sears Roebuck & Co. in 1992, propelling Epson to a position as a leading supplier of PC-POS printers.
The release of the TM-930 terminal module printer marked dirersification in Epson's business-printer business from OEM printer mechanisms toward expansion of the finished printer business. In addition, Epson contributed significantly to the development of the PC-POS market in two ways: first by successfully penetrating the market with printer technology whose high reliability met stringent POS needs; and second, by providing ESC/POS(R) the control command system that would become the industry standard for POS printers.
Because America's top retailers had adopted PC-POS, these systems attained worldwide penetration with breathtaking speed. The wave went beyond the United States, carrying the product into Europe and Asia, also. Meanwhile, demand for PC-POS printers also grew quickly.