CMOS IC
The watch chip that launched Epson's semiconductor business
April 1971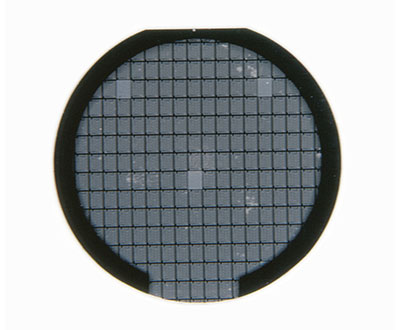 An internal effort to produce parts for the Seiko Quartz Astron 35SQ was the program that sparked the development of Epson's* first CMOS integrated circuit in 1971. Requiring little power and able to make the products in which they are used both smaller and cheaper, CMOS ICs would go on to play a major role in the later evolution of the quartz watch.
ICs are broadly classified as either MOS or bipolar, depending on the structure of the transistors they contain. Although slower than bipolar circuits, MOS circuits consume less power and allow for higher integration densities. Recognizing the importance of these MOS features, Epson resolved to concentrate on developing a particularly low-power-consuming type of MOS circuit known as a CMOS circuit.
The CMOS chips that were thus developed were first used in the analog Seiko Quartz V.F.A. 38SQW watch, and then, in 1972, in the Seiko Quartz LC V.F.A. 06LC digital quartz watch. Epson's CMOS chips went on to grow and develop along with the expansion of the watch business.
*Then known as Suwa Seikosha Co., Ltd.