Seiko Quartz Astron 35SQ
The quartz watch that revolutionized horological history
December 1969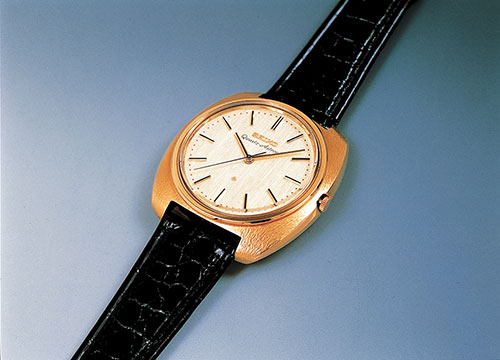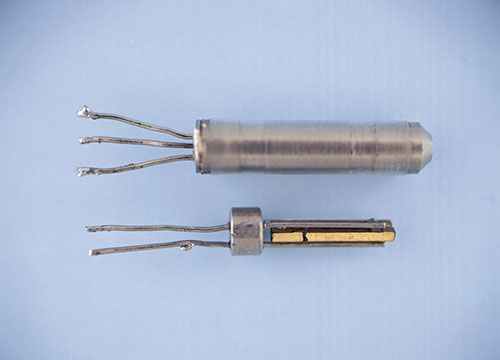 Center second: One step per second
Mechanical dimensions: Outer diameter 30.00 mm
Thickness 5.30 mm (battery unit 6.10 mm)
Driving method: Crystal oscillation circuit controlled stepping motor
Vibration frequency: 8.192 Hz
Accuracy: Room temperature (+4 degrees centigrade to +36 degrees centigrade)
Daily rate +/-0.2 sec.
Monthly rate: +/-5 sec.
Battery life: 1 year or longer
Jewels: 8
Price: 450,000 yen (18-karat solid gold case)
*The price is at the time of release.
The Seiko Quartz Astron 35SQ is etched in the annals of horological history as the world's first quartz watch. The origin of this watch can be traced back to a project for developing a quartz timer for the 1964 Tokyo Olympic Games. The product of an alchemy between Epson's precision processing and electronics technologies, the quartz watch boasted what was extraordinarily high accuracy for the day: +/-5 seconds per month and +/-0.2 seconds per day. The watches' electronic circuits and functions were efficiently integrated into a single hybrid module. Having successfully developed a hybrid IC for wristwatches, Epson* was able to give this watch a unique structure: the inside of the watch was entirely devoid of mechanical parts except for those needed for indicating the time.
Epson continued to develop the key technologies behind the 35SQ - a tuning-fork crystal resonator, the IC (which was the stepping stone for the successful development in 1971 of a CMOS IC for watches), and a stepping motor. These products and technologies eventually grew to form the backbone of Epson's quartz device and semiconductor businesses. The "energy saving" concepts that came about at this time are still a major part of the Epson heritage.
*Then known as Suwa Seikosha Co., Ltd.