Seiko Crystal Chronometer QC-951
The world's first portable, high-accuracy, battery-operated quartz timer
September 1963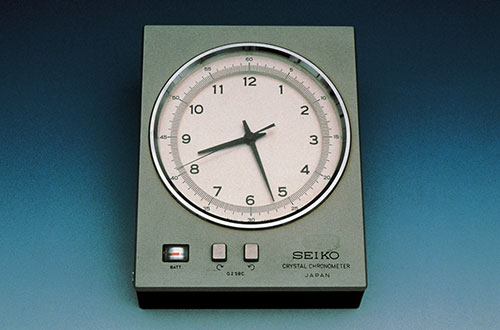 Average daily rate: +/- 0.2 seconds
Second adjustment: Adjustable in 0.2-second units
Power consumption: 0.003 W
Operational temperature range: -10 to 50 degrees centigrade
Outside dimensions: (W) 160 x (D) 200 x (H) 70 (H at lowest point = 40) mm
Weight: 3.0 kg
The portable Seiko Crystal Chronometer QC-951 was developed as a timer for sporting events. Because crystal is sensitive to temperature changes, Epson* used its precision processing technology to independently develop a temperature correction device (a thermo-variable condenser) tailored to the temperature characteristics of the crystal resonator. A small, low-power synchronous motor was also employed, realizing a drastic reduction in power consumption from the conventional 100 - 150 W to only 0.003 W. These new features enabled Epson to downsize the cabinet-sized quartz timer to one that was portable.
With its unprecedented low-power consumption - the QC-951 was capable of operating for one year on two size-D batteries - this high-precision quartz timer was used at major sporting events as an official timing device. Subsequently commercialized models in this series were employed on bullet trains and on snow vehicles for Antarctic exploration. They were also used as clocks and timers on public transport. Moreover, this crystal chronometer had a big influence on the world's first quartz watch, the Seiko Quartz Astron 35SQ, which was developed later.
*Then known as Suwa Seikosha Co., Ltd.