Seiko Marvel
An original design for mechanical watches that became the basis for Epson's watch business
June 1956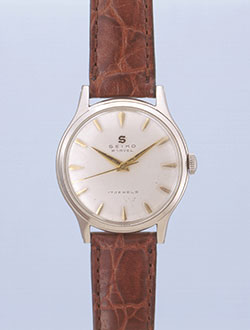 The Seiko Marvel was the first original mechanical watch made by Epson*. Developed to catch up with and overtake the Swiss, this watch became the basis for Epson's watch business and was an explosive hit as Japan's favorite mechanical watch of the day. To increase accuracy, the outer diameter of the movement was enlarged to 26 mm, which was a first for watches made in Japan. Both the original-size design of the movement and the component processing technology, which was enabled by introducing new production facilities, led to the Marvel being known as a reliable and highly accurate newcomer in the market.
The Marvel established an outstanding reputation, filling the top nine positions in a study comparing the quality of Japanese watches. It also took first place in the men's wristwatch category of a contest held by the American Horological Society - surpassing non-Japanese products for the first time. Consequently, the name echoed around the world as, literally, a "marvelous watch." Furthermore, the technologies fostered by the "Marvel" became a strong force in the development of later mechanical watches, such as the Seiko Crown and Seiko Gyro Marvel.
*Then known as Daini Seikosha's Suwa Plant, which later merged to become Suwa Seikosha Co., Ltd.